Highlights

The hospitality trade body, UK Hospitality has raised concerns about the devastating impact another lost Christmas could have on the industry.
The warning comes as cases have risen recently, with a possibility of touching 100,00 cases per day, as per the UK health secretary.
The hospitality sector's industry body, UK Hospitality, warned on Thursday that the industry could face severe consequences if the government chooses to implement a plan B measure amid fears of a second Christmas with potential lockdown like restrictions due to rising covid-19 cases.
The UK has been recently seeing a rise in covid cases once again, with the health secretary Sajid Javid stating that cases could touch around 100,000 per day. However, he did not say he was currently planning to reinstate work from home and other such covid related measures.
Wetherspoons (JDW) & Marston's (MARS): Should you buy these pub stocks?
On the other hand, the UK medical trade body, the British Medical Association, said today that not implementing some measures would be considered as wilful negligence so as not to overwhelm the healthcare system in the UK.
Let us take a look at 2 FTSE listed pub stocks and their investment prospects:
Wetherspoons (J.D) PLC (LON: JDW)
FTSE 250 index firm Wetherspoons is a UK based pub company operating over 900 pubs in the country.
The pub chain confirmed on Wednesday that it had purchased a former restaurant building located in Beaconsfield and plans to invest over £2 million in order to overhaul the space.
The confirmation comes weeks after rumours emerged of the pub company possibly becoming the new owner of the restaurant building.
The company recently reported its FY 2021 results, posting its revenue fall of 38.8 per cent to £772.6 million, compared to £1,262.0 million in FY 2020.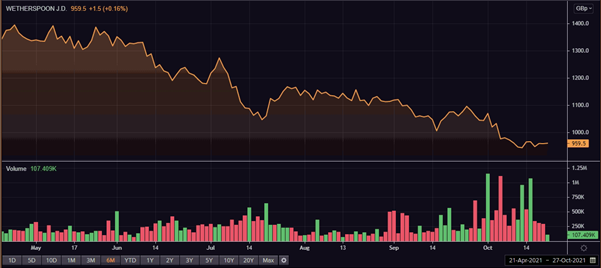 (Image source: Refinitiv)
Wetherspoons' shares were trading at GBX 955.50, down by 0.26 per cent on 21 October 21 at 11:54 AM BST. Meanwhile, the FTSE 250 index was at 22,910.07, down by 0.25 per cent.
The company's market cap stands at £1,233.43 million, and its one-year return is 12.94 per cent as of Thursday.
Marston's PLC (LON: MARS)
Marston's is a British hotel and pub operator, which was previously known as Wolverhampton & Dudley Breweries.
The pub company posted in its FY 2021 trading update stated that for the period 25 July to 2 October, the company's sales were 2 per cent above pre-pandemic levels.
Also, for the period between 12 April to 2 October, like for like sales stood at 94 per cent of its pre-pandemic levels. The company said trading continued to improve.
Marston's also plans to lower its borrowings below £1 billion by FY 2025, in its latest trading update guidance. The company is expected to announce its FY 2021 results on 30 November.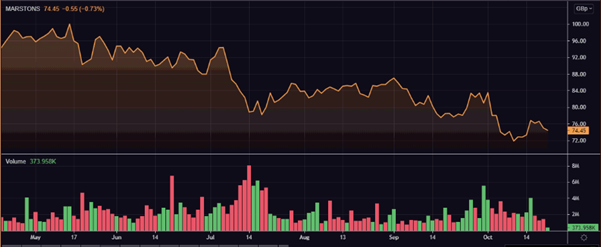 (Image source: Refinitiv)
Marston's shares were trading at GBX 74.50, down by 0.67 per cent on 21 October 21 at 12:55 PM BST. Meanwhile, the FTSE All-Share index, which it is a part of, was at 4,100.38, down by 0.45 per cent.
The company's market cap stands at £475.61 million, and its one-year return is 64.24 per cent as of Thursday.