Source: GP PIXSTOCK, Shutterstock
Summary

UK government advisor and scientist Dr Mike Tildesley has warned that holidays abroad are extremely unlikely this year.
Both domestic and international leisure travel is banned in the UK since the start of January.
It might be another season of failed travel plans as UK government advisor, and scientist Dr Mike Tildesley said that overseas holidays are extremely unlikely for most Britons this year as the nation faces a real risk in terms of Covid cases if people travelled overseas. This might mean that travel and airline companies will face another season of loss and no business.
Two prominent travel stocks, TUI AG and CCL were down by 5.73 per cent and 1.69 per cent, respectively, on Monday, 22 March, at the London Stock Exchange.
The UK government has banned overseas holidays until 17 May. Last month, PM Boris Johnson had said that leisure travel overseas could restart in May, along with reopening of hotels in England. Both domestic and international leisure travel is banned in the UK since the start of January due to the third national lockdown. Travel is only allowed for education, business, or compassionate purposes as of now.
Tildesley, who is a member of Scientific Pandemic Influenza Group on Modelling, said that there was a danger that holidaymakers and tourists may bring back Covid-19 variants that are less susceptible to vaccines. On 12 April, the new Global Travel Task Force is slated to announce if outbound summer holidays dates would be shifted ahead from May, said Johnson.
The Association of British Travel Agents has demanded clarity from the UK government on the exact date when international travel would be allowed again.
Pent-up demand
While the tour operators have reported strong demand for domestic getaways, many Britons are keen to go abroad for a break as and when it is allowed.
Most travel firms see this summer as a crucial time for revival as they desperately need to be back in business. At present, the plans are still uncertain as there is no guaranteed that overseas travel will re-open from 17 May. Moreover, travellers and operators are anxious about the new rules that would be implemented after the restrictions are lifted. The report of the new Global Travel Task Force is also awaited.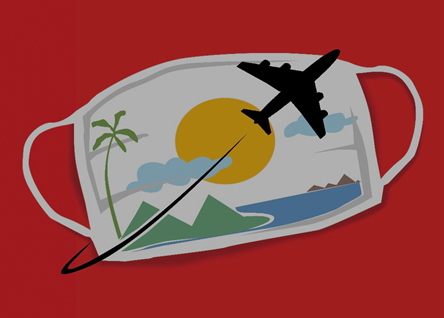 Copyright © 2021 Kalkine Media Pty Ltd.
Let us now take a closer look at the stocks of two travel firms -- TUI Group (LON: TUI AG) and Carnival Plc (LON: CCL).
TUI Group (LON: TUI AG)
The largest leisure, tourism and travel group in the world, TUI AG is an Anglo-German company based out of Hanover, Germany. It owns airlines, cruise ships, hotels, retail shops, and travel agencies.
Andrew Flintham, managing director, TUI UK, has called upon the UK government to reintroduce travel corridors later this year as they remain essential to reopen the sector smoothly in the coming months. TUI is already offering deals for holidaymakers to popular overseas destinations such as Italy, Spain, and Turkey.
The company earned a revenue of €7,943.70 million for the year ending 30 September 2020, down 58 per cent from its previous year's value (2019: € 18,928 million). Loss before tax was €3,129 million for FY20 (Earnings before tax for FY19: € 691 million).
The company shares (LON: TUI AG) were trading at GBX 374.80 on 22 March at 11.38 AM, down 5.73 per cent from its previous day's close.
Leisure travel company Carnival Plc provides vacations to various cruise destinations across the globe. The company operates across the continents of Asia, Australia, Europe, and North America.
The travel firm reported an operating loss of US$8,865 million for the financial year ending 30 November 2020 (FY19: operating profit of US$3,276 million). The loss per share were US$13.20 for FY20 against an Earning Per Share of US$ 0.34 for FY19.
Shares of the company (LON: CCL) were down 1.69 per cent at GBX 1,654.50 on 22 March at 12.14 PM as compared to its previous day's close.