Summary

ECR Minerals had received a notice to exercise warrants over 55,856,391 new ordinary shares.
Around 55,356,391 new ordinary shares will be issued at 2 pence per share, and 500,000 at 1.125 pence per share.
The company has appointed Novum Securities as its joint broker who will look after the broker research on company.
ECR Minerals Plc (LON: ECR) has confirmed a major warrant exercise of over 55,856,391 new ordinary shares in the company and has received subscription monies of £1,112.752.82 in respect of the exercise of these warrants.
Consequent to the exercise of the warrant shares, around 55,356,391 new ordinary shares will be issued at 2 pence per share, and 500,000 new ordinary shares at 1.125 pence per share. Further, the warrants are expected to get admitted on the AIM on or around 28 January.
Following the admission of the warrant shares, the issued ordinary share capital of ECR Minerals will be aggregate of 749,333,993 ordinary shares of 0.001 pence. The newly issued warrant shares will rank equally in all respects with company's currently traded ordinary shares on AIM.
Financial position
ECR Minerals' cash balance has swelled to around £4 million with the proceeds of £1,112.752.82 received from the exercise of the warrants, which as per the board's estimates has put the company in a very strong financial position.
The company had recently acquired its own drilling rig, which became operational at Byron prospect in the HR3 area of its Bailieston project. Now with this in-house drilling capability owned by the company, it would be undertaking massive drill programmes across its Victoria Goldfields interests.
Planned Drilling of ECR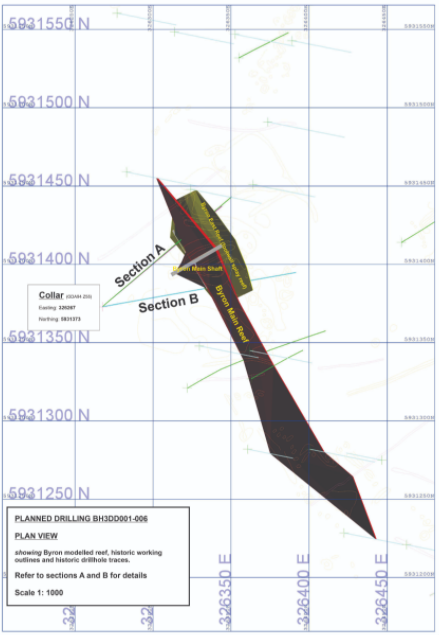 (Image Source- Company Release)
With a strong financial position, ECR Minerals can confidently and comfortably continue to pursue its hitherto announced exploration programmes.
Also Read- ECR Minerals' (LON: ECR) Midas Rig Becomes Operational in Bailieston
New Joint Broker onboard
Novum Securities has been appointed as a joint broker for the company. It will take on the broker research for the company and would look after boosting market awareness of the ECR, especially in the institutional investor community.
ECR Minerals Plc
ECR Minerals Plc is a company engaged in mineral exploration and development primarily focused on the Bailieston and Creswick gold projects in central Victoria, Australia, through its wholly owned Australian subsidiary Mercator Gold Australia Pty Ltd.
The company has substantially strengthened its financial position, which will help it follow all its previously announced plans confidently and on the back of its current robust cash position, it has made clear that it currently has no intention of carrying out a placing. The stocks of the company traded at GBX 3.20. up by almost 400 per cent in the last one year.
(Source: Refinitiv, Thomson Reuters)