UK Market: The UK stock market reversed the gains made at the start of the bell on Friday as investors awaited the US Federal Reserve chief Jerome Powell's speech. The widely-anticipated speech will give clues to the country's economic outlook and how much the US central bank is prepared to raise the interest rates to curb inflation. This came as the UK's energy regulator Ofgem raised the energy price cap by 80%, from £1,971 to £3,549, which would lead to a sharp increase in energy bills.
i3 Energy plc (LON: I3E): Shares of the AIM-listed oil and gas development company slumped over 3% after it slashed its earnings forecast for the full year 2022. The company said that its operating income is expected to be around US$200 million against the previous forecast of US$200 million.
InterContinental Hotels Group Plc (LON: IHG): Shares of the British multinational hospitality firm slipped over 2% after JP Morgan Cazenove downgraded its rating to neutral from overweight.
Alumasc Group Plc (LON: ALU): Shares of the building and engineering products supplier fell nearly 3% after it announced that it has sold its solar shading business Levolux. The potential deferred consideration for the loss-making business is £1 million repayable from proceeds in excess of £1 million if the business is sold further for more than £1 million
US Markets: The US market is likely to get an upbeat start, as indicated by the futures indices. S&P 500 future was up by 58.35 points or 1.41% at 4,199.12, while the Dow Jones 30 future was up by 0.98% or 322.55.02 points at 33,291.78. The technology-heavy index Nasdaq Composite future was also up by 1.67% or 207.74 points, at 12,639.26. (At the time of writing – 8:44 am ET).
US Market News:
Shares of the video games maker Electronic Arts (EA) rallied over 6% in the premarket trading session after a news report claimed that e-Commerce giant Amazon will announce an offer on Friday to buy EA.
Shares of the clothing and accessories retailer Gap (GPS) jumped 6% in the premarket trading session following its better-than-expected quarterly profits. The company's profits were aided by the boost in sales at its Banana Republic chain as more people returned to offices.
European Indices Performance (at the time of writing):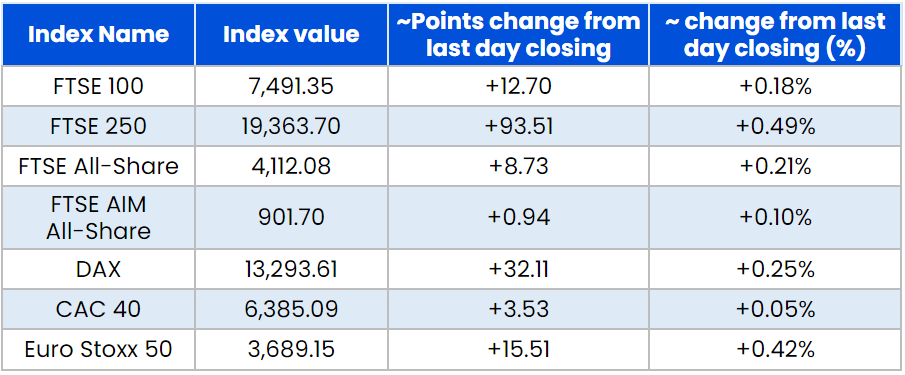 FTSE 100 Index One Year Performance (as on 26 August)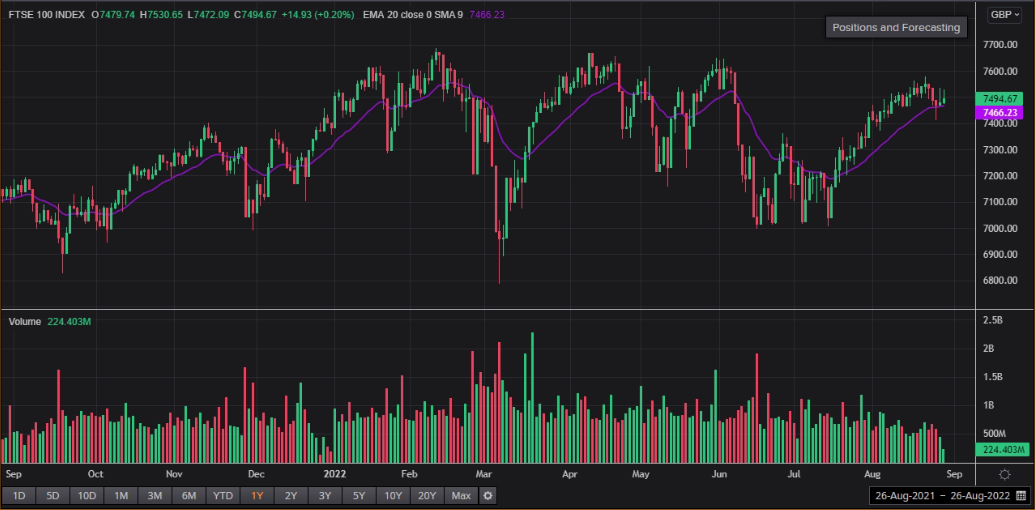 (Source: Refinitiv)
Top 3 Volume Stocks in FTSE 100*: Lloyds Banking Group plc (LLOY), Glencore Plc (GLEN), Barclays Plc (BARC),
Top 3 sectors traded in green*: Basic Materials (1.44%), Real Estate (0.55%), Financials (0.52%)
Top 3 sectors traded in red*: Industrials (-1.10%), Consumer Cyclicals (-0.38%), Technology (-0.26%)
London Stock Exchange: Stocks Performance (at the time of writing):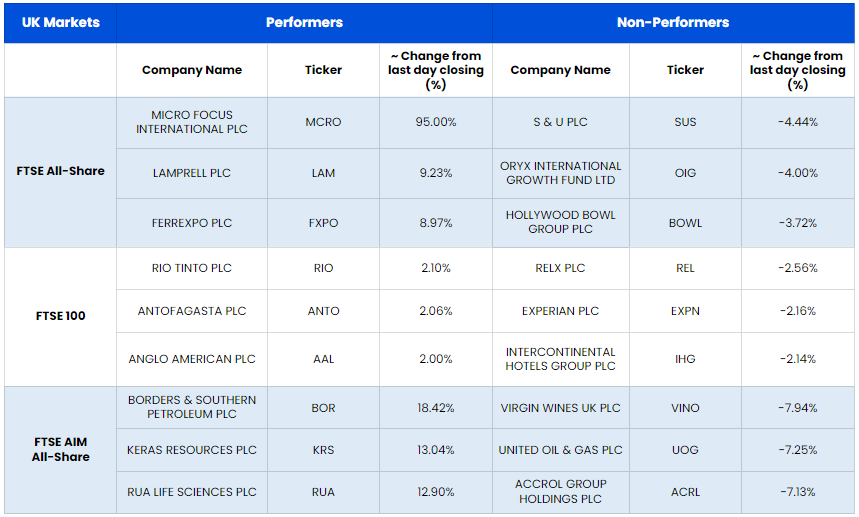 Crude Oil Future Prices*: Brent future crude oil (future) price and WTI crude oil (future) price were hovering at $99.79/barrel and $92.72/barrel, respectively.
Gold Price*: Gold price was quoting at US$1,761.20 per ounce, down 0.58% against the prior day closing.
Currency Rates*: GBP to USD: 1.1837; EUR to USD: 1.0013.
Bond Yields*: US 10-Year Treasury yield: 3.048%; UK 10-Year Government Bond yield: 2.599%.
*At the time of writing