US Markets: Broader indices in the United States traded in red - particularly, the S&P 500 index traded 7.84 points or 0.18 per cent lower at 4,441.14, Dow Jones Industrial Average Index dipped by 64.16 points or 0.18 per cent lower at 34,700.66, and the technology benchmark index Nasdaq Composite traded lower at 14,967.60, down by 84.60 points or 0.56 per cent against the previous day close (at the time of writing – 11:45 AM ET).
US Market News: The major indices of Wall Street traded in a red zone after Federal Reserve President hinted of a sooner-than-expected tapering. Among the gaining stocks, Costco Wholesale (COST) shares jumped by around 2.35% after the Company's fourth-quarter top-line and bottom-line business came out to be more than the consensus estimates. Among the declining stocks, Nike (NKE) shares went down by around 6.63% after the Company had reduced 2022 revenue forecasts. Roku (ROKU) shares dropped by around 4.74% after Wells Fargo downgraded the company from "overweight" to "equal-weight". Coinbase Global (COIN) shares fell by around 1.31% after China's crackdown on cryptocurrencies.
UK Market News: The London markets traded in a red zone, reflecting investors' worries regarding inflation and economic slowdown. Moreover, Bitcoin price plunged after China's central bank had decided to ban overseas exchanges from providing services to mainland investors.
Global Market ends in Red zone
AstraZeneca shares went up by about 2.97% after the Lynparza PROpel trial meets the primary endpoint related to the treatment of prostate cancer.
Mitie Group shares grew by around 2.62% after it reported a strong second-quarter boosted by several Covid-19 related contracts. Moreover, the Company had raised annual profit guidance.
Avon Protection confirmed that U.S. Defense Logistics Agency ("DLA") decided to exercise the Enhanced Small Arms Protective Inserts ("ESAPI") body armor contract. Meanwhile, the shares surged by around 8.62%.
JD Sports Fashion shares dropped by around 2.04% as Nike had trimmed the 2022 sales expectations due to the global supply chain disruptions.
European Indices Performance (at the time of writing):
FTSE 100 Index One Year Performance (as on 24 September 2021)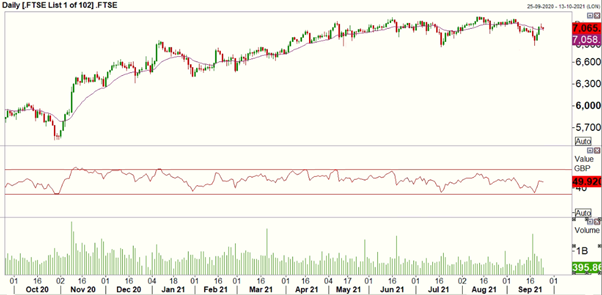 1 Year FTSE 100 Chart (Source: Refinitiv)
Top 3 Volume Stocks in FTSE 100*: Lloyds Banking Group PLC (LLOY); Rolls-Royce Holdings PLC (RR); Vodafone Group PLC (VOD).
Top Sectors traded in green*: Healthcare (+1.31%), Energy (+0.53%).
Top Sectors traded in red*: Real Estate (-1.93%), Utilities (-1.41%), Industrials (-0.76%).
London Stock Exchange: Stocks Performance (at the time of writing)
Crude Oil Future Prices*: Brent future crude oil (future) price and WTI crude oil (future) price were hovering at $78.02/barrel and $73.97/barrel, respectively.
Gold Price*: Gold price was quoting at US$ 1,747.80 per ounce, down by 0.11% against the prior day closing.
Currency Rates*: GBP to USD: 1.3670; EUR to USD: 1.1717.
Bond Yields*: US 10-Year Treasury yield: 1.466%; UK 10-Year Government Bond yield: 0.9060%.
*At the time of writing