US Markets: Broader indices in the United States traded in green - particularly, the S&P 500 index traded 12.81 points or 0.30 per cent higher at 4,279.30, Dow Jones Industrial Average Index surged by 241.15 points or 0.71 per cent higher at 34,437.97, and the technology benchmark index Nasdaq Composite traded higher at 14,371.80, up by 2.10 points or 0.01 per cent against the previous day close (at the time of writing - 12:15 PM ET).
US Market News: The major indices of Wall Street traded in a green zone, with S&P 500 reaching new highs boosted by the banking stocks and Nike. Among the gaining stocks, Virgin Galactic (SPCE) shares climbed by about 36.44% after Federal Aviation Administration approved to fly paying customers into space. Nike (NKE) shares jumped by about 14.12% after the Company's quarterly revenue came out to be significantly ahead of the consensus estimates. CarMax (KMX) shares went up by about 6.43% after the auto retailer had reported better-than-expected profit for the latest quarter. Among the declining stocks, FedEx Corp (FDX) shares went down by around 4.46% after the CEO stated that the inability to find a sufficient workforce had adversely impacted the operations.
UK Market News: The London markets traded in a green zone after US President Joe Biden announced a bipartisan agreement on the infrastructure deal. According to the Confederation of British Industry (CBI), UK retail sales jumped in June 2021 as the vaccination programme had boosted the consumers' confidence.
FTSE 100 listed JD Sports Fashion shares grew by about 4.03% and remained the best performer on the index after Nike had reported record quarterly results in the US.
UDG Healthcare stated that it had received an improved final offer of 1,080 pence per share from US private equity firm Clayton Dubilier & Rice. Moreover, the shares went up by approximately 1.10%.
British Lender Amigo Holdings shares climbed by around 7.55% after the Company had secured a three-month extension in the securitisation facility performance trigger waiver period.
Genedrive shares surged by around 18.18% after it had received a license to import the Genedrive® SARS-CoV-2 Kit into India.
European Indices Performance (at the time of writing):
FTSE 100 Index One Year Performance (as on 25 June 2021)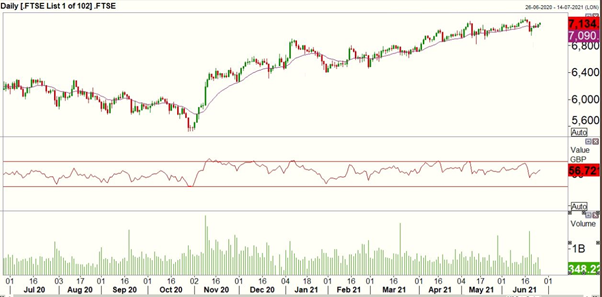 1 Year FTSE 100 Chart (Source: Refinitiv)
Top 3 Volume Stocks in FTSE 100*: Vodafone Group Plc (VOD); Lloyds Banking Group Plc (LLOY); Rolls-Royce Holdings Plc. (RR.).
Top 3 Sectors traded in green*: Basic Materials (+1.51%), Energy (+1.01%) and Healthcare (+0.59%).
Top 3 Sectors traded in red*: Consumer Cyclicals (-0.47%), Technology (-0.46%) and Utilities (-0.18%).
London Stock Exchange: Stocks Performance (at the time of writing)
Crude Oil Future Prices*: Brent future crude oil (future) price and WTI crude oil (future) price were hovering at $76.11/barrel and $73.98/barrel, respectively.
Gold Price*: Gold price was quoting at US$ 1,777.95 per ounce, up by 0.07% against the prior day closing.
Currency Rates*: GBP to USD: 1.3874; EUR to GBP: 0.8597.
Bond Yields*: US 10-Year Treasury yield: 1.541%; UK 10-Year Government Bond yield: 0.7780%.
*At the time of writing