FTSE 100 ended the week at a three-month high as the British markets accelerated after mirroring the rally of Global markets. The significant triggers that ruled the market in the last session were:
US labour department reported a surprise rise in jobs of 2.5 million in May instead of falling.
Investors appeared to be optimistic with the lockdown easing in significant economies.
Meanwhile, the British Consumer Confidence touched a decade low by going to the level of the global financial crisis.
The market sentiments were also upbeat after EUR 600 stimulus package introduced by the European Central Bank (ECB).
Here we are going to discuss two LSE listed Support Service stocks - Diploma PLC (LON: DPLM) and Ferguson PLC (LON: FERG). As on 5th June 2020, DPLM and FERG ended the week on a bright note by gaining 1.24 per cent and 0.52 per cent, respectively. It is mindful to note that Ferguson completed a bond financing in the past week. However, we would need to skim through their other recent regulatory updates, current financial and operational position to predict the plausible outlook scenario and understand the prevailing share price movement better.
Diploma PLC (LON: DPLM) – Well Diversified Company by Business Area and Geography
Diploma PLC is FTSE 250 listed Company, which is engaged in supplying technical products and services. The business organized into three main reportable segments, namely Life Sciences, Seals and Controls. The Life Sciences Sector business caters to the healthcare and environmental industries, with a portfolio of consumables, instrumentation, and related services. The Seals Sector businesses serve to specialised industrial equipment and heavy machinery. The Controls Sector businesses provide a range of technical applications. The Company stock has been listed on the LSE (London Stock Exchange) since 12th June 1960.
Revenue breakdown by sector and geography for the financial year 2019, can be seen in the image below: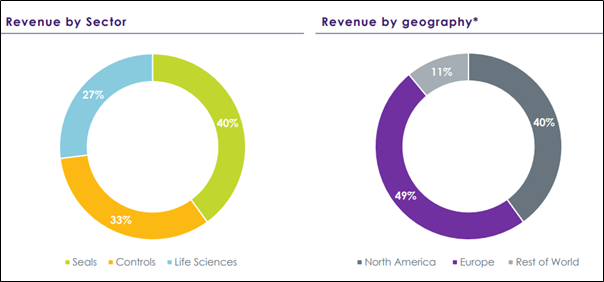 (Source: Presentation, Company Website)
Synopsis of Recent Major Regulatory Updates
6th May 2020: The Board of Diploma PLC has approved the appointment of Group Company Secretary to John Morrison, with immediate effect.
25th March 2020: The Group reported its resilience and strong performance despite the headwinds presented by COVID-19 pandemic.
Financial Highlights - Robust Growth with Good Contribution from Acquisitions
On 11th May 2020, the Company provided the half-year results for the six months ended 31st March 2020, with robust performance and resilient business model responding to COVID-19 challenges. Group revenues benefitted from a robust contribution from acquisitions and on a constant currency basis increased by 10 per cent (up 9 per cent on a reported basis) to GBP 283.6 million (2019: GBP 260.4 million) over the prior comparable period. The statutory profit before tax surged by 4 per cent to GBP 41.6 million in H1 FY20 as compared with the corresponding period of the last year (H1 FY19: GBP 40.1 million). Some additional highlights are stated below:
In the life science division, the reported underlying surged by 2 per cent in the first half of 2020, with robust consumable revenues in Healthcare and decent contribution from Environmental businesses. Whilst Seals unit witnessed a 20 per cent increase due to contribution from a previous acquisition. The Control business reported 1 per cent revenue growth, with underlying revenues remaining unchanged.
The Group's cash flow from operating activities surged by GBP 12.9 million to GBP 43.0 million (H1 FY19: GBP 30.1 million), which included a credit of GBP 3.6 million on the adoption of IFRS16. On a like-for-like basis, the increase in cash flow from operations, reflecting a combination of a smaller investment in working capital of GBP 13.1 million and decent operating profit.
The Company recorded an approximately 16 per cent drop on an actual basis (down 28 per cent on an underlying basis) in revenue for April 2020 due to COVID-19, but it continues to generate good operating profit and cash flow.
On 31st March 2020, DPLM had GBP 29.9 million of net bank debt and GBP 66.0 million of available liquidity. Under the Government's CCFF (Covid Corporate Financing Facility), the Group received confirmation that it is eligible for up to GBP 225 million.
Share Price Performance Analysis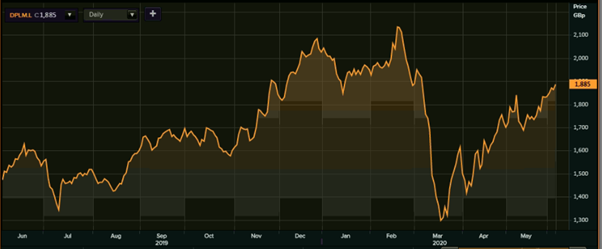 (Source: Refinitiv, Thomson Reuters) -1-Year Chart as of June 5th, 2020, after the market close
DPLM's shares closed at GBX 1,885 on 5th June 2020. Stock's 52 weeks High is GBX 2,152.00 and Low is GBX 1,191.00. Total outstanding M-Cap. (market capitalization) stood at approximately GBP 2.12 billion.
Business Outlook
The Group said it had delivered a robust first-half performance, but the outlook for the second half stays uncertain amid elevated global volatility hurting the Company's operation in many of its major markets. Further, the Company decided to suspended payment of an interim dividend given the existing uncertainty. It also has taken effective actions to mitigate the impact of COVID-19 crisis on the business, including freezing all capital expenditure and discretionary spend, and reduction in basic salary/fees of 20 per cent. The Company has a resilient business model; robust balance sheet and liquidity and well prepared to return to delivering the strategy and performance objectives.
Ferguson PLC (LON: FERG) – Substantial Liquidity Position and Cost-Cutting Measures Shall Buffer the Current Downturn
Ferguson PLC is a FTSE 100 listed holding Company, which distributes plumbing and heating products, together with its subsidiaries in the United Kingdom, the United States and Canada. It operates through the following businesses:
Blended Branches, which provides plumbing and sanitary products as well as heating solutions to customers across the commercial and residential sectors and new construction.
B2C e-commerce, which markets directly to consumers through websites primarily using the product range and distribution network of the Blended Branches business.
Waterworks, which distributes pipe, valves, and fittings (PVF), hydrants, meters and related water management products alongside related services including water line tapping and pipe fusion.
The Company stock has been listed on the London Stock Exchange since 23rd November 2010.

(Source: Company Website)
Recent Significant Developments of 2020
3rd June 2020: The Group has completed a bond financing for USD 600 million with a ten-year maturity at 3.25%, for repayment of existing debt, boost liquidity and other general corporate purposes.
26th May 2020: The Chief Financial Officer, Mike Powell has stepped down from its position to join Mondi PLC, as a Chief Executive Officer.
19th February 2020: The Company agreed to acquire the Columbia Pipe & Supply Co. The acquisition will bolster Ferguson's capabilities in the Chicago market.
Q3 FY20 Trading Update: On-track to Support the Customer and Employees through the COVID-19 Mayhem with Robust Business Model
On 13th May 2020, the Company provided the quarterly results for the 3 months to 30 April 2020, with decent revenue momentum in February and March was adversely wedged in April 2020 as COVID-19 restrictions and safety measures brought about a reduction in demand. The Group generated revenue in the continuing businesses of USD 4,750 million in Q3 FY20, 0.9 per cent ahead of the previous year or 1.7 per cent behind on an organic basis. Gross margins decreased by 40 basis points to 29.8 per cent in Q3 FY20. In Q3 FY20, the trading profit slipped 1.5 per cent year on year from USD 339 million to USD 334 million. FERG noted it took a USD 17 million hit from adopting IFRS 16 accounting standards. Additional Highlights are:
In the US region, the Company recorded a growth of 1.9 per cent in revenue in Q3 FY20, but Canada suffered a 16.4 per cent fall. In the UK region, the revenue decreased by 26.5 per cent to USD 417 million, while it made a trading loss of USD 12 million.
Currently, the Company is demerging its non-ongoing operations, Wolseley UK. Ferguson said its plans stay unchanged although the timing will depend upon the stabilization of market conditions.
Kevin Murphy (Group Chief Executive) said it has moved to protect its cash flow and cost base. The Group has introduced several measures to protect its cash position including pausing current M&A activity, suspending the USD 500 million share buyback, reducing capital expenditure in 2019/20 to around USD 280-300 million and withdrawing the interim dividend.
On 30th April 2020, FERG had USD 3.1 billion of available liquidity including USD 1.8 billion of undrawn facilities and readily available cash of USD 1.3 billion.
For the nine months to 30th April 2020, the revenue from ongoing operations increased by 3.2 per cent to USD 14,643 million as compared with the corresponding period of the last year, while trading profit rose by 2.8 per cent to USD 1,133 billion against the same period last year.
Share Price Performance Analysis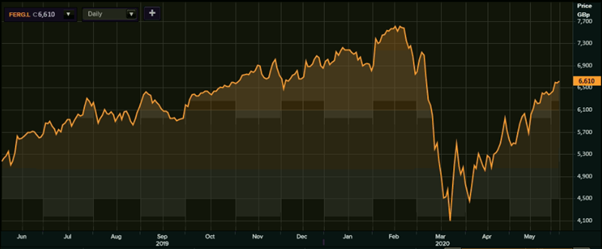 (Source: Refinitiv, Thomson Reuters) -1-Year Chart as of June 5th, 2020, after the market close
FERG's shares closed at GBX 6,610 on 5th June 2020. Stock's 52 weeks High is GBX 7,696.00 and Low is GBX 3,700.00. Total outstanding M-Cap. (market capitalization) stood at approximately GBP 14.77 billion.
Business Outlook
The Company has withdrawn its formal guidance due to the dynamic situation unfolding with COVID-19. Ferguson continues to operate as an essential business with most of the branches open and serving clients as much as possible. The Group stays well-positioned for long-term triumph as operating in the fragmented and attractive markets, backed by a robust balance sheet and liquidity position and has a decent business model.