Highlights

Bitcoin on 10 May slipped to US$29,764 before recovering above US$30,000.
Bitcoin was trading at US$32481.58 with a volume of US$79,21,49,74,961 at the time of writing on Tuesday.
Bitcoin has now lost close to 54% ever since it achieved its all-time high on 10 November 2021 of US$69,044.
The year 2022 has been very tough for investors as most asset classes have seen volatile situations. The crypto market has been seeing tremors in the market leaving many investors with the conundrum of whether it will fall further. Bitcoin slipped below US$30,000 on 10 May, and its value tumbled by 8.26% in the last 24 hours.
This has left the market in a precarious position, considering it has reached its 10-month low since July 2021, raising fears that it could mimic the performance of the bear market, which the leading crypto witnessed last year.
With this, the overall crypto market's value has gone to US$1.46 trillion, with an overall dip of 4.77% in the past 24 hours. The dip has primarily been associated with the sell-off caused by the Federal Reserve's decision to tighten its monetary policies resulting in recession fears.
On Tuesday, BTC fell as low as US$29,764 before recovering above US$30,000. The leading crypto was currently trading at US$32481.58 with a volume of US$79,21,49,74,961 at the time of writing.
Also read: Bitcoin leads the market free-fall: Why are cryptos crashing?
Today's dip has further dented Bitcoin as it has now lost close to 54% ever since it achieved its all-time high on 10 November 2021 of US$69,044.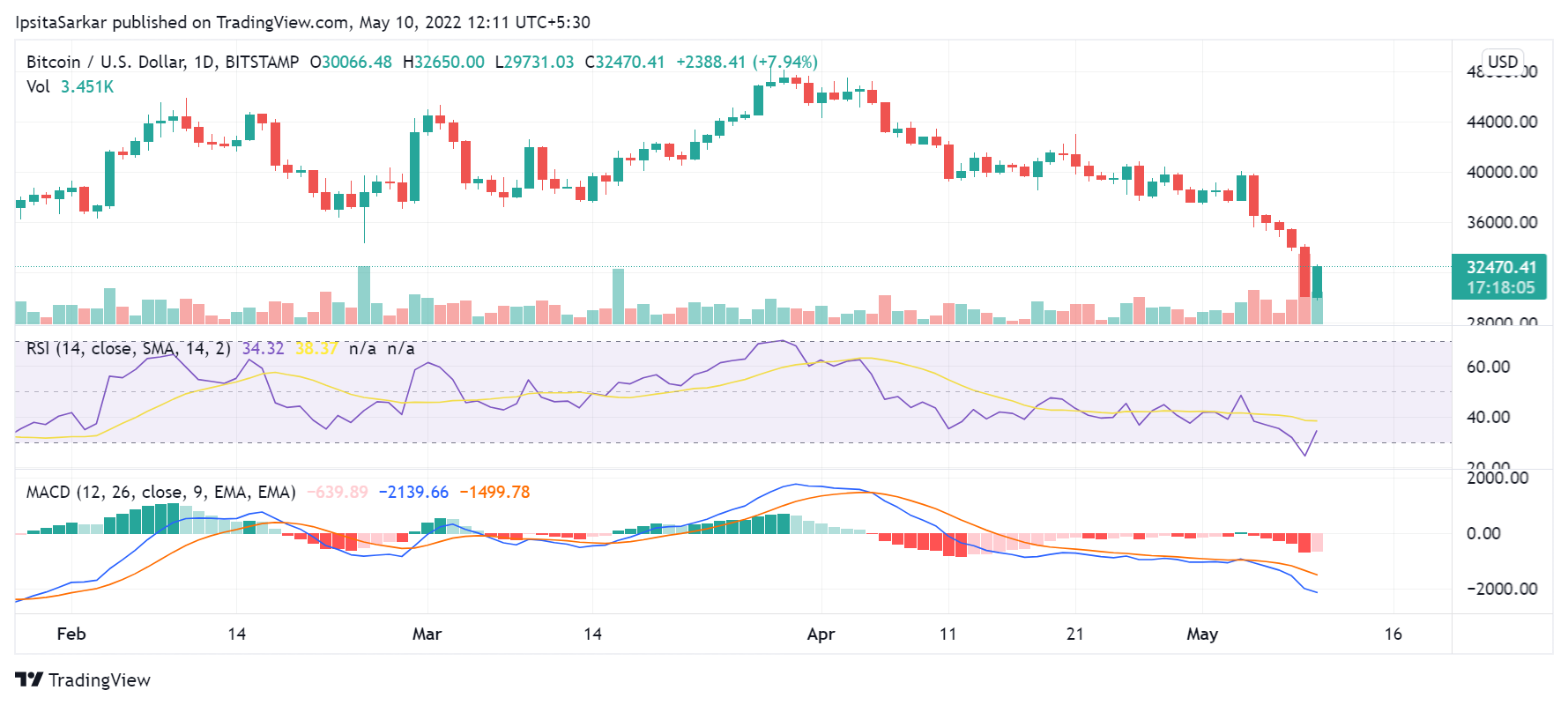 Image credit: Trading View
The latest decline left bitcoin at a 10-month low and its lowest price this year. The last time Bitcoin fell below US$30000 was on 20 July when it touched US$29,301.
So, with the situation looking all gloomy at present, let's look at three times when Bitcoin fell well below the expectation in the past year, only to rally.
The fall on 22 June
Last year, Bitcoin was gripped by a bearish situation, spiralling Bitcoin's price to a low of US$28,600 on 22 June. The slump was triggered by an Elon Musk's Tweet (on 13 May), which stated that Tesla would no longer accept Bitcoin as payment due to environmental concerns. This resulted in Bitcoin's price dropping by almost 15%.
But after a string of being in a relatively sideways stage, it marginally showed signs of recovery to be placed at US$29296.39, eventually reaching US$42248.95 on 30 July last year. The rally continued ensuring it crossed the physiological mark of US$50000 on 20 August, finally settling at US$52956.47 on 7 September.
Image credit: Trading View
From below US$40000 to ATH
However, the emotions were short-lived as soon dropped Bitcoin dropped well below US$40000 to be placed at US$39573.21 on 21 September 2021. One of the reasons for such as drop was primarily due to the crypto regulation talks or rumours which had started to build up.
Also read: Can Numeraire (NMR) crypto buck its bearish trend?
However, El Salvador adopting Bitcoin as its legal tender catapulted Bitcoin on a bull run, eventually crossing US$60,000 for the second time in the year. Bitcoin then went on to break the all-time-high mark to reach US$69,044.77 on 10 November.
Bitcoin drops to under US$50000
But after that, US$69,000, Bitcoin has been on a bearish trend with price struggling to maintain its momentum. Only briefly did it manage to hover above the US$50,000 mark. But since then, it has been on a downward slide.
On 28 March, it managed to achieve its highest mark of the year, reaching US$48234, before being on a downward slide. This has prompted many investors to either sell their assets or play the waiting game.
Conclusion
The investors will be hoping that just like the previous trends, Bitcoin will be able to pull itself out of the rut and manage to hold firm on the market. Only time will tell how long it will take to achieve it. For now, the market participants will have to tread carefully in such a volatile environment and do their market research properly before taking any investment decisions.
Risk Disclosure: Trading in cryptocurrencies involves high risks including the risk of losing some, or all, of your investment amount, and may not be suitable for all investors. Prices of cryptocurrencies are extremely volatile and may be affected by external factors such as financial, regulatory, or political events. The laws that apply to crypto products (and how a particular crypto product is regulated) may change. Before deciding to trade in financial instruments or cryptocurrencies you should be fully informed of the risks and costs associated with trading in the financial markets, carefully consider your investment objectives, level of experience, and risk appetite, and seek professional advice where needed. Kalkine Media cannot and does not represent or guarantee that any of the information/data available here is accurate, reliable, current, complete, or appropriate for your needs. Kalkine Media will not accept liability for any loss or damage as a result of your trading or your reliance on the information shared on this website.