Global market ticked-up on Monday (December 02, 2019) after upbeat Manufacturing PMI data from China and investors adhered to the optimism that US-China could reach a trade deal soon. Meanwhile, cChina Manufacturing PMIChina Manufacturing PMIrude prices also surged higher on Monday trading session (before the market close) over Chinese Manufacturing PMI numbers.
Asia-Pacific major indices like Australian major equity gauge ASX 200 traded 16.230 points or 0.24% to 6,862.30, and during the session, the index registered an intraday high of 6,890.0 and a low of 6840.60. China's Shanghai Composite traded 3.93 points or 0.13% higher at 2,875.81, Japan's Nikkei 225 traded 235.59 points or 1.01% higher at 23,529.50 and TOPIX surged 15.13 points or 0.89% higher at 1,714.49. South Korea's KOSPI ended 3.96 points or 0.19% higher at 2,091.92, Hong Kong's Hang Seng traded 98.23 points or 0.37% higher at 26,444.72 and Indian equity benchmark BSE Sensex traded marginally higher at 40,800.44 (before the market close), respectively.
European markets also zoomed higher, with UK's broader gauge FTSE 100 index traded 49.42 points or 0.67% higher at 7,395.01 before the market close and registered an intraday high of GBX 7,400.09 and a low of 7,344.16, respectively. Germany's DAX traded 90.82 points or 0.69% higher at 13,328.19 (before the market close), France's CAC 40 traded 33.84 points or 0.58% higher at 5,939.26 and Netherland's AEX traded 4.36 points or 0.73% higher at 601.62, respectively. However, the US market is yet to open.
Global markets zoomed higher post Caixin/Markit Manufacturing Purchasing Manager's Index (PMI) of China surged to 51.8 in November 2019, against 51.7 mark recorded in the corresponding period of the last month, which reflects the fastest expansion since December 2016.
The threshold of 50 points distinguishes contraction from expansion on a month-to-month basis.
Beijing' factory activity reported classical signals of improvement in November 2019, with growth surging to about three-year highs, strengthened by upbeat Chinese government data which was released on November 29, 2019.
However, several analysts are worried about deflationary risks, and not sure whether the worst is behind the Chinese economy as they commented that the sub-indexes of both surveys posted a patchy improvement which is difficult to sustain.
Meanwhile, official Chinese Manufacturing PMI data which was reported by National Bureau of Statistics of China as on November 29, 2019, also surprised the market, as it returned to expansion for the first time in the past seven months as demand in the home country recorded an uptick. But gains were few and far between, and export orders were not gaining steam.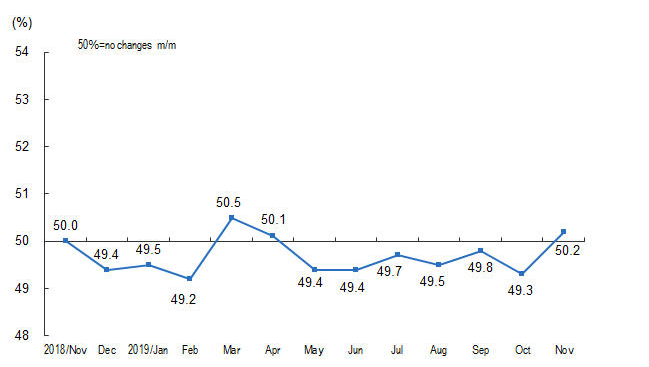 Source: National Bureau of Statistics of China
On the enterprise-scale basis, the PMI of large -scale entities was around 1.0 percentage points higher against the same period of the corresponding previous month at 50.9%, mid-scale firms were recorded a surge of 0.5 percentage points higher at 49.5%, and small-scale enterprises leapt up 1.5 percentage points to 49.4%, respectively.
Out of five sub-indices that constitutes PMI, the production index, new orders gauge, and supplier distribution time index was relatively higher against the previous comparable period and also above the threshold mark of 50 as well. However, the employment index and raw material inventory index reported contraction and stood at 47.3% and 47.8%, respectively. A mark below the threshold 50 reflects contraction.
Production index recorded strong improvement as index improved by 1.8 percentage points to 52.6% against 50.8% recorded in the month-over period, followed New Order Index, the second-best performer in the November PMI, which improved by 1.7 percentage points to 51.3% against 49.6% reported in the year-over period and Supply Delivery Time Index improved 0.4 percentage points to 50.5%.
Also, the Production Index reported expansion for the nine-consecutive months in a row and the Supplier Delivery Time Index reported expansion for the seven-consecutive months in a row, respectively.
Meanwhile, China's Non-Manufacturing Purchasing Managers Index reported a growth of 1.6 percentage points against the corresponding previous month and stood at 54.4%, which reflects that the overall non-manufacturing activities continued to expand, and growth accelerated as well.
Within the non-manufacturing businesses activity, index of service industry recorded a decent growth of 2.1 percentage points against the previous comparable period to 53.5%, which shows that the activities of the service sector have gone up.
Is the Chinese Manufacturing PMI expansion sustainable?
Well, many argued that trade escalation between the US and China is not going to soften easily as leaders of both the World's large economies given radical comments recently, which shows that Phase-1 trade deal between both the nations would be temporary and could escalate in the forthcoming period.
Recently, US President Donald Trump jolted markets by signing the Hong Kong Human Rights and Democracy Act, and together with this, he had also avowed not to supply crowd control tear gas to Beijing, which acted as a further abatement over the already distorted relationship between the US and China.
However, a school of experts said that Phase-1 deal between the US and China could boost global growth and demand outlook after months of contraction in growth and demand as well. And it will boost Chinses export, which is trending into a downtrend since year-over period.
 Crude Oil
Post a positive manufacturing PMI number reported by China, the International Crude benchmark Brent Crude Oil soared up to $61.87/bbl and up by $1.39 points or 2.31%, in the day's trade.  This was the highest one-day surge after November 21, 2019. During the day session (before the market close), Brent Crude registered an intraday high of $62.05/bbl and a low of $60.73/bbl respectively.
Improving Chinese manufacturing PMI reflects energy demand could increase in near-term after months of sluggish demand trend in Crude Oil, which sent prices lower over the past couple of months. During the year-over period, Brent Crude Oil prices fell off as much as to $49.93/bbl.
Americas Crude Oil benchmark West Texas Intermediate (WTI), surged 1.24 points or 2.21% higher against the previous traded session to $56.38/bbl and registered an intraday high of $55.47/bbl and a low of $56.67/bbl.
Gold futures softened over equity expansion
After global equity market recorded decent rally in the December 02, 2019 trading session, Gold futures slumped by 8.85 points or 0.60% to $1,463.85/oz (before the market close) and tested an intraday low of $1,459.85/oz and a high of $1,470.35/oz, respectively.
After an extended period of gains in the yellow metal prices witnessed till September 2019, the outlook for gold is fading now, as the yellow metal fell off more than 6.5% from its peak level of $1,566.2/oz to $1,463.75/oz in the December 02, 2019 trading session (before the market close).
However, investors are still eyeing for a better trade deal between US-China in coming days, so that growth cycle could get a kickstart.
With Bank of England reducing the interest rates to a historic low level, the spotlight is back on diverse investment opportunities.
Amidst this, are you getting worried about these falling interest rates and wondering where to put your money?
Well! Team Kalkine has a solution for you. You still can earn a relatively stable income by putting money in the dividend-paying stocks.
We think it is the perfect time when you should start accumulating selective dividend stocks to beat the low-interest rates, while we provide a tailored offering in view of valuable stock opportunities and any dividend cut backs to be considered amid scenarios including a prolonged market meltdown.


CLICK HERE FOR YOUR FREE REPORT!