Summary

DogeCoin, which was created to mock cryptocurrencies, soared to a new high of 43 cents on April 20 2021.
Dogecoin's total value surpassed $45 billion due to the market surge, putting it among the top five most popular cryptocurrencies in the world.
SpaceX CEO Elon Musk is voicing his support for the famous altcoin in recent weeks.
On 20 April, Dogecoin soared to an all-time high near $0.42 before marginally reversing its gains. Backers of the meme cryptocurrency commemorated 20 April as 'Doge Day' after this incredible rally with #Dogeday420 trending on Twitter and Reddit.
Also Read: What's powering Dogecoin's astronomical April rally?
What is driving the growth of Dogecoin?
According to CoinMarketCap, market cap of Dogecoin, which evolved from a meme to a widely traded crypto asset, has skyrocketed to almost $47 billion on 17 April from over $1 billion recorded in early January 2021.
Dogecoin, like Bitcoin, is used for e-transactions. In a decentralised network, this digital coin allows for peer-to-peer transactions.
Despite being developed in 2013, the Dogecoin recently gained traction, thanks to Musk's tweets. The meme-inspired cryptocurrency dogecoin has been on the rise following several cryptic tweets from SpaceX CEO Elon Musk, who has been voicing his support for the most famous altcoin.
On February 4, 2021, the tesla founder tweeted, "Dogecoin is the people's crypto."
Elon Musk changed a Spanish artist Joan Miro's painting " Dog barking at the Moon " to "Doge" barking at the Moon in a tweet on April 15, pushing Dogecoin's price up 200% to $0.37 on Friday.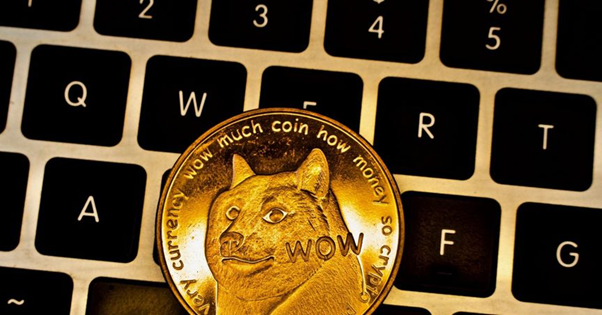 Source: © B65381 | Megapixl.com
American rapper Snoop Dogg and singer Gene Simmons have expressed their support for the cryptocurrency 'Dogecoin' on social media, propelling the meme currency to new heights.
The soaring value of other cryptocurrencies, such as Bitcoin and Ethereum, are also driving the value of Dogecoin.
A Reddit community named SatoshiStreetBets is another explanation for Dogecoin's rising popularity. Members of SatoshiStreetBets established a passion for cryptocurrency in the same way as GameStop did earlier this year.
Interesting Read: No funny business: Dogecoin's journey from a joke to US$41 billion cryptocurrency
Dogecoin – how it all started
In the year 2013, two software engineers, Jackson Palmer and Billy Markus created Dogecoin, a satirical cryptocurrency. A Shiba Inu puppy serves as Dogecoin's logo.
What began as a joke, quickly grew in popularity after its inception. The 2017 cryptocurrency bubble that had sent the value of several coins sky high also influenced the value of the meme cryptocurrency, which gained traction. But Dogecoin's value plummeted after the bubble crashed in 2018.
Dogecoin was created to mock the cryptocurrency craze that was sweeping the world at the time. The name and logo of the coin were inspired by a famous 2013 meme called Doge, which featured a picture of the Japanese dog breed Shiba Inu followed by multi-coloured text that reflected the dog's inner monologue.
Dogecoin can be bought with debit or credit cards and a user can buy, sell, or swap Dogecoin like other cryptocurrencies on a cryptocurrency exchange offering Dogecoin. There is no cap on Dogecoin supply, and it can be mined on Mac, Windows, or Linux.
You may also like to read: Dogecoin has a tiger's roar, soars 440% in a week
Why should investors be careful investing in Cryptocurrencies?
Some investors are worried that the growth of Dogecoin would result in a bubble because traders in the digital token have seen little real value and are merely selling to benefit as the price rises.
According to industry experts, cryptocurrencies lack inherent value, such as land or gold and are considered highly volatile as they can collapse as rapidly as they flourish. This makes the investor susceptible to super-loss.
Good Read: A glance at five Important Cryptocurrencies other than Bitcoin and Ethereum