Summary

India is experiencing a harrowing crisis due to COVID-19 with record infections and deaths.
The NZ Government assures all possible help to its Indian counterpart.
Kiwi players praise the tight bio-secure bubble of the IPL franchises, decide to stay back in India, and play the current IPL season.
India is currently undergoing one of its worst phases in history with the deadly coronavirus engulfing the entire nation. As the country continues its battle against the novel coronavirus, its crumbling health system has raised an alarm among its critics, and is under immense pressure amid the rising COVID-19 cases among its citizens.
Also Read: COVID-19: World comes to rescue as oxygen shortage chokes India
As per the latest reports from Indian government's Ministry of Health and Family Welfare,
India has 2.8 million active cases of COVID-19 with 14.5 million deaths as of 27 April 2021.
The Indian Council of Medical Research (ICMR) has reported that a total of 280.9 million COVID-19 samples have been tested till 26 April 2021.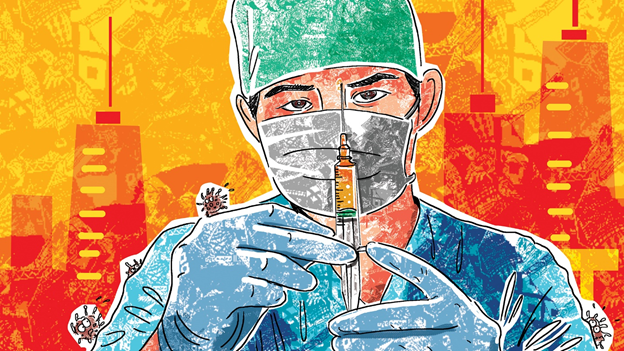 Source: Copyright © 2021 Kalkine Media Pty Ltd
So far, roughly 145 million doses of the COVID-19 vaccine have been administered to its citizens.
NZ Government Concerned And All Set To Support India
Amid these devastating times, the New Zealand government has come out in support of the people of India and assured every possible help to deal with the current catastrophe.
Grant Robertson, NZ's Deputy PM, stated that the Kiwi nation was working closely with the Indian officials and had reaffirmed to extend every possible support and assistance to the sub-continent country.
He further expressed that as most of the countries were already helping India with oxygen and other essentials, New Zealand would continue to back the Indian administration in these terrible times of the crisis.
Kiwis Stuck In India Face New Hurdles Of Going Back Home
There are many New Zealanders who are stuck in India amid the pandemic and want to go back to home. As a precautionary measure, NZ had temporarily suspended the flights coming from India since 11 April.
Also Read: Countries move to ban travel from India as COVID-19 unleashes havoc
The ban has, however, been lifted on 27 April midnight with new travel rules in place. It states that with India being a 'high-risk' country, only NZ citizens, their parents, spouses, and children were allowed into NZ. Permanent New Zealand residents shall not be allowed to travel directly back to the country.
Also Read: SOS calls giving way to obits as COVID-19 rips through India
NZ Cricket Players To Stay Back In India
Heath Mills, Chief Executive of NZC Players Association, has stated that the New Players who were participating in the 2021 IPL would be staying back in India despite the devastating situation in the country regarding COVID-19.
It is noted that Kiwi players like Kane Williamson, Lockie Ferguson, and Trent Boult are currently playing in the IPL.
Mills further stated that Black Caps were not in any danger as India had put up specially designed bio-security bubbles around the players. The Kiwi players are taking all the necessary precautions and are satisfied with the health measures and the cautious approach of their IPL franchises. The players opined that they were well looked after and were extremely safe in their bio bubbles.
How can you contribute?
Countries all over the world are helping the Indian Government with oxygen, medical supplies and other essentials, as the sub-continent country struggles with a record spike in the coronavirus cases. Kiwis who want to make a contribution can contribute through:
CARE India, which is a not-for-profit organisation and is working for around 70 years towards removing poverty and social injustice.
Sewa International, a humanitarian and non-profit service organisation.