Source: saisnaps, Shutterstock
The Indian Rupee (INR) has put up its worst intra-day show in 20 months on concerns of liquidity glut induced by the Reserve Bank of India's (RBI) proposed bond buying plans.
At the interbank foreign exchange market in Mumbai, India's financial capital, the INR opened flat at 73.52 against US$. On Tuesday, INR had close 12 paise lower at 73.42.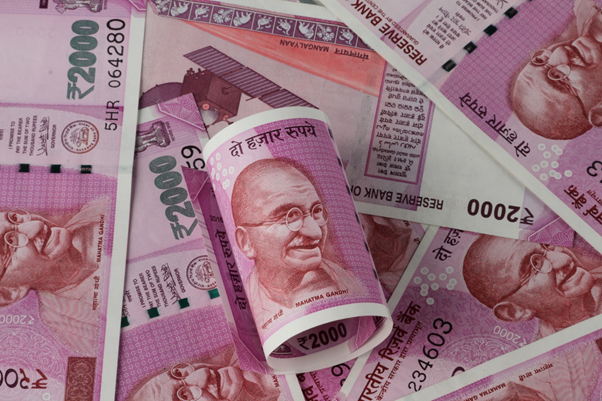 Inage Source: © Akhilesh | Megapixl.com
However, the sell-off of Indian currency started as soon as Indian banking regulator announced that it will buy government securities from open market worth INR 1 trillion. The move is likely to induce a further liquidity glut in the Indian economy.
Image Source: © Blueximages | Megapixl.com
As a result, the INR headed southwards to close at 74.55, its worst show since 5 August 2019. On that day, the rupee had fallen by 116 paise over geo-political concerns of rising tensions between India and Pakistan after Indian Home Minister Amit Shah moved to scrap the special status of bordering state of Jammu & Kashmir.
The worst fall of the INR, post 1991 reforms, had been on August 29, 2013, when Indian currency fell by massive 264 paise against the US$. On that day, the spooked foreign investors sold their holdings in India and other emerging markets owing to taper tantrum in the US.
Read: Dollar Index Rooted to Head Further South or Reversal is on Cards?
The rising coronavirus cases in the world's second most populous country also added to the strain in the rupee. India, as of date, is seeing second wave of the highly contagious pandemic, with daily new cases crossing over 100,000 regularly.
Also Read: Why bond yields, dollar hit new highs after Powell's speech
The fall in the Indian rupee happened despite a weak US$, as the dollar index fell by 0.06% to 92.28. The dollar index measures the strength of US$ strength against a basket of six currencies – euro (EUR), Japanese Yen (JPY), British Pound (GBP), Canadian Dollar (CA$), Swedish Krona (SEK) and Swiss Franc (CHF).