Summary

Residential development industry, which makes up around 5% of GDP in Australia, has been supported by the Federal Government and State Government initiatives.
Low-interest rates continue to aid demand for housing in the country while building approvals for private houses are also on the rise.
The Australian Bureau of Statistics (ABS) has released building approvals data for October 2020. The data has been particularly encouraging for private sector houses or residential real estate.
On a seasonally adjusted basis, building approvals for private sector houses reached a 20-year high, marking the highest recorded level since February 2020.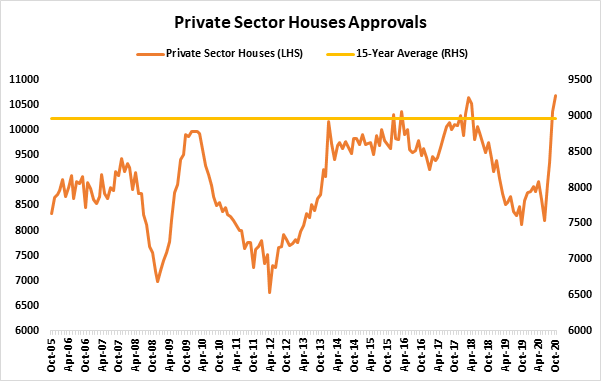 Kalkine Image, Source: ABS, 1 December 2020
Private sector house approvals for October 2020 stood at 10,692 units, well above the 15-year average of around 8,961 units. October approvals rose 3.1% over the previous month and 31.7% over the same period last year.
In October, total dwelling approvals rose 3.8% to 16,584 units. Dwelling approvals excluding private houses rose 6.2% over the previous month, but they are down 10.6% over the same period the previous year.
Policy support has been the driver of the housing market after COVID-19 restrictions eased in most states and territories.
Record low-interest rates have also pushed home loan interest rates to lower bound levels, while the Federal and State Government-based incentives continue to provide a floor for the housing markets and the economy.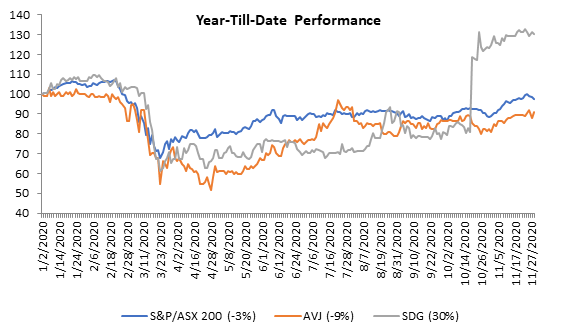 Source: Thomson Reuters, Index to 100, Performance as of 30 November 2020
In that backdrop, let us discuss two ASX-listed players from the related space.
AVJennings Limited (ASX:AVJ)
Recently, AVJennings concluded its 2020 Annual General Meeting. Chairman Simon Cheong noted that the company has successfully navigated the pandemic.
He highlighted that the residential development industry in Australia contributes around 5% of the gross domestic product and provides around 134k jobs. In New Zealand, the industry is valued at $16 billion and supports 30k jobs.
AVJennings continues to maintain a conservative approach for land acquisition with respect to price and terms. It has also embarked on a venture with the Victorian Government for a public housing site at Brunswick West.
The company expects that the venture for public housing would act as a catalyst for similar projects in Victoria and elsewhere. At the beginning of 2020, its sale enquires increased, which continued during the pandemic and escalated quickly as restrictions were eased.
Economic challenges like unemployment, economic growth and consumer confidence will likely hurt buyer confidence. Federal Government's initiatives like HomeBuilder and First Home Loan Deposit have been positive along with support from the state governments.
During the three months to 30 September 2020, AVJennings signed 219 new contracts against 154 in the same period last year. It has 434 total net contracts, having settled 164 contracts during the September quarter.
AVJ remains confident of a solid FY21, but revenue recognition and profits would be weighted in the second half. A number of projects would get underway in the first half FY21 that would aid future results, including Kogarah and Warnervale in NSW and Deebing Heights in QLD.
Sunland Group Limited (ASX:SDG)
Recently, Sunland Group also convened its 2020 Annual General Meeting. Earlier in October, the company revealed that it completed a strategic review of operations. It is selling inventory which is not under development.
Sunland is slated to emphasise on completing the development of certain other projects. It would take around three years to implement this plan. This decision would convert assets into cash, which would be used to repay liabilities and return to shareholders.
The company has an objective to return the current net asset value of around $2.56 per share to shareholders through progressive dividends and capital payments.
Around 70% of the group's inventory is under development, and projects are expected to complete in the years ending 30 June 2021, 2022 and 2023.
Source: SDG 2020 AGM Presentation, 27 November 2020
Approximately 30% of the group's inventory value is not under development and Sunland has planned to place these assets on the market for sale. It has sold properties in NSW and QLD for $65 million, which was used to reduce debt.
Sunland Group has contracted property sales totalling $31.3 million with net profit contribution of $2.9 million. It would consider interim dividend at the time of 1H FY21 results.