Highlights

It seems imperative to examine the root cause of existing inflation in Australia.
Australia's inflationary pressures can be attributed to both demand-side and supply-side forces.
Experts are now anticipating an interest rate hike by the end of this year to ease inflationary pressures.
The steady rise of inflation in Australia has somehow triggered a wave of panic, fuelling concerns of an earlier-than-expected rate hike by the central bank. Meanwhile, the inflationary pressures are highlighting many challenges associated with the withdrawal of monetary policy support.
The recent uptick in prices seems to have left the central bank in a tizzy to increase interest rates to tame inflation or retain monetary stimulus to prevent economic slowdown from the ongoing surge in cases. In the given scenario, it seems imperative to examine the root cause of existing inflation, which could provide clarity on the ways to counter it.
Inflation can be commonly categorised into two types, namely cost-push and demand-pull inflation. The difference between these terms arises from the working of market forces (demand and supply) that trigger price rises in an economy.
To know which type of inflation Australia is facing, let us look at each of these categories in some detail:
DO NOT MISS: Australia records another quarter of high inflation
Demand-pull and cost-push
Typically, inflation is categorised as a byproduct of the lack of adequate sources in the economy. High inflation usually results from the absolute dearth of a commodity, which leads to an exponential increase in the product's value. At the same time, the absence of a sufficient quantity of a product generally results in a demand-supply imbalance in an economy.
The below table summarises the difference between demand-pull and cost-push inflation: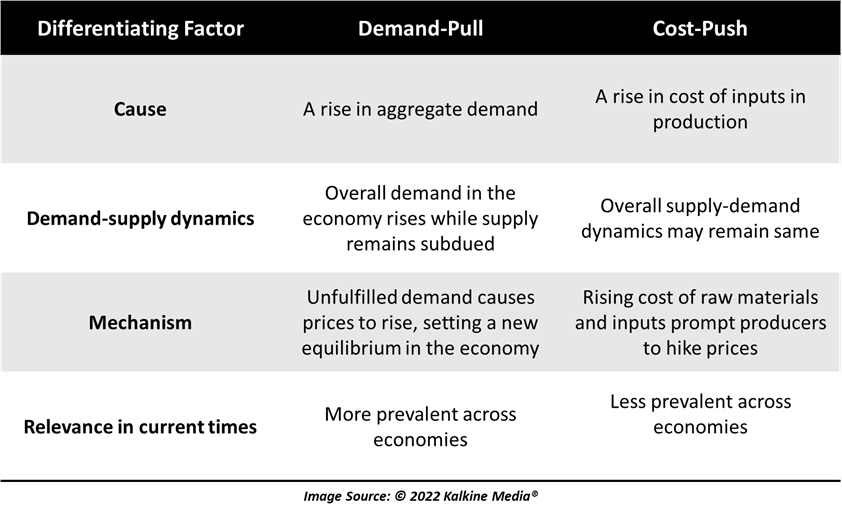 Cost-push inflation typically arises when the cost of any of the factors of production rises. These factors of production include land, labour, capital, and entrepreneurship, which have different costs attached to them, namely, cost of raw materials, wages, cost of equipment etc. Generally, external factors trigger cost-push inflation.
On the other hand, demand-pull inflation results from a considerable increase in the aggregate demand for a commodity. It usually occurs when too much money chases too few goods. Most commonly, domestic or internal factors prompt demand-pull inflation.
Putting all the jargon aside, both types of inflation can be detrimental to the economy. Thus, no matter whether the economy is experiencing demand-pull or cost-push inflation, it requires adequate intervention from policymakers.
ALSO READ: Omicron impact: Private sector activity contracts in Australia
Where does Australia stand?
In Australia, prices have risen in a dynamic context, wherein global factors have played a significant role in influencing domestic inflation. Going by the definition, Australia's inflationary pressures can be attributed to both demand-side and supply-side factors.
Demand-pull inflation is distinctively visible in the Australian economy as consumers actively indulged in the consumption of goods after the easing of lockdown restrictions. More precisely, buyers released their pent-up demand built over the lockdown period. This effect was even more pronounced during the Christmas holidays when consumers splurged excessively on consumer discretionary products. Consecutively, the end of 2021 was the incubation period for the inflation seen now.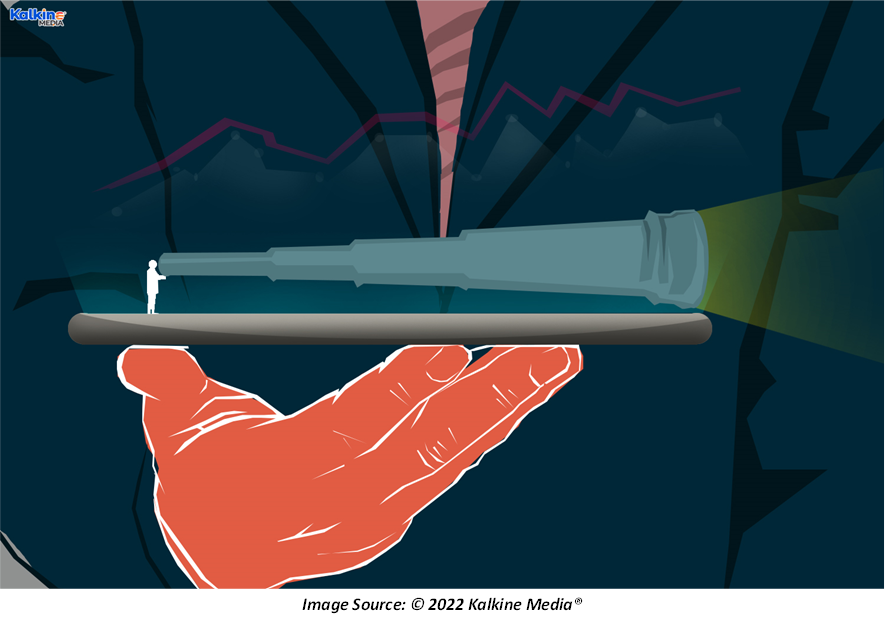 Perhaps a more visible source of demand-pull inflation has been the Australian real estate sector, where prices have risen blatantly over the past one and a half years. In retrospect, soaring demand for property was simply an outcome of the record-low interest rates prevailing in the economy. Thus, domestic factors have shaped up a demand surge, prompting suppliers to hike up prices to fill the supply-side gap.
Must Watch: Australian property market: Has it reached its peak ?
The story does not end here for Australia, as the country has also been battling some global headwinds. During the pandemic, supply chain bottlenecks worsened across the globe, causing shipment delays and consecutively delays in production.
These factors have inadvertently urged producers to push up the prices of the end-product. As a result, consumers have been bearing the brunt of rising input costs (indicating cost-push inflation). Additionally, the previous year was marked with significant rises in fuel and mineral prices, which are inputs in some key industries. As companies dealt with shipment delays and rising costs of inputs, the inevitable effects have been felt on the final prices of goods and services.
Australia, like most other economies, seems to be a melting pot of domestic and international factors in terms of inflation. With prices moving out of control, experts are now anticipating an interest rate hike by the end of this year to ease inflationary pressures. It will be interesting to see how soon the Australian central bank changes its policy settings to tame inflation.
INTERESTING READ: Are global markets headed towards a crash in 2022?