Highlights

Metaverse can be a new space where people can hold assets like hotels and service stations

Demand by other users of the metaverse can help generate revenue from these holdings and even capital gains

Some users have already purchased these NFT assets and are said to be earning a steady revenue
A lot many of us may not be reading the metaverse right. There is a buzz about the subject ever since tech giant, Facebook, announced a name change. The buzz is about a virtual reality-based world that will be immersive and can add new dimensions to life, all in a fictional sphere.
But that is not all. Metaverse can be more than this – it can harness the potential of distributed ledger (blockchain) and linked elements like non-fungible tokens (NFTs) to allow participants earn money from the shared virtual world. A few users of blockchain-based games like Polka City are said to be earning a fortune out of their assets like gas stations and hotels, everything that exists in virtual reality.
In this light, let's look at five promising metaverse investment options.
Also read: Top 5 NFT marketplaces to create & trade original work by creators
1. Axie Infinity (AXS)
Axie Infinity is arguably the biggest venture that combines blockchain gaming, NFT and decentralized finance (DeFi) to let users 'play-to-earn'.
NFTs are digital assets that can be traded to earn profits. Axie Infinity's metaverse-esque world provides users with Axie creatures that are unique, can be used to enter into combats and can be later sold for their unique features. The game also has a marketplace for trading. New Axies can be produced as offspring.
The difference between Axie Infinity and traditional games like GTA is that blockchain games give the authority of deciding the game's design aspects and governance issues to users. It means there is no single controlling authority. A decentralized space is the latest trend in gaming, thanks to blockchain. The other difference is that blockchain games can become serious money making venues for users. An Axie NFT in the game's metaverse can command very high value for its unique attributes.
Axie Infinity also has a native token AXS. The token is used to navigate through the marketplace. If one may not choose to participate in gaming, AXS token trading can be done using a crypto exchange.
Also read: 5 breakout altcoins with metaverse underpinning
At the time of writing, AXS is trading at nearly US$127. Almost two weeks back, it had touched US$160, but the year-to-date return is too attractive to ignore. AXS was priced at nearly US$0.54 on January 1, 2021.
Also read: Can Bitcoin be termed as the 'asset of the century'?
2. PolkaCity (POLC)
Polkacity is a pure own and earn model-based metaverse. The venture is in process of launching its game where owners of assets like gas stations and banks can earn when gamers use them navigate through.
Polkacity game will reportedly be launched in full swing by the end of 2021. The metaverse has already been selling virtual assets on its NFT marketplace. Reports suggest that owners of these are earning what they say a 'steady flow of income'. The concept is this simple – the gamer would navigate through the fictional world using a bike or a car. To run the vehicle, gas would be sourced from a gas station and the owner of the linked NFT will earn revenue.
Just like Axie Infinity, Polkacity uses a native token POLC. POLC can be staked to participate in voting to decide on governance issues.
According to CoinMarketCap, the market cap of POLC is US$13 million, which ranks it much lower than AXS, which has a multi-billion dollar market cap. POLC is trading at nearly US$1.5 as of now.
3. Realm (REALM)
Realm enables creation of 'mircoverse' within its metaverse. Users can create their own version of Meta and use it to party and play exclusively with close friends. Realm also harnesses the power of NFTs by giving minting features to users.
Like Axie, the Realm blockchain game has 'Realmies' as NFTs that help users in navigating through the metaverse. Realm also has its own so-called 'metropolis' where users can purchase real estate. All these are ways to make initial backers owners of various digital assets within the metaverse. Once the game has more users, these assets can become a revenue earner for owners.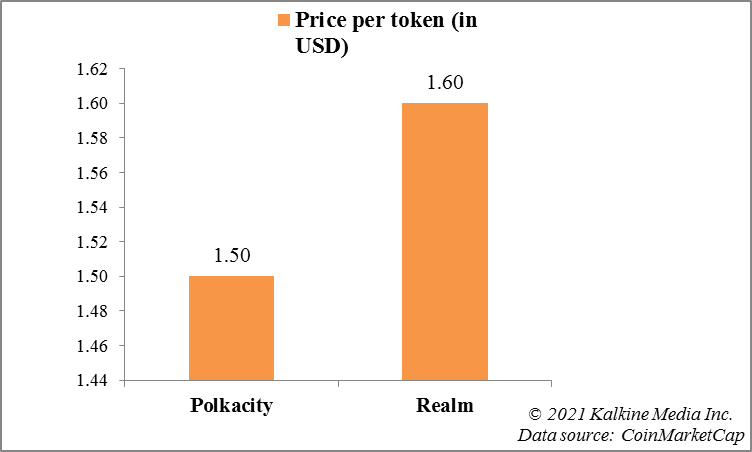 Realm uses REALM as the native cryptocurrency. The market cap is US$40 million as of now and the price of one REALM token is nearly US$1.6.
Also read: 5 low-priced cryptos that may script a SHIB-like surge story in 2022
4. The Sandbox (SAND)
This Hong-Kong based gaming metaverse has recently scored points after SoftBank's Vision Fund 2 put some US$93 million in it. This is said to be SoftBank's first-ever investment in any project that uses a native crypto token.
The Sandbox has a virtual reality world where users can own NFTs and even create them. The project is also said to have forged partnership with names like Snoop Dogg in the design aspects of its metaverse.
The Sandbox's native token is SAND, which has a market cap of over US$3 billion. SAND is priced at nearly US$3.8 as of now. The year-to-date return is very impressive.
Also read: Top Ethereum-based DeFi platforms of 2021
5. Ethereum (Ether)
Ethereum's blockchain has wide use within any metaverse. NFTs are all stored on Ethereum and most native tokens are ERC-20 standard cryptocurrencies.
Ether is the Ethereum's blockchain native token that is used for payment of fee. In this light, the rise of metaverse is likely to lead to surge in Ether usage. Ether has had an amazing year so far in 2021. It was priced at under US$1,000 on January 1, and is trading at nearly US$4,100 as of now. The return is more than Bitcoin (BTC). Ethereum is also the second largest crypto by market cap.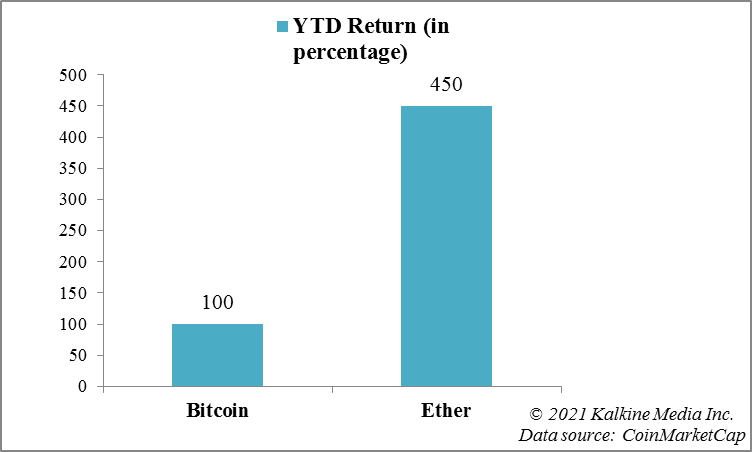 Nike's foray into metaverse
Nike has used Roblox's infrastructure to build its own version of metaverse - named Nikeland. Nike aims to connect lifestyle with gaming with this move.
Nikeland is a virtual reality world, which can be seen as an extension of metaverse. Other big corporates can jump onto the bandwagon with the craze that metaverse has drawn.
Bottom line
Metaverse is more than just virtual reality and fiction. It can become a revenue generating option for users given they enter the space at an opportune time. Platforms like PolkaCity and Axie Infinity have added NFTs to their metaverse, and users are said to be earning by trading them. Here, NFTs like creatures and even gas stations and hotels have their own utility within the metaverse. Lastly, Ethereum's blockchain is the enabler behind NFTs and ERC-20 tokens, which makes Ether crypto an interesting watch as we enter 2022.