Highlights

Dent provides services in more than 140 countries.

DENT price was up over 36% on Friday.

DENT gave a return of over 2432% YTD.
What is Dent (DENT)?
Dent is considered a revolutionary digital mobile operator. It offers eSIM cards, mobile data plans, top-ups for call minutes, and a roaming-free experience. Dent seeks to create a global marketplace for "mobile data liberation" using blockchain technology, it said.
Dent has an ambitious roadmap to expand its services to new markets globally next year. The company provides services to over 25 million subscribers in more than 140 countries.
Also Read: How to buy Loopring (LRC) token?
Dent, an Ethereum based ERC-20 token, has enterprise partnerships with Samsung Blockchain, The Enterprise Ethereum Alliance, and Telecom Infra. Binance saw the highest trading volume of DENT tokens than others as of April 2021.
Also Read: Verasity (VRA) token flies on Brightcove partnership – How to buy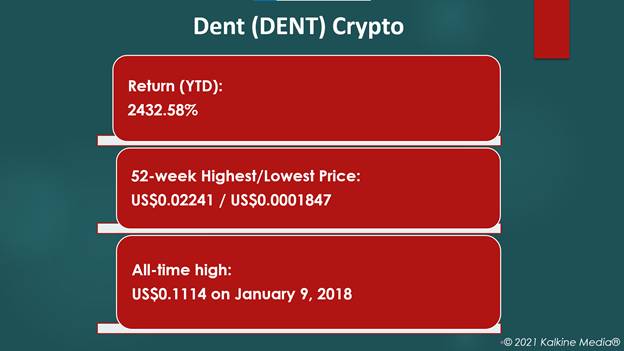 Also Read: Blackstone Products (BLKS) to go public via SPAC – know details
Who founded Dent?
Dent was co-founded by Tero Katajainen and Mikko Linnamaki in 2017. Katajainen is the CEO of DENT Wireless.
Pricing and other details of Dent (DENT) token:
The DENT was priced at US$0.00488 at 1:36 am ET on Dec 24, up 36.84%.
It has a market cap of US$483.13 million, and its fully diluted market cap is US$494.07 million. DENT's volume in the last 24 hours was US$130.40 million.
The DENT token saw the highest price of US$0.02241 and the lowest price of US$0.0001847 in the last 52 weeks. It had touched an all-time high of US$0.1114 on Jan 9, 2018.
Also Read: Top stocks under US$1,000 to explore in 2022
Bottomline
DENT has been gaining traction in recent days. The token gave a return of 2432.58% YTD. However, investors should closely evaluate the market before investing in digital assets.