Highlights

Loopring (LRC) token is available on exchanges like Coinbase Pro, Binance, etc.


The LRC token hit an all-time high of US$3.83 on Nov 10.


The token gave a return of more than 1195% YTD.
The Loopring (LRC) token has been gaining traction in recent days.
What is Loopring (LRC) token?
Loopring is an open protocol designed to create decentralized crypto tokens. Loopring or LRC is an Ethereum-based token.
In 2020, the average daily trading volume vacillated in the range of US$50 million to US$200 million. Most of the transactions were done on centralized crypto exchanges.
Also Read: Why did Allakos (ALLK) stock crash today?
But the centralized exchanges had drawbacks compared with decentralized platforms, which may still have certain limitations.
Also Read: Top stocks under US$1,000 to explore in 2022
Loopring aims to make a hybrid product, combining the best features of both the blockchain platforms for order settlement. Interested buyers can purchase the token on exchanges like Coinbase Pro, Binance, OKEx, etc.
Also Read: Pfizer gets FDA greenlight for first Covid-19 pill Paxlovid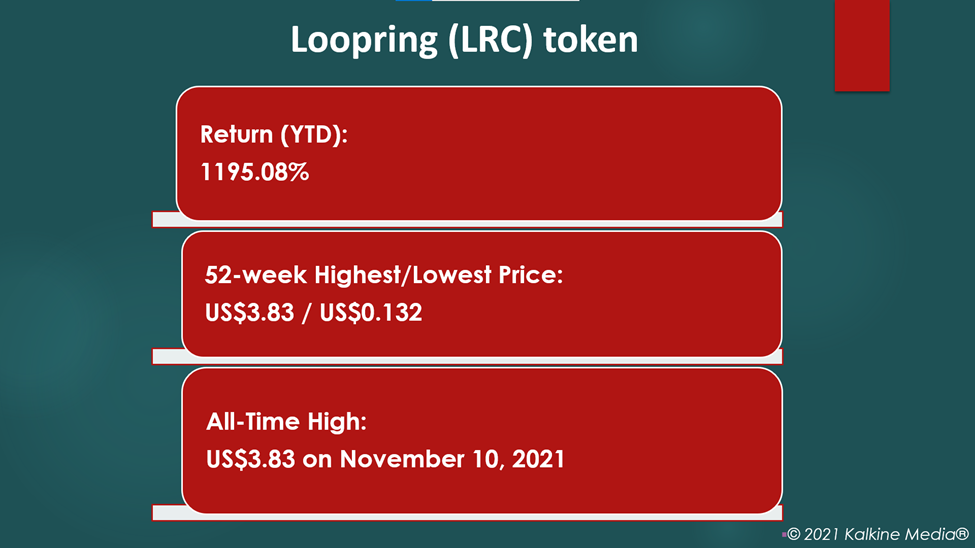 Data provided by: coinmarketcap.com

Also Read: Justworks IPO: Why investors exuded confidence in HR tech startup?
Who founded Loopring?
Shanghai-based software engineer and entrepreneur, Daniel Wang, founded the Loopring Foundation that manages the Loopring protocol.


In August 2017, the LRC token went public in an initial coin offering (ICO). However, the Loopring Protocol was first deployed in Dec 2019.
Also Read: Gardiner Healthcare IPO: How to buy the stock?
LRC token Price
The LRC token was priced at US$2.27 at 9:43 am ET on Dec 23, down 1.22%.
It has a market cap of US$3.01 billion, and its fully diluted market cap is US$3.11 billion. Its trading volume in the last 24 hours was US$315.78 million.
The token's 52-week highest and lowest prices were US$3.83 and US$0.132, respectively.
Also Read: Global real-estate management firm GLP eyes US IPO
Bottomline
The current global crypto market is about US$2.28 trillion, according to CoinMarketCap. The LRC token gave a return of 1195.08% YTD. Investors, however, should evaluate the market carefully before investing in digital assets.