Highlights

Cryptocurrency mining is a process of generating more cryptocurrencies via verifying a crypto transaction.
Verification of a crypto transaction involves solving complex equations, which is a power-consuming task.
CryptoTab Browser, Sparkpool and MinerGate are few apps that can help mine cryptos.
Cryptocurrency mining has become the new craze among youngsters. As China is cracking down on crypto mining, other areas are witnessing a boom in mining activities. Cryptocurrency mining is simply a process of generating more cryptocurrencies into the system via verifying a crypto transaction.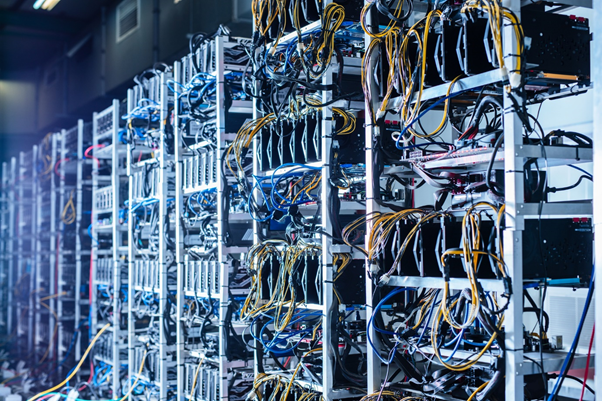 Image Source: © Niserin | Megapixl.com
One of the major difficulties people face while mining cryptos is that solving these complex equations, that are needed to get crypto as a reward, is an extremely power-consuming task. These equations require high-powered expensive rigs, which not everyone can afford.
Five apps to get you started with crypto mining
To make mining activities scalable and much more affordable, new technologies are being developed that make mining a bit easy - as easy as using a mere smartphone to mine cryptos. Let us have a look at five such apps which can help mine cryptos.
Read More: Now, China mulls adding crypto mining to 'negative list' of industries
CryptoTab Browser
It has never been as easy to mine cryptocurrencies, as it is now with CryptoTab. It is a web browser that's incredibly lightweight and fast, with built-in mining features. It lets users mine Bitcoin while watching videos, playing games online or chatting, etc.
It also comes with over 150K extensions, making it more customisable. The browser also supports mobile version, therefore letting users mine crypto using their smartphones as well.
SparkPool
SparkPool is a mining platform that offers mining pool services. Mining pool is a group of cryptocurrency miners who combine their computational power together over a network to strengthen their mining activities.
It has become one of the leading global players in mining pool services, all thanks to its stable services and asset protection through commercial-grade security.
MinerGate
MinerGate is also a cryptocurrency mining pool created by a bunch of blockchain enthusiasts. It is one of he fastest mining platforms in the industry with over 3.5 million global users. The platform has 99.97% uptime and transfers mined coins straight to the wallet.
Currently, there are 10 coins available in the platform to be mined including Bitcoin, Ethereum, Litecoin, etc.
Minerstat
Minerstat is a complete one-stop solution for individual miners. It includes sophisticated hardware accelerating tools that help optimise a computer's performance to best suit miners' needs.
For e.g., it can overclock graphic processing units (GPUs) to extract more performance or underclock to make them more energy efficient.
RaveOS
RaveOS is an operating system having a powerful dashboard that is famous for its high hash rate performance, stability and less downtime. It gives users control to configure and monitor their rigs and Application Specific Integrated Circuits (ASICs).
It provides both web interface and mobile applications for remote operations. Like other applications, it also lets u to overclock your hardware.
Read More: What Basic Attention Is Doing to Advertising in the Crypto Space?
Bottom Line
Cryptocurrency mining is becoming more and more affordable and scalable due to newer technologies such as mining pool services to combine more rigs towards one focused goal or overclocking software to make existing rigs deliver more performance.
The idea of using a smartphone to mine alone is making strides in the crypto mining space. If you are interested in crypto mining there's a whole world of these services to be explored.
Read more: Zcash: The Crypto That Promises Anonymity