Summary

Ethereum has reached a unit value of AU$4,291 for the first time in its history.
The sudden surge of the second largest cryptocurrency has made its creator, Vitalik Buterin, a billionaire.
A massive upsurge in the trading of Non-Fungible Tokens (NFTs) has likely spurred Ethereum's recent price rise.
The emergence of Ethereum this year, along with other altcoins such as Binance, Ripple and Dogecoin, has weakened Bitcoin's dominance in the market.
Ethereum, the second-largest cryptocurrency in the world, reached AU$4,291, a mark never seen before. In the process, the crypto made its creator, 27-year-old Russian-Canadian programmer Vitalik Buterin, a billionaire.
Ethereum price reached AU$4,291, the highest ever for the crypto (Source: © Crashoran | Megapixl.com)
The crypto's current price of over AU$4,250 is astounding, considering just one year ago, it was trading at AU$193. Back in2017, the crypto was trading at a humble AU$13 per unit.
What is Ethereum?
In a broad sense, Ethereum is a decentralised digital network on which things called 'smart contracts' are arranged.
A smart contract is a computer program designed to reduce the need for a mediator by automatically documenting and executing actions pertaining to the terms of a legal contract.
Applications of smart contracts can, for example, pertain to streamlining insurance payouts. In the case of a life insurance policy, a smart contract would already have the encoded into the program, so should a holder of Ethereum pass away, the allocated sum would automatically be distributed to the relevant beneficiaries, foregoing the need to involve a middleman like an insurance company or a law firm.
The Rise of Vitalik Buterin
Before Ethereum, Vitalik Buterin co-founded Bitcoin Magazine, which covered Bitcoin and an array of other cryptos that were around at that time.
In 2014, he caught the attention of the Thiel Fellowship – an organisation created by angel investor Peter Thiel, who granted Buterin US$100,000 to work on a project Buterin saw fit.
Consequently, Buterin created Ethereum in 2013, at the tender age of 19, and subsequently launched the cryptocurrency two years later in 2015.
It is reported that Buterin currently holds 335K ether coins in his possession, amounting to approximately AU$1.4 billion.
What's Behind Ether's Meteoric Rise?
The recent boom in Ethereum has likely been boosted by a massive upsurge in the trading of Non-Fungible Tokens (NFTs).
An NFT is a digital asset that holds a real-world object, particularly art and music. They are generally either one of a kind or at the very least an extremely limited edition of the piece of art or music. It is precisely this scarcity that makes NFTs usually very expensive and coveted in the world of digital art, much like an original Basquiat or Van Gogh art piece would be greatly sought after in the exclusive community of wealthy art collectors.
In April 2021, RnB superstar, The Weeknd, released a collection of previously unreleased songs by way of NFT, which was sold for US$2.29 million.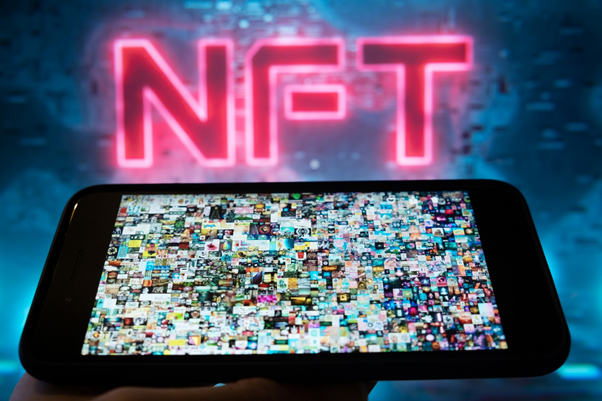 Non-Fungible Token (Source: © Justlight| Megapixl.com)
Although other blockchains support NFTs, they are most typically held on the Ethereum blockchain. Hence Ether's recent rise, along with other altcoins such as Binance and Ripple, has taken a bite out of Bitcoin's dominant market share this year.