Summary

Ether rose to AU$3,500 on Thursday, achieving an all-time high for the cryptocurrency.
The crypto's rise has weakened Bitcoin's market dominance as its market share dropped below 50% for the first time since 2018.
Ether, the world's second-largest cryptocurrency, has hit an all-time high, reaching AU$3,500 on Thursday.
The crypto has outperformed Bitcoin in the last few weeks surging over 15% in April.
ALSO READ: Ethereum Soars To Record High. Here's What Caused Its Rise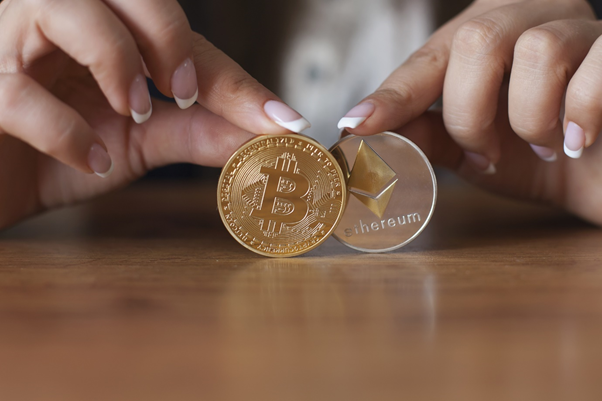 Ether has been outpacing Bitcoin of late (Source: © Petunyia| Megapixl.com)
Ethereal's recent surge comes on the back of The European Investment Bank's decision to release an Ether based digital bond. The two-year, 100 million Euro digital bond will be sold by some prominent financial institutions, including Goldman Sachs.
What is Etherium?
Etherium (or simply Ether) is a digital currency run on a decentralised digital network (which is also called Ethereum) on which smart contracts are arranged. The thing that differentiates Ether from other cryptos such as Bitcoin is that it is part of a decentralised finance (DeFi) system.
Source: © Petunyia| Megapixl.com
Whereas Bitcoin was designed as an alternative to fiat currency, aspiring to replace fiat currency one day, Ethereum was created to facilitate smart contracts through its currency. Ethereum grows on the back of growing technologies in the finance world.
Ethereum Biting into Bitcoin's Dominance
Although Bitcoin has primarily dominated the crypto market this year, climbing almost 90% since January, its market share has recently dropped below 50% for the first time since 2018, according to CoinMarketCap.
This is likely due to several other 'altcoins' penetrating the market this year, including, Dogecoin - the crypto which began as a joke satirising other cryptos. The price of Dogecoin has been bolstered by Tweets from Tesla (NASDAQ:TSLA) founder, Elon Musk as well as other celebrity mentions by Dallas Maverick's owner, Mark Cuban and American rapper Snoop Dogg.
However, Ethereum is currently undergoing several upgrades, which will allow for faster transaction times and lower the amount of energy required to make those transactions, making it a more environmentally clean option. The upgrades will set it apart from Bitcoin, which only allows eight transactions per second.
GOOD READ: Ethereum Hits Record High, Up 2x Against Bitcoin In 2021
The Future of Ethereum
A report by Two Prime Digital Assets revealed that open interest for Ether Options has grown by a massive 800% in recent months due to it being seen as a hedge against "outsized volatility events".
Furthermore, the Ethereum futures market has also seen recent growth, with open interest climbing over 20 times in the last few months.