Highlights

The Pan-Canadian Framework on Clean Growth and Climate Change (PCF) focuses on emission reduction targets and economic growth.
The National Adaptation Strategy of Canada works on reducing climate change risks.
Through nature-based solutions, the Government of Canada is working on conserving 25 per cent of its land and oceans by 2025 and achieving net-zero carbon by 2050.
The Government of Canada has come up with the Pan-Canadian Framework. But what is it? How does it work? In this article we will learn how Canada is planning and acting to tackle climate change.
Canada's climate plan
The Pan-Canadian Framework on Clean Growth and Climate Change (PCF) is a plan that was developed by the Canadian government with provinces, territories, and Indigenous peoples. It is the first national climate plan of Canada that focuses on economic growth, minimizing emissions, and guarding against the changing climate of Canada.
This plan works on actions with regards to climate change that can help in protecting the health of Canadians and can also manage risks associated with businesses, and ecosystems. The Government of Canada is adapting various plans and actions for climate change in Canada.
It is investing in natural infrastructure that focuses on protecting Canadians from natural calamities. It is providing regional support, including to northern and coastal areas that can be majorly affected by climate change.
Also read: Significance of 2022 in the battle against climate change
National Adaptation Strategy
Other than developing and implementing its PCF plan, the Government of Canada is working with municipal governments, Indigenous peoples, territories, and several other key partners to introduce its first National Adaptation Strategy in Canada. This adaptation strategy will work on minimizing climate change risks.
Nature-based solutions
Trees, plants, and vegetation help in providing shade and cooling down the temperature in summer. Additionally, it also helps in absorbing greenhouse gases, preventing soil erosion and flooding.
By applying nature-based solutions, the Government of Canada is working on conserving 25 per cent of its land and oceans by 2025 and achieving net-zero greenhouse gas emissions by 2050.
Also read: The impact of climate change- warming Winter Olympics?
Greening Government Strategy
Due to climate change, some areas of Canada have experienced heatwaves, ecosystem changes, thawing permafrost, droughts, and flooding. It is also evident that human activities are responsible for climate change.
So, to reduce the effect of climate change, it is important to reduce greenhouse gas (GHG) emissions and become adaptable to the changing climate.
The Greening Government Strategy will work on sustainability goals. It focuses on net-zero carbon emissions by 2050, climate-resilient operations, wastewater, and biodiversity impacted by climate change. To achieve the target of net-zero emissions by 2050, the Government of Canada will work on low-carbon mobility solutions.
Areas affected by climate change
Compared to the world, Canada is warming faster. Because of this warming and climate change, communities and infrastructure of the north can be at risk.
Three oceans, including the Pacific, Arctic, and Atlantic, surround Canada. Climate change will make the oceans acidic and less oxygenated. The Atlantic areas of Canada will be affected by local sea-level rise. The deterioration of sea ice and rising sea levels would put communities, ecosystems, and the coastal infrastructure of Canada at risk.
The Canadian Forest Service (CFS) is working on an adaptation plan for the forest sector as they usually cover a major land area compared to other nations' forests.
Climate change adaptation
Climate change adaptation helps in reducing negative climate change impacts and helps people adapt to climate change. Natural Resources Canada (NRCan) addresses adaptation actions and co-funds projects.
It works on Canada's Climate Change Adaptation Platform. This Adaptation Platform consists of 14 working groups, including experts and stakeholders from forestry, economics, mining, infrastructure, agriculture, and several other sectors. This platform focuses on various topics such as risk assessments, sea-level rise, adaptation planning, etc.
Also read: What should Canadians know about glaciers melting?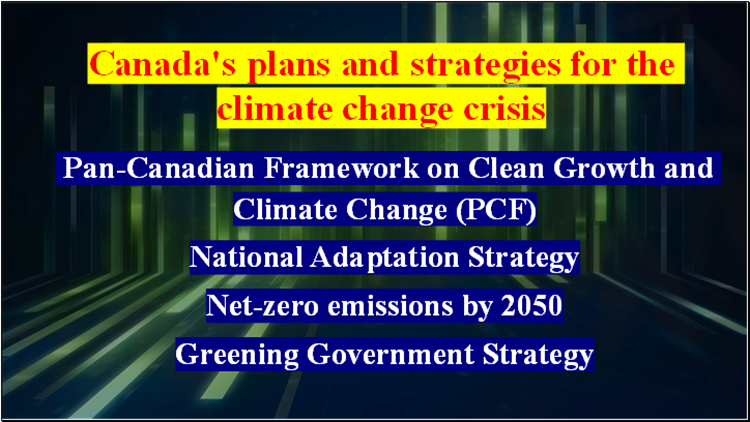 Image credit: © 2022 Kalkine Media®
Bottom line
The rising sea levels, warming weather, and shifting rainfall patterns are some of the results of climate change that Canada is facing. It will intensify in the coming days and can affect the environmental, social, and economic wellbeing of Canada. So, much needs to be done to minimize climate change risks and impacts.