Highlights

The recent mammoth volcanic eruption in the Tongan islands has formed a blanket of ashes and toxic plumes, causing significant environmental damage.
Mercury NZ to publish its half-year performance report next month.
The New Zealand Refining Company signs an MOU with Fortescue Future Industries to study the feasibility of green hydrogen.
The world witnessed a massive underwater volcanic eruption over the last weekend, which triggered tsunami waves that have disrupted Tonga, the island kingdom.
Apart from crippling the country by severing the critical undersea cable which connects the Pacific islands to the outside world and contaminating water supplies, concerns have risen that Tonga volcanic eruption will have widespread global climatic repercussions.
The massive eruption has caused plumes of gases, and ash into the stratosphere, particularly nitrogen oxide and SO2, i.e., sulphur dioxide which creates acid rain.
Experts fear that acid rain could damage Tongan staples like corn, bananas, and other garden vegetables.
Further, satellite images reveal plumes are moving westward, where Fiji would come in its path, and so on.
Moreover, the volcanic eruption could cause significant damage to coral reefs, fisheries, and erode coastlines.
Having said that, let us take a look at the four NZX-listed energy stocks.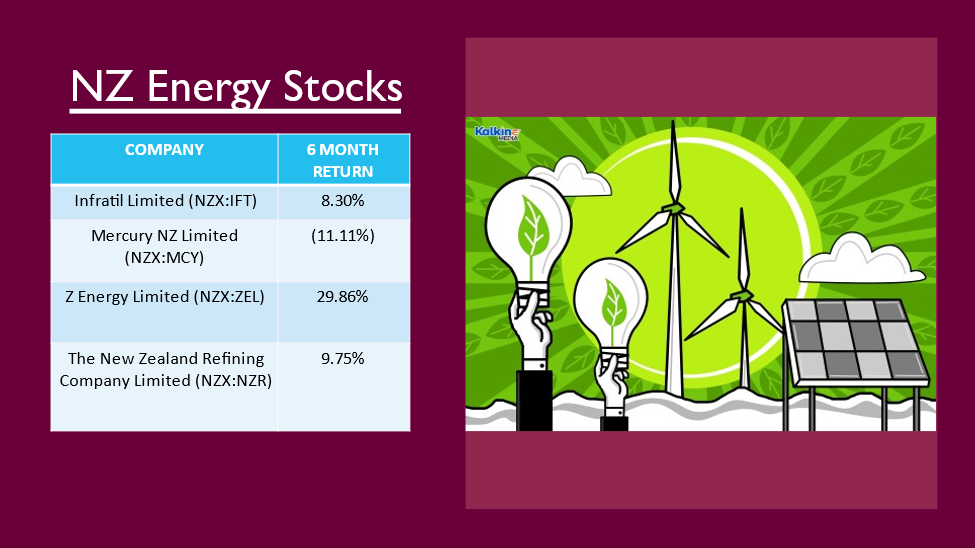 Source: © 2022 Kalkine Media® data source- Refinitiv
Infratil Limited (NZX:IFT; ASX:IFT)
Infratil Limited had recently invested 48% in CDC Data Centres, which now value around AU$2,669-AU$2,862 million, up from its previous valuation as at 30 June 2021.
The increase in valuation reflects IFT's strong pipeline of development projects as well as strong customer interest in CDC's services.
On 18 January, at the time of writing, Infratil was down by 0.18% at NZ$ 8.155.
Related Read: What does Infratil's (NZX:IFT) investment activity reflect?
Mercury NZ Limited (NZX:MCY; ASX:MCY)
Mercury NZ Limited is known for 100% renewable energy generation. The Company has announced that it would release its interim results on 22 February.
The said results pertain to the half-year ended 31 December 2021.
On 18 January, at the time of writing, Mercury NZ fell by 0.66% at NZ$ 6.040.
Do Read: Mercury (NZX:MCY): What is its inaugural green bond all about?
Z Energy Limited (NZX:ZEL; ASX:ZEL)
Z Energy Limited had last month published its Modern Slavery Statement, wherein the Company stated it continued its commitment towards minimising modern slavery risks in its operations and the supply chain.
It has laid down an updated roadmap of completed and planned actions, which ZEL intends to undertake to manage and mitigate the said risks.
It must be noted that the Company has not encountered any such risks for the year ended 31 March 2021.
On 18 January, at the time of writing, Z Energy was declining by 0.55% at NZ$3.59.
The New Zealand Refining Company Limited (NZX:NZR)
The New Zealand Refining Company Limited has recently announced it was signing up an MOU with Fortescue Future Industries (FFI) to undertake both commercial and technical feasibility studies to examine the potential of green hydrogen with reference to its production, storage, distribution, as well as export from Marsden Point.
The work on the said study will commence this year.
On 18 January, at the time of writing, The New Zealand Refining Company climbed by 1.03% at NZ$ 0.980.
Also Read: The NZ refining (NZX:NZR): Is it planning for equity raising?
Bottom Line
Countries across the world are becoming more and more concerned about climate changes and global warming and are taking steps towards curtailing pollution for a sustainable future.