Highlights

New Zealand produces nearly 80% of electricity from renewable sources.
Contact Energy proposed forming a new entity called Thermal Co that will own and retire NZ's leading thermal assets.
Meridian agreed to a A$729-million contract to sell its Australian business to a conglomerate of Shell and Infrastructure Capital Group (ICG).
New Zealand uses nearly 80% of renewable energy sources to produce electricity. Renewable energy sources do not deplete and are clean energy sources that emit less GHG as compared to coal, oil, etc.
The NZ government plans to build a cost-effective and a safe energy system that safeguards the well-being of Kiwis while reducing emissions.
Here is a look at the performance of these 5 renewable energy stocks.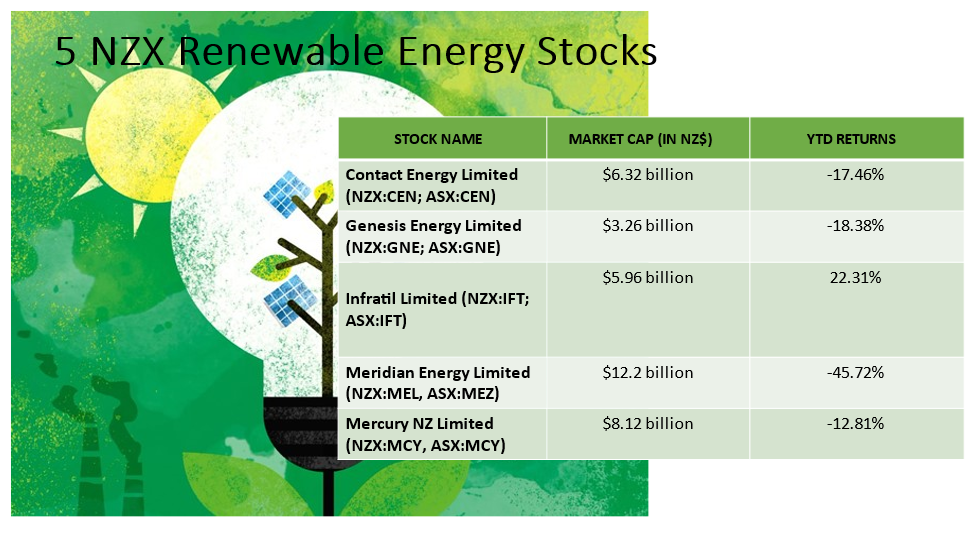 Image source: © 2021 Kalkine Media, Data source- Refinitiv
Contact Energy Limited (NZX:CEN; ASX:CEN)
On 15 November, Contact released a report that serves as a key pillar of CEN's strategy to lead the decarbonisation of NZ. It has proposed a new entity called 'Thermal Co' that will own, run and retire all NZ's major thermal generation assets.
ALSO READ: Contact (NZX:CEN): How would NZ become a 100% renewable electricity market?
Contact has a view that pursuing a market-led and co-operative strategy would lead to substantial benefits and opportunities for NZ.
CEN ended the day by 1% in red to close at $7.9
Genesis Energy Limited (NZX:GNE; ASX:GNE)
Genesis recently announced FRV Australia, a major solar farms developer, as its joint venture partner to deliver up to 500MW of solar capacity over the coming 5 years. The first location for solar development will be declared early next year.
GNE also declared that its Director, Maury Leyland Penno, would step down from the firm on 10 December 2021.
GNE ended the day by 0.91% in green to close at $5.52.
Infratil Limited (NZX:IFT; ASX:IFT)
Infratil notified on 15 November that the interest rate payable on Infratil's bonds IFTHA had been set at 3.14% p.a., effective 15 November 2021.
DO READ: Which are 5 NZX renewable energy stocks to consider in November?
The new interest rate has been reflecting in the trading system since 16 November.
IFT ended the day by 2.67% in red to close at $2.92.
Meridian Energy Limited (NZX:MEL, ASX:MEZ)
On Monday, Meridian consented to a contract of A$729 million, which involves selling its Australian business to a conglomerate of Shell and Infrastructure Capital Group (ICG). While Shell will be the holder of Powershop Australia, ICG will become the holder of infrastructure assets when the deal is finalised.
The deal is likely to finalise in Q1 2022.
MEL ended the day 2.38% in red to close at $4.52.
Mercury NZ Limited (NZX:MCY, ASX:MCY)
On 17 November, Mercury informed that it had issued an inaugural green bond worth A$200 million in the Australian debt market.
Must Read: Why is NZ planning to issue Sovereign Green Bonds?
Funds raised from the issue will be used to fund/refinance new and current projects related to renewable energy. Sustainable financing is a crucial means to support NZ's decarbonisation.
MCY ended the day 0.52% in red to close at $5.75.
Bottom Line
NZ aims to have net-zero emissions by 2050 and targets to reach 100% renewable electricity generation by 2030.
(NOTE: Currency is reported in NZ Dollar unless stated otherwise)