Source:focal point, Shutterstock
Summary

Bond yields tend to rise when bond prices fall amid lower demand for bonds.
A rise in interest rates and inflation push bond prices lower, and bond yields higher.
Economic growth, stock market rally and credit ratings downgrade also stimulate an increase in bond yields.
Bonds are one of the many investment options offered by the financial market to investors. A bond is an investment security where an investor lends money to a government or a company for a certain period in return for regular interest payments. The return that an investor receives from a bond is known as a bond yield.
Notably, bond prices and bond yields move in opposite directions. When bond prices are moving up the ladder, bond yields fall. However, bond yields surge when bond prices are on downhill race. There are several factors that induce a rise in bond yields; some of them being discussed below:
1. Rise in Interest Rate
Bonds are deemed to share an inverse relationship with interest rates. Bond prices usually fall when the cost of borrowing money increases and vice versa.
Bonds largely compete against each other based on the interest income they offer to investors. When the central bank increases its key interest rate, the value of existing bonds falls as the new bonds issued carry a higher interest rate and offer more income to investors. Consequently, the demand for older bonds falls, stimulating a rise in bond yields.
2. Uptick in Inflation
Akin to interest rates, a rise in inflation also induces a fall in bond prices, pushing bond yields higher. The increasing inflation can cause the central bank to raise interest rates to lower the demand for credit and help the economy to avoid overheating.
The rise in interest rates makes interest payments from present fixed-income assets less competitive to new fixed-income assets carrying a high interest rate. Consequently, bond prices fall amid lower demand and bond yields rise. Fears of an upsurge in inflation also trigger similar price movements in bonds, accelerating a rise in bond yields.
3. Economic Growth
Bonds are linked with the economy as governments and businesses that issue them operate within that economy. When a country experiences a rise in the rate of economic output or GDP growth, the demand for money increases in the economy, which often leads to inflation.
To combat inflation, the central bank utilises monetary policy tools like a rise in interest rates, which make bonds less attractive to investors. Consequently, bond prices decline and bond yields increase. Strong economic growth also improves the prospect for private investment and shares, which reduces the demand for bonds and lift bond yields.
4. Rally in Stock Market
The rally in the share market also tends to increase bond yields as investors' bet moves away from relatively safer investment to the riskier equity market. Bull markets or a share market rally is usually characterised by investor optimism plus expectations of stock price appreciation in the future. Investors and traders often become less risk-averse in this scenario, shifting to riskier securities like equities.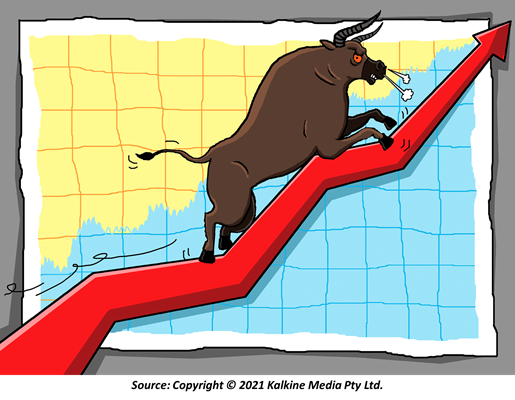 Thus, a strengthening equity market attracts money away from bonds, reducing the demand for bonds while pushing bond prices lower, and bond yields higher. It is worth noting that a bull market tends to drive bond yields higher in the short run. However, in the long run, several other variables play a role in the investment market, including government regulation, interest rate, inflation, and monetary policy.
5. Change in Credit Ratings
A variation in the credit rating of a bond also impacts the yield the bond offers. The leading ratings agencies often evaluate most issuers of corporate bonds as to their willingness and ability to pay interest and pay back principal as scheduled.
If the rating agency downgrades the credit rating of an issuer of a corporate bond, it signifies a higher risk associated with the asset. It typically results in an increase in yield payable on the bond as investors and traders look for the premium to take the risk.