Summary

Inflation can have ambivalent impacts on the economy which is why experts do not consider it as a completely negative scenario.
Inflation stimulates the economy by reducing government deficit and the borrower's debt, increasing spending, and reducing the risk of deflation.
Increasing prices are a perpetual concept which can eat away at investors' returns, a solution to which is investing in inflation proof assets.
Inflation may not necessarily be a bad term when used in the context of investing and economic growth. Economists and policy experts have a complex relationship with inflation which is largely dependent on the level of inflation present in the economy.
Generally low levels of inflation are ignored and are not seen as detrimental to the economy. However, when high inflationary pressures are prolonged, then it becomes an issue of concern for policymakers. High inflation can do more damage than benefit to the economy by reducing the purchasing power of individuals.
However, economic experts would not immediately ward off inflation as bad thing necessarily. Inflation can sometimes rev up the economy and push it out of a slowdown. Major central banks use inflation rate to gauge the health of the economy and decide which policy to implement. Here is a look into the good and bad implications of inflation.
ALSO READ: Why is inflation good for value stocks?
How inflation stimulates the economy?
It can perplex to think how increasing prices are advantageous to the economy. But there are various reasons why inflation is welcomed by economic experts. The positive implications of inflation are multi-faceted, which include:
Lessening the government deficit: While inflation eats away the value of money held in deposits, it also deteriorates the real value of deficit held by governments. Thus, governments may accept some level of inflation with open arms because the deficit held by them would be eroded away up to some extent without having to implement any new policies in the economy.
A sigh of relief for borrowers: Inflation leaves borrowers in a better position than they were in before. Those borrowers who have outstanding debt would be at an advantage as the money they had borrowed was more valuable than the money they would have to repay the liability with. Thus, in real terms, borrowers would have to pay back lesser amount of money after price levels rise.
Consider the hypothetical example wherein an individual takes an interest free loan of $1 from the bank. The borrower has made an agreement to repay the dollar in 10 installments of 10 cents each month. Now suppose prices rise, but the repaying agreement remains the same. Even when prices of other commodities are rising, the 10 cents paid by the borrower each month remains fixed, leaving him better off than before.
A spike in spending: Inflationary expectations are key stimulators in the economy. When prices are rising in the economy, consumers develop inflation expectations of the future as well. This means that they expect prices to rise in the coming months too. Thus, consumers believe it is better to buy now rather than later, leading to higher economic activity in the present.
As firms anticipate higher demand in the economy, they increase their production capacity and hire more workers. This increases employment and production leading to a higher gross domestic product. However, this cycle may be hampered when inflation lasts too long.
Reduced risk of deflation: Deflation is nothing but the decline in prices over time. As lucrative as that may sound, deflation brings along with it certain challenges. When consumers observe deflationary pressures setting in, they wait for prices to drop further before they can make their purchase. This is known as the paradox of thrift.
This effect of deflation tends to reduce consumption in the economy. Thus, inflation wards off any deflationary expectations for some time.
ALSO READ: How Inflation Affects Your Investments And Finances
How detrimental is inflation?
Experts believe that inflation levels higher than 2-3% can be harmful for an economy under normal circumstances. Prices are always on the rise, which explains why the amount of goods that could be bought with a dollar has declined over the years.
Inflation may not always lead to a simultaneous increase in wages. The increase in wages occurs at a lower rate than prices. Employers may increase wages up to some extent, owing to the higher prices received by them after inflation.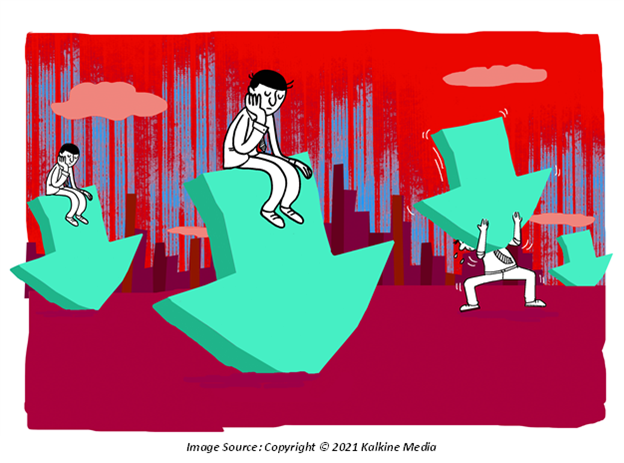 Individuals with their money in savings would not see real returns when prices rise. It is a good idea to look for inflation free investment options to ensure that real returns are obtained in investment and the value of the money lying with individuals does not erode.
Inflation can also reduce the international competitiveness obtained by a country over its counterparts. Increasing prices can deflect the demand for international trade to other countries. Thus, net exports fall.
Thus, the above factors are testament to the ambivalent nature of inflation. Therefore, experts do not consider inflation as a completely negative sign. A certain level of inflation can help stimulate the economy.
RELATED READ: Which investments are inflation-proof?