Highlights:

Data indicates women have a longer lifespan than men which may mean more of a need for financial planning
It is better to save money for an emergency than take loans or go into debt
A study found that 51 per cent of working Canadian women don't have an idea of how much they are saving or have not started
Today, women have more decision-making power related to financial issues in most countries. They earn more, control wealth, and establish themselves in every field whether it's related to sports, politics, law, medicine, or business. In this article, we will learn how women can become financially smarter.
Experts say women face unique challenges with saving money for the future. A study found that 51 per cent of working Canadian women don't have an idea of how much they are saving or have not started.
Also read: Increasing Women MPs Can Fix Canada's Drop In Corruption Index
Here are some ways that might help women become financially smarter
Purchasing quality stocks can be a way to become financially smarter.
Women may invest in more than one stock from different sectors. Business cycles run differently around various sectors, so diversifying or investing in different sectors' stocks may reduce risk.
Here, it is requisite that the growth plan of the companies is kept tabs on. Like selecting good produce, quality and the right price need to be kept in mind.
Also read: International Women's Day: Realising the role of women in building a sustainable tomorrow
According to Statista, a market and consumer data provider, women have a longer lifespan than men may mean financial planning is all the more important. But women face some financial disadvantages across the world, including professional and societal biases that become a hurdle in their saving and investing goals. One of the hindrances is the gender pay gap. For example, Canadian women earn less compared to men.
Also read: Canada's 'Feminist' Budget 2021: What's In Store For Women?
They may also have fewer working years than men due to various responsibilities. Many may sacrifice some part of their careers to meet their responsibilities. The Royal Bank of Canada in March 2021 stated that approximately half a million women in Canada did not return to their jobs after leaving due to the COVID-19 pandemic.
There might be several reasons for this. They may be taking care of their kids and another reason may be that the types of businesses that ended up shutting down were dependent on women.
Start saving
Not putting your money to work makes it lose value over time. Starting to save early helps in earning interest and multiplying your savings through compound interest.
Emergency fund
It is better to save money for an emergency than to take loans or get into debt. An emergency fund can be used to cover unexpected expenses. Saving money for emergencies not only reduces stress but also saves you from interest payments.
Choose the right account to save money
Women can choose various accounts for saving money but tax-free or tax-deferred accounts may be a good option. A Tax-Free Savings Account (TFSA) helps you to hold tax-free money and saves outgo from taxes.
In this account, the tax does not apply to interest earned, and capital gains. A Registered Retirement Savings Plan (RRSP) also helps in saving money as it does not apply tax unless you take out money.
Debt strategy
It might be best to avoid high-interest debt as much as possible because high debt can prevent you from getting other types of credit such as a mortgage or car loan. If you are in debt creating a strategy plan may help in paying it off.
Also read: Planning to invest? Here are few tips for women investors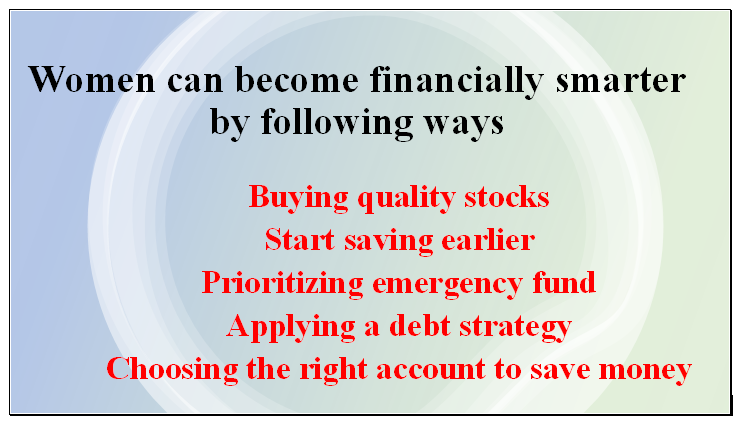 Image credit: © 2022 Kalkine Media®
Bottom line
Regardless of gender, steps may be taken to improve investing knowledge and financial future. Becoming financially smart may be achieved by proper budgeting, saving a specific percentage of income annually, creating an emergency savings account, and taking help from a financial advisor.