Summary

Reflation is the economic scenario in which prices are recovering back to their long-term level after a prolonged period of economic slowdown.
Inflation, which is just one aspect of reflation, is accompanied by high economic growth during such a period.
Reflation trade constitutes higher returns from value stocks, small cap stocks and stocks in cyclical sectors alongside high bond yields.
Investors are still wrapping their heads around trade during "reflation", a concept different from inflation and deflation. The concept of inflation is well known by most investors that step in the market. Inflation represents a market scenario in which demand overshoots supply leading to increased prices. Deflation is the exact opposite of this scenario wherein supply overshoots demand.
Reflation falls somewhere in the middle of these extremes. It is the recovery phase experienced by economies that are coming out of a deflationary scenario. Reflation is the bouncing back of the economy towards its long-term inflation rate. Typically, reflation takes place in economies coming out of an economic slowdown.
Reflationary trade revolves around assets that show faster economic growth, price pressures and higher yields. It is a period of normalization which is marked with quick bouts of inflation.
ALSO READ: Pearls of Financial Wisdom for Millennials
A Closer Look at Reflation
Reflation is typically associated with the periods following deflation, though it may not be the only time when reflation sets in. A period of optimism following a bleak phase generally marks the onset of a reflationary phase. Add to that loose monetary and fiscal policies, and the case for reflation becomes even stronger.
Zero interest rate policies coupled with large liquidity injections can help economies come out of a slowdown. A reflationary period can see growth rates that are at all-time highs. The markets quickly gather pace, and a brief period of inflation is observed.
Other things pointing to an economy in reflation include not just an increase in the prices of consumer goods but also a rise in wages. The life cycle of reflation starts with an increase in jobs, which means employers must compete to find the best candidates. To do this, employers would offer a better compensation package, simply put, a greater salary. To facilitate this bump in salary, employers start charging higher prices for the goods and services offered by them. Thus, inflation sets in, marking the end of the reflationary phase.
How is reflation different from inflation?
Though both have rising prices as a characteristic feature, reflation and inflation are not the same. Inflation forms only one part of the reflationary process and only refers to the rate of change of prices. However, reflation is a much broader term than inflation and includes not just rising prices but also increased economic growth.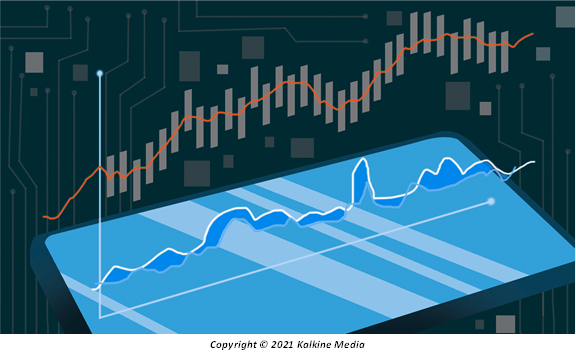 The combination of rising prices and economic growth causes share markets to react. Inflation may be considered alarming in most situations. However, reflation is not taken as a worrisome condition and is rather taken as a positive sign. Thus, reflation can be considered as a more regulated form of inflation.
ALSO READ: Can inflation woes spark a firestorm in global markets?
The Takeaway for Investors
Reflation is followed by increased interest rates carried out by the central bank. This means a drop in the existing bond yields. Newer bonds are issued with higher yields and so the older bonds lose value due to the lower yields offered by them. This has a further impact on fixed-rate bonds, gold and interest-rate sensitive shares like the REITs, utilities, and infrastructure.
In the equity market, reflation trade is the new trend however it has traces lingering in the past as well. Countries emerging out of the 2009 recession saw reflationary periods. It has been observed that reflationary periods end up favoring small cap stocks compared to large cap stocks.
Additionally, cyclical sectors also perform well like banks and energy producers alongside value stocks.
Since the 2009 crisis, inflation and economic growth has been subdued leading to little or no hint of any reflationary period. However, this has changed in the year 2021 when countries started recovering from the aftereffects of the pandemic. Most reflationary periods are accompanied by a fear of the optimistic expectations not coming to life. Paying attention to global market movements can be a great start to spot reflation.
DO NOT MISS: How Bond Yields impact an economy