Summary

Individuals can invest in the Australian Securities Exchange through a broker or a share trading platform or without a broker via managed funds, IPOs, or share purchase plans.
Investing in the ASX gives you the option to choose your preferred securities from 11 diverse sectors.
ASX offers cash, fixed interest products and bonds, property, shares, hedge funds, private debt, derivatives, and commodities.
Investors should have a clear opinion about their investment objectives, the risk involved, access to securities, the cost involved in the process, track record of the investment product and their investment style before investing.
Investing helps investors to achieve the goal of generating income and increase the value in the long duration. In Australia, more than one-third of people own investments that are listed on ASX. These include shares, bonds, ETFs, hybrids, options, futures, warrants and managed funds.
ASX offers investors an option to invest in ~2,200 companies, from blue-chip companies to early-stage companies across different sectors.
Source: © Sasinparaksa | Megapixl.com
DO READ: How do I invest in NASDAQ?
Constituents of ASX
As per the Global Industry Classification Standard (GICS ®), the Australian share market or ASX comprises 11 sectors, 24 industry Group, 69 industries and 158 sub-industries. The following chart gives a sector-wise breakdown: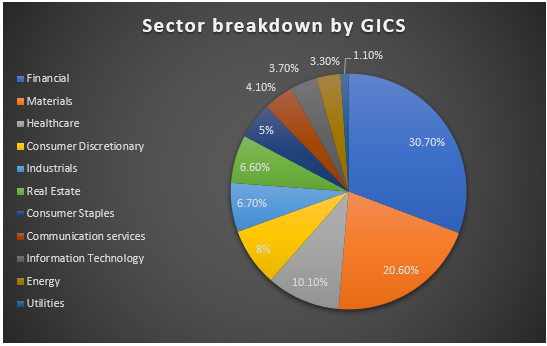 Image Source: Kalkine Media, Data Source: S&P Dow Jones Indices
INTERESTING READ: Planning to invest in stock markets: Here's how to pick some good IPOs
What are the different ways of investing in ASX?
Investing is a risky business and probably not for everyone. While some individuals may have ample knowledge or significant experience, a large number of investors have limited knowledge of how the market works. These individuals prefer working with a broker who takes care of their investments for a specific fee.
Individuals can also invest in ASX without hiring a broker, through managed funds or an IPO, among other ways.
Investing through a broker
Brokers invest on behalf of investors on ASX's leading marketplace.
When an investor places an order to buy or sell an investment product on ASX, he/she first decide the number of securities.
Next, the buy or sell securities order enters the ASX trading platform by the broker.
The buy and sell orders are then matched as per the price and the sequence is entered into the platform. As soon as the orders are matched, the respective buy or sell order is placed.
Next, the investor gets a confirmation that the trade has occurred.
Suppose the investor placed a buy order and the trade gets confirmed, then the investor needs to pay for the securities within T+2 days.
Once payment is made, the broker executes the trade.
Online: Investors can also invest through online trading platforms such as superhero or ThinkMarkets. However, investors must be thorough in their research while choosing the platform.
Investing on your own
Individuals need not approach a broker to invest in ASX and can do it on their own through the following ways:
Managed Funds: Individuals can invest in a managed funds that cover stocks of multiple companies across industries. Managed funds offer the benefit of diversification.
Initial Public Offering (IPO): One can buy shares of a company when it lists on the ASX. Crowd-funding platforms give investors the option to do so.
Share Purchase Plan (SPP): Companies raise additional capital through an off-market SPP, and investors can invest in them directly through the company.
Important considerations before investing
Investment in any stock market involves risk. Therefore, before investing in securities or looking for a broker or financial advisers, one must first set their investment goals and see their risk appetite. One also needs to know the amount of money one is ready to invest. Besides, the person should have the answer to the question of whether there is a need for any guidance from advisors or brokers in the investment decision.
Before a person starts investing, he/she should have the answer to some of the fundamental questions like:
What does he/she want to achieve from this investment?
What do you expect from investment- growth, income, or capital growth?
Do you have the capacity to bear losses in the market?
What is the duration of the investment?
DO READ:
A peek into ASX Investment Products
ASX offers various investments products beyond shares. Each product offers investors to express an investment view according to their objectives and support in diversifying the portfolio.
Cash
In this, the investors invest in very low-risk, short-term investment. These include short-term money market deposits like government bonds and bank bills.
Fixed interest and bonds
These are low-risk investment products like government bonds, bank bills, or mortgage-backed securities. Some funds invest in corporate bonds, which could be risky.
Property
In this, the investors invest in residential property, commercial property, or property developments. Some property funds are highly risky, and one cannot ascertain a fixed rate of return.
Shares
In this, the investor invests in the stocks of listed companies on ASX. These companies can be from ASX, or they are headquartered in different countries or both. It can provide a considerable return to investors and, at the same time, involve massive risk.
DO WATCH: How can you make money from investing in shares?
Alternatives
ASX also offers hedge funds and funds that invest in private equity, derivatives, private debt, and commodities. These products generally carry high risk.
DID YOU KNOW: Which investments are inflation-proof?