The financial services sector has long been recognised for its contribution to the potential long-term growth of the economy. The sector constitutes many services, primarily the stockbroking industry, which has seen rapid growth of trade and investment flows. Besides, the growing craze of stock market investing with the availability of more disposable income has been encouraging people to invest in shares and create a sizeable portfolio.
The stockbrokers or stock market intermediaries play an important role, helping the investors make the right investment decision for a fee. For long, the relationship between the two has been prospering based on mutual trust. But internet technology brought about disruptive changes in the way business was conducted in the securities broking industry in the UK. Not only has it improved the efficiency and speed of operations, but it has also been able to attract more people to invest in securities markets by making the investing process simple and cost-effective. Moreover, the value-added services, like live-streaming data and research tools, along with the trading platform, have also helped investors to make informed decisions and trade profitably.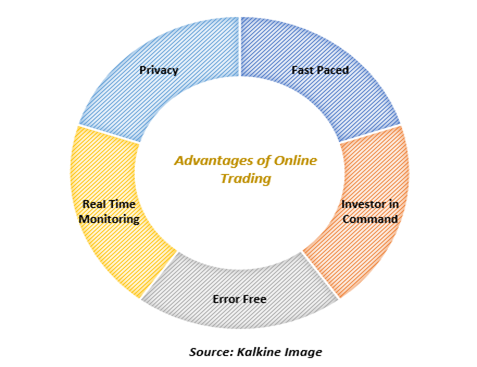 Investor Considerations Before Choosing an Online Trading Platform
Given the brokers provide a wide variety of services and at different costs, an investor should first decide upon the instruments he wants to trade in and his trading strategy before he chooses his broker. Following are few factors an investor can consider before choosing a broker, but by no means are limited to these.
Frequency of trade – Frequency of trade is a major consideration before choosing a broker. Usually, with the increase in the number of trades, the average cost of trades goes down and vice versa. So, if an investor does not trade frequently, he may choose a broker who charges brokerage by the trade. Such investors should also look out for free access trading platforms because trading a few times would increase their cost per trade.
Asset classes – Some brokers specialize in different asset classes like equities, debt, or money market instruments, while others give investors access to different markets. Thus, when an investor wants to invest in an asset class that is traded across multiple markets, he needs a broker who can provide him with that access. Trading in multiple markets in the same asset class gives the investor an excellent opportunity to make arbitrage gains.
Fund size – The size of the fund an investor wants to invest in is also a major consideration that needs to be kept in mind before choosing an appropriate online broker. Usually, with the increase in the fund size, the charges of brokers go down. However, there are different brokers with different fee structures, and thus, an investor needs to do good thorough research to find a broker offering the best possible rates before he commits.
To summarise: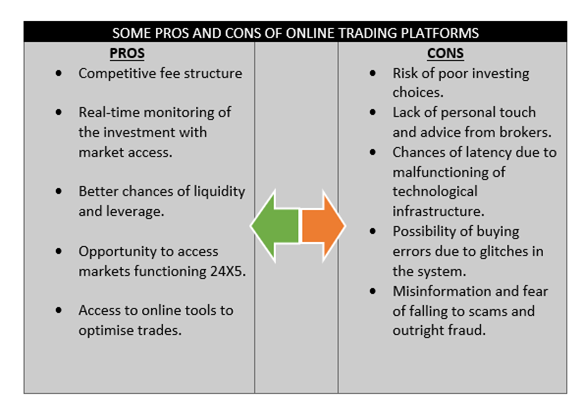 Products, Features and Charges in the UK Online Brokerage Industry
There are several online security brokerage firms in the UK that provide a variety of platforms to the investors, to trade across many asset classes in more than one country. The charges of online brokers are almost always lower than the traditional brokers and come with additional facilities to make the customer experience rewarding.
Some of the major online securities brokerage firms in the UK are Bestinvest, Hargreaves Lansdown, Markets.com, AJ Bell, Interactive Investors, and IG group. Most of these companies provide different services around Stocks & Shares Individual Savings Accounts (ISA), Small Individual Pension Plans (SIPPS), custom made portfolios, investment accounts, along with access to their proprietary trading platforms.
The asset classes in which investors mostly like to trade online include CFDs (Contract for differences), foreign currencies, cryptocurrencies, derivative products, funds as well as individual stocks.
The charges of brokers also significantly vary from one to another. Many of them charge a flat fee for all dealings undertaken through them monthly. Some do not charge anything for dealing in funds while charging at different rates for dealing in shares. However, most of them impose a charge on the fund accounts with an annual management fee which goes on diminishing with the increase in the fund sizes.
The technology used on the trading platforms of these brokers also evolves continuously with new features, and security updates added regularly. Most of the brokers maintain strict control on customer information, and hardly any of their employees come across any customer trading data.
Many of the websites of these companies also contain considerable investor education material, which is very helpful for their clients to make informed judgements. Overall, the features and advantages available with an online broker far surpass those offered by a traditional broker.
Five Prominent Online Brokerage Firms in the UK - Services they Offer and the Costs they Charge
Let us provide a general overview of the key players in the UK market, along with their key features and pricing: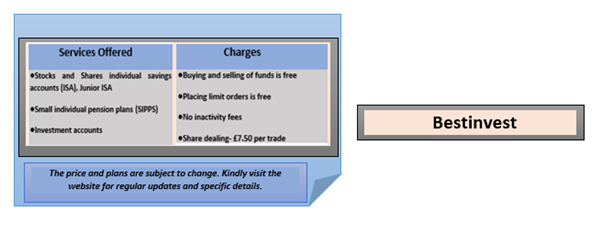 Annual service fees - They have a tiered fee structure, for account value up to £250,000, the fee charged is 0.4% a year (0.3% for SIPPs). For account value between £250,000 - £1 million, the fee is 0.2% a year, while for over £1 million, it is free. The prices and plans are subject to change.

Annual service fee on fund account- 0.45%for total funds value up to £250,000, 0.25 per cent for a fund sized more than £250,000 and up to £1 million, 0.1%for fund value over £1million and up to £2 million and for a fund sized above that, there are no annual account charges. For shares including the UK and overseas shares, investment trusts, exchange-traded funds, VCTs, gilts and bonds, the fee is 0.45% which is capped at £45 per year.
Annual custody fees are currently charged at a rate of 0.15% with a minimum charge of €5 per month. After a commission free period, a rate of 0.12% with a minimum charge of €10 per month. The prices and plans are subject to change. Kindly visit the company website for regular updates and specific details.
The platform of the company is highly protected with substantive firewalls and other technologies that keep the client's data secure.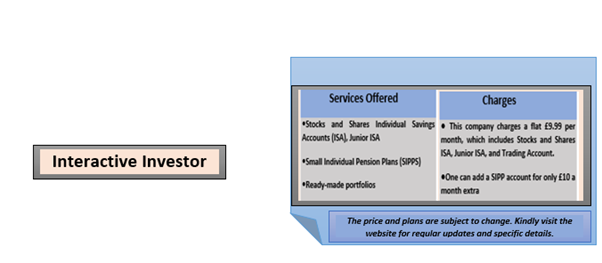 Interactive Investor does not charge any annual custody fees but has three fixed flat- fee monthly plans based on client needs: 1. The investor plan £9.99 pm 2. Fund Fan plan- £13.99 pm, 3. Super Investor- £19.99 pm.
This is a very attractive platform for high-frequency traders who would transact more than ten trades per month. The prices and plans are subject to change. Kindly visit the company website for regular updates and specific details.
This company also offers a huge collection of investor educational content on its website, which is both in the text as well as video formats.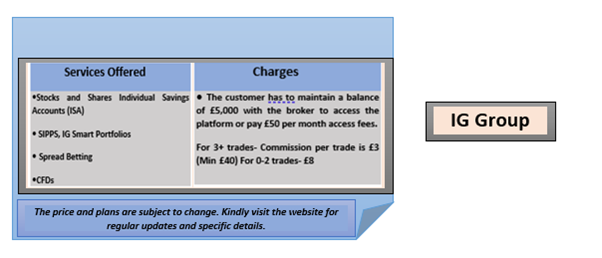 IG Group charges a flat annual custody fee of £96 no matter what the client fund size is. The company is one of the largest online brokerage companies in the UK. Share trading rates are valid up to £25,000 trade consideration. Rates above this trade size are agreed upon by negotiation. The prices and plans are subject to change. Kindly visit the company website for regular updates and specific details.
IG Group is also the world's largest provider of CFD's and has a global client base spread in over 17 countries. The company deals with a wide variety of asset classes, including securities, cryptocurrencies, commodities as well as currencies. This company is also known for its excellent trading platform and tools. However, due to its large client size and numbers, the company is known as one of the lowest costs online brokers in the United Kingdom.
Equity investments are subject to market risks, and one should learn about these risks before investing. You should also talk to the broker after shortlisting a few or more, and know about the procedure, formalities, integrated account services, charges, fees, settlement charges, custody fees, privacy assessment additional service on demand, etc.