Highlights

Soaring wholesale prices have translated into rising retail prices, pushing buyers deeper into the cost-of-living crisis.
Political parties have made questionable claims about reducing the power bills of Australians.
Consumers can do a lot on a personal level to ensure that their power bills do not exceed their budget.
Rising power bills have added to the soaring costs of living faced by Australians. Surging wholesale prices have resulted from the Russia-Ukraine war and have translated into increasing retail prices. Meanwhile, high power bills have become the focus of upcoming elections, with competing parties promising an easing of electricity prices.
However, the matter is more complex and needs more than just a one-off solution. Given the fact that rising prices have resulted from global factors, it might be hard to control them on a domestic level. Experts have flagged concerns that elevated power bills are here to stay, probably longer than most Aussies would like.
The Australian Energy Market Operator (AEMO) recently stated that the average wholesale power price in the March quarter rose 141% compared to last year. The average wholesale power price rose to AU$87 a megawatt-hour in the March quarter. Prices have also remained higher in April and May due to an uptick in coal prices. Given the ongoing pressures, some experts believe that power bills could stay high till 2024.
RELATED READ: Will rising power bills impact Morrison Govt's re-election bid?
What is government doing to reduce power bills?
As per the Australian Bureau of Statistics (ABS), electricity prices have gone up 3.5% over the year to March quarter. To safeguard themselves from higher power bills, consumers can choose from a few types of energy plans available in Australia.
Some offer fixed rates for a certain period, while others offer a variable rate. Experts suggest consumers to select the best plan among these and decide on one that is better suited for their budget. Since retailers are likely to pass on the wholesale price rises to consumers, some individuals may find switching to a fixed rate beneficial.
TITLE: Losing sleep over inflation? Here's a unique advice by Warren Buffett
A project in the pipeline is the Rewire Australia project, which has been launched in Brisbane. The project has been initiated to encourage Australians to shift towards solar energy, remove gas heaters and invest in electric vehicles. Overall, the project aims to be a double-edged sword that tackles climate change concerns alongside the existing cost-of-living crisis.
Interestingly, Labor has also promised to help fund this program to fix the energy transmission in the country. It also aims to drive down power prices and make electric vehicles cheaper with an electric car discount. The program would require a commitment of AU$100 million. Meanwhile, the Coalition has stated that it would continue to keep power prices low by investing in wind, solar, hydro and natural gas projects.
GOOD READ: ANZ, NAB and CBA release key economic data; know more
Tips to reduce power bills
The essential idea is to move away from coal consumption to build resistance against volatile coal prices. This switch would require the adoption of efficient energy sources, which can help reduce costs and make living conditions more favourable.
Greater efficiency involves a reduction in greenhouse gas emissions, which includes living in 7-star energy-efficient homes. If the minimum energy efficiency rating is increased, Aussies might be able to save big on their power bills. A similar decision on power ratings could be taken by the state and territory ministers in July to review the existing laws. The review might help set new energy standards for homes that will be built in the coming months.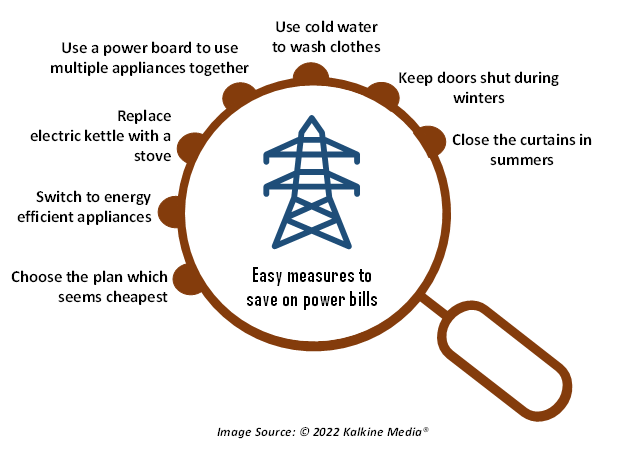 Alternatively, consumers can take small steps at home to ensure their energy bills do not exceed their budget. Consumers can use energy-saving light globes, turn off appliances when not required, replace electric kettle with a stove and use a power board to use multiple appliances together.
Small lifestyle changes can also help save on the energy bill. Using cold water to wash clothes, choosing the shortest washing cycle and drying clothes manually are some washing hacks that users can choose. Shutting down doors during winters to keep the house warm and closing the curtains in summers to keep heat waves outside are some easy measures to save up on the electricity bill.
Before any regulatory changes are announced, Australians can embrace these small changes at home to avoid paying a hefty electricity bill. Such measures can also be implemented for the long run to help combat climate change.
ALSO READ: Will petrol prices hit AU$2 a litre again? Why are Aussie petrol prices soaring?