Definition
Related Definitions
Zed Run
What is Zed Run?
Zed Run is a digital horse breeding and racing endeavour. The Australia-based Virtually Human Studio built it. It was launched in early 2019 and initially sold horses at US$30; now, prices have moved upwards to around US$200,000. Zed Run conducts virtual races 24/7. It is based on an evolving real-time digital marketplace. Zed Run is not a cryptocurrency but a digital racehorse platform that gets users horses as a digital asset from a blockchain.
Highlights

Zed Run has developed a virtual parallel horse breeding and racing world currently trending in the crypto and NFT space.
The concept of a digital racehorse infuses some life into digital tokens. It creates an emotional connection with the digital asset.
The Zed horses come in various breeds, colours and genders like any other physical horse in a real racetrack.
Frequently Asked Questions (FAQ)-
How does Zed Run work?
Zed Run has given its users creative freedom in the way they look at horseracing. Zed Run users can acquire horses from the platform's limited-edition drops or existing stable owners. Then, they can name bred horses, choose features of the horses, and decide their moves across the track.
Source: © Figalip | Megapixl.com
When buying a racehorse in Zed, the lineage and genotype are the two most important factors to consider. The rarer the bloodline is, the more desirable it will be for breeding and performance on the racetrack. Once enough races are in the database, past performances become a crucial factor. Virtual bloodstock analysts within the Zed community then offer assessments for valuing horses. These digital horses have unique prizes; names and colours play an essential role in this. Each NFT racehorse is unique. The stable owners who have traded their racehorses are allowed to keep an eye on the racehorse's performance.
Zed Run allows users to have collectible digital assets that hold value and can be used in an exciting gaming environment. The platform is different from other gaming endeavours available. Its entire structure is based on constant evolution. It works to replicate–and capitalize on a real-time digital marketplace.
Zed Run is still new, and the product is the talk of the NFT world. Zed Run is based on assets that have no tangible underlying value outside of their specific marketplace. However, the company is working on amplifying and transcending into other sports and industries.
On which blockchain does Zed Run work?
An NFT's popularity is often linked to people's infatuation of owning some unique rights. However, Zed Run pushes the mindset one step beyond. Zeds are digital assets designed in the form of digital racehorses that work on the Ethereum blockchain.
An NFT is often a certificate of genuineness held on a blockchain or a digital ledger of secure transactions. The tokens refer to actual items or artwork, etc., for its authentication.
The concept of a digital racehorse might seem dry, so Zed Run infuses some life into it by attaching an NFT ownership. The company has done so to create an emotional connection to the digital asset. Zed Run refers to its digital racehorses as breathing NFTs.
The race outcomes are derived from algorithms. However, there is no information available on exactly who or what controls these algorithms.
Zed Run platform takes a 10% cut from all transactions on the platform. The rates may sometimes vary without notice. It also charges a minimal 'gas fee', a standard blockchain term for processing and executing 'smart contracts' underpinning a transaction.
Supply and demand drive the Zed Run marketplace. A Zed racehorse belongs only to its user. Just like in real life, the value of your Zed racehorses is determined by the market based on what users are willing to pay for it.
How does one start Zed Run?
One can start with Zed Run using the following steps.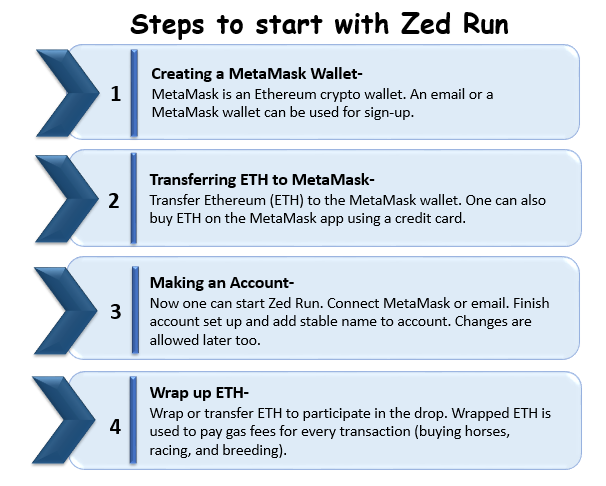 Source: Copyright © 2021 Kalkine Media
How many Zeds Run horses are there?
All Zeds Run horses are unique. All have a name and gender, and it doesn't correlate to how the horse performs. It has other attributes like a bloodline, genotype, and coat colour. These can affect the performance of the Zed Run horse.
Zed Run horses are classified based on -
Bloodline- Zed Run horses currently have four bloodlines: Nakamoto, Szabo, Finney and Buterin. The different qualities impact its effectiveness on the racetrack. Purer the bloodline better is the chance of being a good racer for a Zed run user. However, it does not mean some are superior. A user needs to understand details of the bloodline for racing and breeding.
Genotype- it is the Zed Number or Z Number of a horse. The lower the Z number, the purer the horse is. Genesis horses are numbered Z1-Z10, and non-genesis horses and offspring have lower Z numbers below 10. A lower Z number doesn't always mean a better racer.
Breed Type- it is another attribute of the Zed horse. The different breed types are Genesis, Legendary, Exclusive, Elite, Cross and Pacer. These are listed in the order of rarity.
Gender- like a physical horse, even Zed horses have a male and a female horse. A slightly higher premium is charged for female digital horses as their users can keep these horses' offspring.
Coat Color- based on Coat Color Zed horses are classified, namely, Neptune, Earth, Wild, Moon, Fiery, Classic, and Mystical. These colour groups affect the temperament and personality of the digital horse during a race.
Thus, all these features give the horse disguised NFT an emotional value for token users.
How is Zed Run faring in the crypto markets?
Zed Run is one of a kind digital horse racing platform. It is the latest trend of the crypto marketplace. Zed Run is still new and has lots of scope for improvement. It has a relatively small user base, but they are growing exponentially. The unique offering to pick up a few horses and start to race and collect makes it popular. The base price of each horse has risen since the beginning, and they are getting sold out quicker. It is a fun way of making a profit in the NFT space. Crypto investors are interested in having digital fun with horse racing and joining a growing community.