Definition
Related Definitions
Trading session
What is a trading session?
A trading session indicates active trading hours for a particular locale. Generally, different markets have different trading hours depending on the location. A single day of trading in a market would start from the market's opening bell to its closing bell, which every investor in a specific market would consider.
Different market instruments like stocks, bonds, futures, and foreign exchange have different characteristics, hence have different trading sessions for a particular day. With varied time zones, the primary trading hours of each country differs from another.
Summary

Apart from normal trading hours, a typical trading session consists of a pre-open session as well as a pre-close session.
Most of the stock exchanges around the world run for five days a week and are closed during weekends.
After-hours trading is also possible, which allows the investors to benefit from any breaking news or major announcements.
Different brokerage firms offer after-hours trading but have their own rules and guidelines.
Frequently Asked Questions:
What are NZX's trading hours?
A normal trading session on the NZX starts at 10:00 am and ends at 4:45 pm. Let us now look at the trading hours of the New Zealand Stock Exchange (NZX).
What does pre-open session mean?
Usually in pre-open session, except for trading, one can place, delete, or modify orders. Moreover, orders concluded outside the trading hours can be reported in the pre-open session.
A pre-open session is basically provided to put an equilibrium in the otherwise volatile market, which may occur because of any major announcement or event that happened overnight before the opening of the market for trading.
It helps in arriving at the ideal opening of the stock price to commensurate the current trading session.
The price print, which becomes the opening prices of the session, on a particular day becomes the Opening Auction. If a stock is not traded in the opening auction, the first sale of the stock during the normal session then becomes the opening price of the day for that stock.
What is a pre-close session?
A pre-close session is like a pre-open session, just that it happens during a different time (at 4:45 pm) of the day. Here again, one can place, alter, or delete orders.
Just like the opening auction, the closing auction becomes the official close price of a stock on a given day.
What does Adjust Session mean?
Adjust session starts immediately after the pre-close session. Here, orders can be modified but cannot be improved. New orders cannot be placed while existing orders can be cancelled.
Does the stock exchange run on weekends?
Typically, stock exchanges around the world are open from Monday to Friday. All the major stock exchanges across America, Europe, and Asia are closed on weekends, even NASDAQ is not open on Saturdays and Sundays.
However, the week work usually occurs from Sunday to Thursday in the Middle East.
What are the regular trading sessions around the world?
Let us have a look at some of the biggest stock exchanges and their trading hours.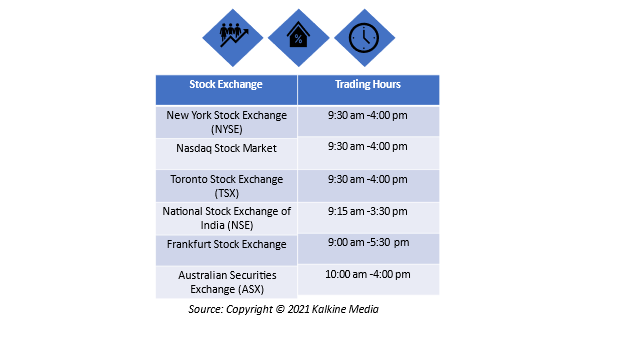 Is after-hours trading possible?
Generally, for most of the stock exchanges, the trading session is conducted during the daytime at regular trading hours.
However, trading is not restricted to this timeframe. It does happen once the normal market session is over and during off-peak hours. This kind of trading is known as 'after-hours trading.'
Some investors prefer trading during after-hours to take advantage of the latest events like government announcements, bankruptcy declarations, mergers, and takeovers, etc.
Below are few benefits which the investors can capitalise on from after-hours trading.
Trading on new updates or fresh information.
Attractive pricing opportunities.
Flexibility and convenience of trading during off-peak hours.
While pre-market and after-hours trading is an alluring bait for investors to cash in on the opportunity of any big announcement of an event, investors should be wary of the dangers when trading other than the regular hours.
Price volatility
Less liquidity
Biasness towards limit orders
Lack of technical support during non-trading hours
Uncertain prices
Tough competition for individual investors against the professional institutional investors
Is there any platform for conducting after-hours trading?
Off-peak trading occurs through digital markets, also called as electronic communication networks (ECNs).
Initially, after-hours trading was used by institutional investors till mid-1999. However, with the growing popularity of ECNs, retail investors too were attracted to the platform.
It is noted that apart from ECN, which has its own set of rules and regulations, individual brokerages which offer after-hours trading, also have distinct rules.
Some of the famous brokerages offering extended hours trading include Charles Schwab, Wells Fargo, Fidelity, and TD Ameritrade.
Schwab, the famous American multinational financial services firm, offers after-hours trading between 4:05 pm to 8:00 pm EST. TD Ameritrade provides 24 hours trading for five-day-a-week period. On the other hand, Wells Fargo allows trading between 4:05 pm and 5:00 pm EST.
On the contrary, premarket trading occurs before the market opens, usually from 8:00 am to 9:30 am EST.
Is there any 24-hour trading session?
There are certain markets which offer round-the-clock trading session. One of the most popular markets which provides a 24-hour trading session is the global foreign exchange market, commonly known as the forex market where currencies are traded.
It is noted that a forex market has no physical existence and is the most liquid of all the asset classes. It comprises big banks and brokerage firms that trade in various currencies.