Definition
Related Definitions
Sustainability Linked Bond (SLB)
What is sustainability linked bond?
Sustainability linked bonds (SLB) are amongst the latest instruments in the environmental, social and governance (ESG) investing arena. SLB is a type of bond instrument which focus on achieving predefined sustainability or ESG objectives. The issuer of an SLB can set more overarching sustainability goals, rather than only financing one green goal like solar power or green energy. These have more customisable key performance indicators (KPIs) than green bonds, as the issuer can decide on the use of proceeds.
Summary

Sustainability linked bonds are the most recent innovation in the ESG investment instrument category.
SLBs aim to achieve these predefined goals within a schedule or a timeline.
SLB issuers address a broader spectrum of sustainability issues.
Frequently Asked Questions (FAQ)
How does SLB work?
Sustainability-Linked Bonds (SLBs) are structured very differently from other ESG compliant instruments. The financial and/or fundamental details of SLBs can vary based on what the issuer seeks to achieve as a Sustainability or ESG goal. Issuers, however, aim to achieve these predefined goals within a schedule or a timeline discussed in the SLB document or updates regarding the SLB.
Sustainability linked bonds are mostly futuristic, performance-based market instruments. Objectives set in the SLB are typically measured through pre-set key performance indicators (KPIs). The KPIs are also assessed against predefined sustainability performance targets (SPTs). However, since most targets are general and not specific, it doesn't become the basis of their classification.
Image depicting Sustainability Linked Bond Concept, Image Source: © Bakhtiarzein | Megapixl.com
Key features of SLB
SLBs include a financial and/or structural target that involves certain trigger events.
Any potential variation of SLB's characteristics is part of bond documentation.
Any fallback mechanisms or targets not being achieved satisfactorily needs to explain.
Issuers also have to consider future exceptional events like a material change in SLB goals or an M&Aof the issuer, or any regulatory environment changes.
Substantially impacts the computation of KPI or restatement targets are shown as an adjustment to the baselines or KPI scope.
SLBs are reserved for specific ESG purposes and can be issued even for general corporate purposes.
SLBs focus on measurable, futuristic sustainability targets, which is the bond's main characteristic.
Regardless of this fact, issuers shall sometimes choose to combine two or more sustainability objectives. Most SLBs are issued adhering to sustainability-linked bond principles or other such guidelines issued to outline best practices associated with bond instruments.
What is sustainability-linked bond principle?
Sustainability linked bonds principles (SLBP) are voluntary guidelines or best practices for financial instruments incorporating futuristic ESG outcomes.
These guidelines promote the streamlined development of the sustainability-linked bond market by showing a pathway for bond issuance.
SLBP is intended to be used by the markets to provide bond issuers guidance on key components of launching credible and ambitious sustainability linked bond.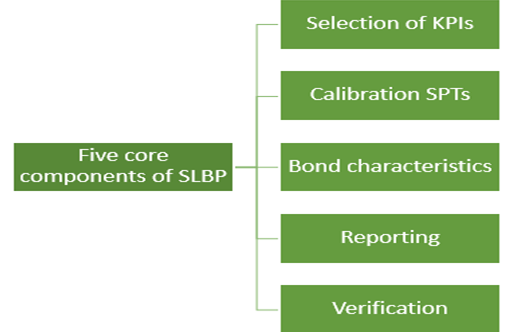 Image showing five core components of SLBP, Image Source: Copyright © 2021 Kalkine Media
SLBs aid investors understand the accountability of issuers, their sustainability strategies, and other available information useful for evaluating SLB investment.
SLBPs also assist underwriters when facilitating SLB transactions; they can judge SLB credibility based on these SLBs.
They suggest a clear and transparent process of making commitments for issuers, trustworthy for investors, bankers, underwriters, and placement agents, among others.
SLBPs also emphasise on accuracy and integrity of information disclosed and reported by issuers.
What are the key benefits of sustainability-linked bonds?
Sustainability-linked bonds offer the following benefits-
SLBs provide flexibility to bond issuers in the application of proceeds for wider sustainability goals. The activities can be eco-friendly or social activities, or any other sustainability targets.
The SLB issuers address a broader spectrum of sustainability issues using proceeds from sustainable funding and not just one specific green goal.
Since achievements are measured based on KPIs; they are more incentivising for issuers and encourage them to achieve targets at the company level and not just the objective level. Investors will appreciate the measurable overall commitment.
SLBs usually offer higher coupon rates protecting investors against defaults even if targets are not met.
SLB linked bonds, therefore, satisfy both the issuer and the investors.
What are the cons of SLBs?
On the flip side, a KPI failure often becomes a massive and costly failure for the issuer. The issuing company is unable to achieve the KPIs and must bear the cost of higher coupons promised to investors. Failure to meet targets also leads to a reputational loss of the issuer company in the eyes of market participants. It makes them rethink their investment decision and any further engagements with the SLB issuing company. Finally, it is on a broader term reflected as a failure to align business operations with futuristic global sustainability themes.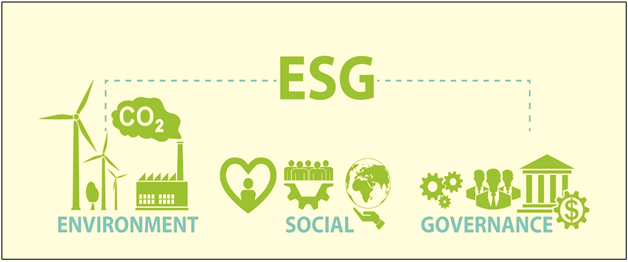 Image depicting the ESG concept, Image Source: © Elnur | Megapixl.com
How are green bonds different from SLBs?
Green bonds are focused on environmental sustainability, while sustainability linked bonds have a broader basket of goals.
Green bonds target environmental goals whereas SLBs are a way of sustainable financing.
SLBs have a flexible structure as compared to green bonds.
SLBs unlike green bonds can have operational KPIs as well, however these must be aligned with sustainable, global, ESG targets, like emission reduction.
SLBs help businesses overcome their sustainability issues and clear a future pathway for them.
Performance measurement is through KPIs, which is not the case with green bonds.
Green bonds turn out as cheaper for the issuer. However, SLBs are more investor-oriented and become costly to issuers only if KPIs are not achieved.