Definition
Related Definitions
Subscription Agreement
What is a subscription agreement?
Subscription agreements, also known as share subscription agreements, are legal instruments that allow a shareholder and subscriber with private placement rights or limited partnerships to purchase a firm's shares. They specify essential characteristics of the transaction, such as the number of shares and the needed capital investment. In addition, the outstanding shares and current disbursements are tracked in a subscription agreement.
The following are some examples of common sorts of investors who accept subscription agreements:
Angel investors
Investors from family and friends
Investors in start-ups
Highlights

A subscription agreement is a written agreement between an investor and a firm to purchase stock at a set price.
It includes all the facts of such an agreement, such as payouts, ownership of shares, and outstanding shares.
A well-structured and well-organised subscription agreement will include the quantity of shares and their price, the conditions of the transaction, and any legally binding secrecy contracts and conditions.
Frequently Asked Questions (FAQs)
Describe the term' subscription agreement'?

Source: © Scanrail | Megapixl.com
A partnership is a business contract between two or more people who do have a personal share in the firm but do not pay taxes as a partnership entity. Rather, the losses and profits are shared among the partners.
Partners would pay taxes on their distributive share of the partnership's taxable income, depending on the terms of their partnership agreement.
General partnerships are frequently used to construct accounting and law businesses. A general partner uses a subscription agreement to bring in limited partners and oversees the partnership entity in a limited partnership. Candidates may enrol to become limited partners, and the general partner determines whether to accept them after they meet the minimum standards. Limited partners offer funds in the form of a one-time investment and have no involvement in the company's operations.
Consequently, partners have little to no say in the partnership's day-to-day activities and are subject to less risk than full partners. The amount spent initially limits each limited partner's risk to business losses. The limited partnership subscription agreement specifies the possible limited partner's net worth, intelligence, and financial experience.
Simply defined, subscription agreements are usually given to startup organisations at an earlier stage before they are ready to go public or access venture funds. A well-structured and well-organised subscription agreement will include the quantity of shares and their price, the conditions of the transaction, and any legally binding secrecy contracts and conditions.
When do businesses use a subscription agreement?
Subscription agreements are used for a variety of purposes. They are carried out mainly because the firm has not yet reached the point where it can entice investment banks or venture capital to invest in it. The transactions are also utilised to raise funds from private investors without registering with the Securities and Exchange Commission (SEC).
If a private company wants to raise funds from private investors, it usually uses subscription agreements. To entice potential investors, companies with a private placement memorandum may want to incorporate a subscription agreement. A subscription agreement defines all transaction specifics, such as the agreed-upon number and price for the shares, whether a firm wishes to invest in another company or a private investor.
However, by modifying the terms of the transaction, investors can protect themselves against firms. As a corporation selling shares or stocks, this stops investors from changing their minds before entering the transaction. A subscription agreement helps to turn a promise into an actual transaction.
Source: © Lichtmeister | Megapixl.com
What are the main terms and clauses of the subscription agreement?
Like any other sort of contract, a subscription agreement has several significant provisions and unique terms. Knowing their backdrop about an investment deal is critical, as it will aid in comprehending the policies and regulations that govern the contract. The following is a list of the essential terms and standard clauses:
Confidentiality: As the name implies, this clause ensures that all parties engaged stay confidential and do not share information about the company's activities or operations. Failure to comply with this condition has negative consequences for both parties.
Restriction on Competition: This provision is crucial since it states that investors are not allowed to compete with the company in any manner, form, or shape for a set period. This clause is primarily in place to protect the firm's interests by ensuring that investors do not compete against the company.
Indemnity and Warranty: Any party can hold another party harmless in the event of obligations, fees, damages, claims, or losses. The process can be lengthy and costly if a party damages or breaches the contract due to inaccurate information in the warranties and representation clause.
Conditions Precedent: This phrase describes the conditions that must be met for the contract to be functional and operational. It is critical for the organisation as well as the investor in which they are financing. Furthermore, this clause frequently includes a schedule that provides all the conditions' details.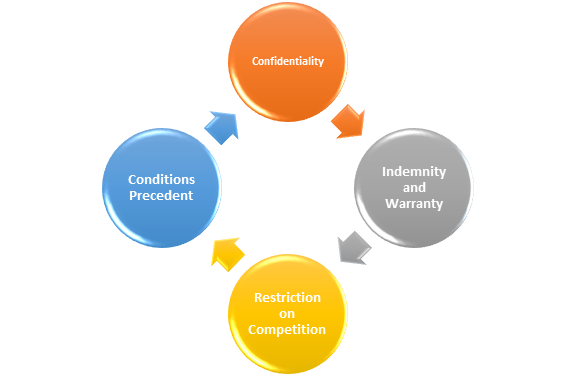 Source: Copyright © 2021 Kalkine Media
What are the benefits and drawbacks of a subscription agreement?
The following are some of the most significant benefits of this form of agreement:
When it comes to a subscription's agreement, you can always sell stocks without bothering about registering them with the SEC.
The multilateral approach to investment will not be relevant in this case. But, again, it's because of a one-time buy.
The liability tends to be limited because this is a limited partnership.
The amount of time the silent partner is obliged to devote can be reduced.
You'll be able to invest early and watch your money rise as the firm grows.
Can speak up for the company's leadership in a constructive way.
The following are the significant disadvantages of this form of agreement:
You are unable to reimburse investors for their investment.
When it comes to this form of arrangement, there are no voting rights. Therefore, you must rely on the promoters and directors for growth.
It requires a substantial lump-sum commitment instead of ordinary stocks, which may be purchased in smaller dollar share amounts.
Because there is no liquidity, you must locate someone to buy you out once your funds have been invested, which might be challenging.
Without the engagement of the SEC, there is a lack of transparency and monitoring.
If adequate counsel is not used to examining and advising on the deal, legal difficulties may occur.