Definition
Related Definitions
Pharmacy Benefit Managers (PBMs)
What are Pharmacy Benefit Managers?
Pharmacy Benefit Managers (PBMs) are corporations that oversee prescription drug benefits for large employers, health insurers, and other payers.
In other words, Pharmacy Benefit Managers can be considered as advocates in the healthcare system who work to reduce the cost of prescription medicines for patients and payers in the US.
According to the PCMA (Pharmaceutical Care Management Association), Pharmacy Benefit Managers oversee prescription medicine proposals for over 270 million people in the US having health insurance from several sponsors. The sponsors include commercial health plans, union plans, self-insured employer plans, the Federal Employees Health Benefits Program (FEHBP), Medicare Part D plans, managed Medicaid plans, state government employee plans, and more.
PCMA observes and advocates on several essential healthcare-related issues that allow PBMs to continue-
Reducing costs of pharmacy for employers and consumers in the United States.
Protecting affordability & choice in Medicare Part D.
Decreasing pharmacy costs for Medicare beneficiaries.
Improving safety with specialty pharmacies.
What are the functions of PBMs?
The two main functions of Pharmacy Benefit Managers are-
To maintain drug formulary lists- The central role of a PBM to manage & maintain a healthcare payer's formulary list. The formulary list or drug list comprises prescription medicines which are preferred under a particular health plan. The drug list is essential to understanding the benefits of healthcare, along with the type of care a beneficiary can access.
Drug prices negotiation and rebates management- The other role of PBM is to negotiate the buying price from a prescription drug manufacturer or pharmaceutical company. The companies are in charge of setting a list price for their manufactured medications.
In particular, Pharmacy Benefit Managers maintain relationships with three key participants in the pharmaceutical supply chain-
Relationship between PBMs and drug manufacturer- The PBM negotiates the cost of a drug and rebates from the drug manufacturer. In the exchange, PBMs will put some drugs on the formulary list, ensuring that the drug manufacturer will get business.
Relationship between PBM and health payer- The PBM manages drug formulary list for a payer, and in return the payer gives the PBM money for administrative services, paying for the actual drug as well as for dispensing.
Relationship between PBM and the pharmacy- In some cases, a PBM sign contract with a pharmacy for directly dispensing drugs. PBMs also pay the pharmacy fee for dispensing of a drug.
What is the role of a PBM?
Pharmacy Benefit Managers play a crucial role in determining the cost of drugs to consumers. According to the Commonwealth Fund, PBMs operate in the middle of the distribution chain for prescription drugs.
By negotiating with pharmaceutical companies and drug stores to regulate drug spending, PBMs have a significant impact in determining the total costs of a drug for insurers. The PBMs also determine how much pharmacies are paid.
Role of PBMs in the Medicine Supply Chain
The role of PBMs are-
Pharmacy Benefit Managers are responsible for developing and maintaining a record of covered medications on behalf of health insurers. Health insurers influence which medicine should individuals use and determine out-of-pocket costs.
Pharmacy Benefit Managers use their buying power for negotiating discounts from the manufacturers of drugs.
PBMs enter a contract directly with individual drug stores (pharmacies) to reimburse for medicines that are dispensed to beneficiaries.
How do PBMs reduce the cost of drugs?
Pharmacy Benefit Managers reduce the cost of drugs by encouraging the use of generic drugs (generics), and by offering more affordable brand medicines. Generic drugs are the exact copy of branded drug but are affordable because, for the approval of generics, no preclinical or clinical trials have to be performed. The other approaches that PBMs follow are highlighted in the image below: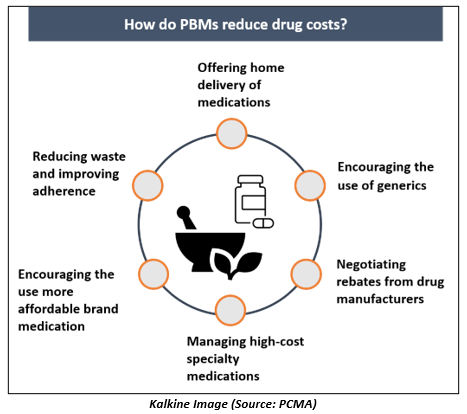 How do PBMs work with drug companies?
Pharmacy Benefit Managers are accountable for determining the affordability of medicine. They put some programs to help patients for access to medications and use the most effective treatments.
Some programs include-
Rebate model- Pharmacy Benefit Managers negotiate with drug manufacturers to find what rebates the Company will propose for specific medicines. These rebates are given to the PBMs. Based on the deal between the PBM and plan sponsor, the manager will pass some, all, or none of the rebates to the plan sponsor.
Drug formularies- A formulary is a list of drugs, both generics and branded covered within a specific plan. Th drug formulary is determined by the managers with the support of doctors and some other clinical specialists to include the medicines that will be highly affordable as well as effective.
Effective use of formularies can reduce the overall cost of drugs and improve patient to access more affordable care.
Prior authorization systems- This program is a cost-saving feature that facilitates to make sure the appropriate use of prescription medicines. Prior authorizations are intended to avoid improper use or prescribing of certain medicines.
The prior authorization method is meant to offer drug safety and cost benefits to patients.
As the cost of healthcare and prescription medicine continues to increase, the role of Pharmacy Benefit Managers will remain crucial as they work with both drug manufacturers and payers. As a middleman, PBMs play an essential role in setting the prices for prescription drugs and have a significant role in healthcare spending.