Definition
Related Definitions
Medicare
What is Medicare?
Medicare is the universal health care scheme of Australia. The system was introduced on 1 February 1984, but its first iteration was launched nine years earlier, in 1975. Medicare is a public health insurance system that ensures that all Australians' have access to a comprehensive range of health care and hospital services at minimal cost.
If an individual has a Medicare card, he/she can access several healthcare services for free or at a minimal cost. The services include: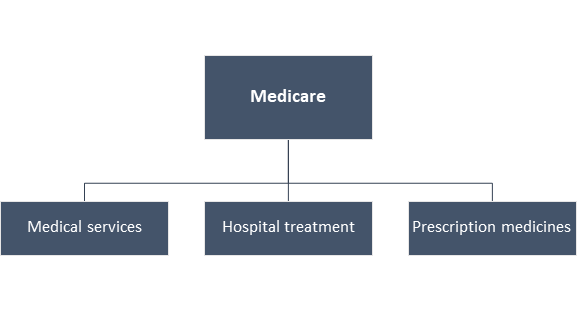 Medicare intends to ensure that all residents have access to low-cost or free medical, midwifery, optometry, as well as hospital care, and in some particular circumstances, allied health.
The Medical Benefits Schedule (MBS) lists the healthcare services that are covered by Medicare. A team of medical specialists is there who makes sure that the list updated, safe and best practice. Moreover, the MBS has a safety net that makes sure a person pays less for services after reaching a specific amount of out of pocket costs.
Another vital component of Medicare is the Pharmaceutical Benefits Scheme (PBS), and it helps to make available prescription medicines at a low cost. Moreover, a Medicare card also provides access to the Pharmaceutical Benefits Scheme (PBS).
What is covered by Medicare?
Medicare is the basis of Australia's healthcare system and covers numerous healthcare costs. Most Australian residents are eligible for Medicare. A person who is living in Australia or Norfolk Island and meet some specific criteria can get a Medicare card. People visiting certain countries may also get a reciprocal Medicare card.
People have the option to choose whether they want Medicare cover only, or a combination of Medicare along with private health insurance. The Medicare system mainly comprises three parts- Hospital, Medical and Pharmaceutical.
Medicare covers the cost of seeing a healthcare specialist, tests & scans (x-rays), most surgery performed by doctors, and eye tests by optometrists.
Medicare does not cover the cost for ambulance services, most dental services, cosmetic surgery, glasses, contact lenses and hearing aids.
What is covered under hospital section?
Under Medicare, individuals can be treated as a public patient in a public hospital, without any cost, by a doctor appointed by the hospital. One person can also choose to be treated as a public patient, even if the insurance is private.
As a public patient, one person does not have the option to opt own doctor and may not have a choice about the admission to hospital because there could be a public hospital waiting list.
Medicare does not cover private patient hospital costs, medical and hospital expenses incurred overseas, medical and hospital services which are not clinically necessary, or surgery solely for cosmetic reasons, ambulance services; and emergency department administration fees.
What is covered under the Medical section?
When one person visits a physician outside a hospital, Medicare will reimburse complete (100%) of the MBS (Medicare Benefits Schedule) fee for a general practitioner and 85% of the MBS fee for service provided by a specialist. If doctor bills Medicare directly through bulk billing, in that case, Medicare cardholders will not have to pay anything.
Medicare provides benefits represented below-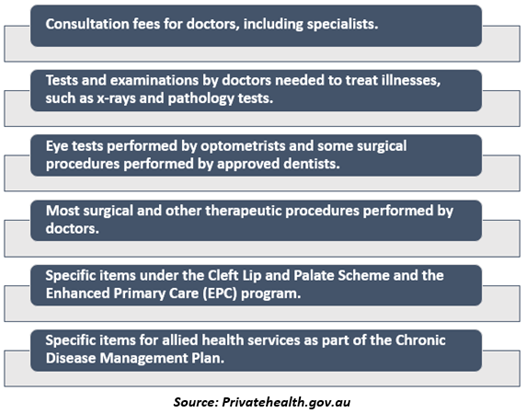 Moreover, Medicare also covers diagnostic imaging services including ultrasound, X-rays, MRI scans and CT scans.
What is covered under Pharmaceutical section?
Under the Pharmaceutical Benefits Scheme (PBS), one needs to pay only part of the cost of most prescription medicines purchased at pharmacies. The remaining cost is covered by the Pharmaceutical Benefits Scheme. Individuals must show their Medicare card for availing this benefit.
The payable amount varies, and is dependent on the medicine type, up to a standard maximum. People with concession cards issued by the government have a lower maximum payment.
What is the Pharmaceutical Benefits Scheme?
The Pharmaceutical Benefits Scheme, or PBS, helps to get medicines available at some lower cost. The cost of medicines would be high without PBS. In some instances, drugs would cost as much as thousands of dollars.
The Pharmaceutical Benefits Scheme contains a list of branded medicines, generics, biologics and biosimilars. There are almost 5.2k products listed on the PBS. All products are demonstrated safe and effective before being marketed across Australia. There are independent medical experts who suggest what can be added to the PBS.
If any person is enrolled in Medicare, the person needs to pay only some of the cost of most PBS medicines. The Australian government will pay the remaining cost.
If a person needs to buy lots on medicine, the PBS Safety Net helps in keeping the costs low. After reaching the Safety Net Threshold amount, the prescriptions charges will be even less for the remaining of the year.
Who is eligible for Medicare Australia?
For enrolment in Medicare, people need to fill the Medicare enrolment form and email the form with supporting documents to Medicare Enrolment Services. This enrolment form allows to enrol up to 5 people in Medicare. If there are more than five people to enrol, an additional Medicare enrolment form will be required.
One person can enrol in Medicare if he or she lives in Australia and is one of the following:
An Australian citizen.
A New Zealand citizen.
An Australian permanent resident.
Applying for permanent residency.
A temporary resident who is covered by ministerial order.
Citizens or permanent residents of Norfolk Island, Cocos (Keeling) Islands, Christmas Island and Lord Howe Island can also enrol for Medicare.
GOOD READ: Do seniors need private health insurance, or is Medicare enough?