Definition
Related Definitions
Commercial Real Estate
What is commercial real estate?
Commercial real estate is a property used for business-related purposes. Real estate as an asset class has been favoured by many investors. The primary investment rationale behind commercial real estate is income through rental payments.
Real estate moguls prefer commercial real estate to generate income. Commercial real estate brokers provide investors with proposals to buy properties. Commercial real estate is a broad category of real assets and includes a range of properties.
It includes properties like shopping malls, warehouses, multifamily housing, convenience, restaurants, healthcare facilities. Commercial real estate owners enter into lease agreements with tenants for letting out the property.
The terms of deals include rental payments, increments etc. Commercial real estate investing is relatively complex and requires sophisticated skills, a larger pool of capital compared to residential real estate.
Property as an asset class has been favoured by households as well as institutional investors. For small investors, real estate investment trusts (REITs) have provided accessibility to invest in real assets.
REITs also come in various types like industrial REITs, storage REITs, office REITs, shopping centre REITs, agricultural REITs, residential REITs. REITs are listed in stock exchanges and are traded like securities in the market.
Businesses with large and fixed assets such as gas pipelines, tower networks, electrical lines have also started to incorporate a separate REIT entity, which includes these assets. At a later stage, businesses can monetise these assets by taking the entity to public markets.
Some major types of commercial real estate properties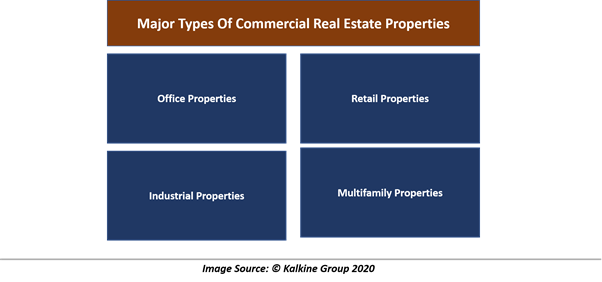 Office properties
Office properties are spaces in business districts of a city. These include single-tenant building to skyscrapers. Office properties can be large and range in size of a few million square feet. There are small suburban offices, which are usually buildings.
Location of the property is one of the factors to determine the value of the office property and its rental yields. A building in a prime business district will command a higher value compared to building in outskirts of the city.
Lease terms in office properties are generally long-term since companies do not move the workforce very often. Office properties are generally segregated into three categories:
Class A: As the name suggests, Class A properties are the highest rated properties in the office real estate market. Such properties have luxurious space, lobbies, quality management, extensive amenities. These are high priced offices and most skyscrapers in prime business district fall under this category.
Class B: These offices are often older buildings owned by small investors with tenants having moderate budgets. The location of these building may not necessarily be at the prime business district of a city. Class B properties often have scope for renovation and improvement that could improve the value and rental yields.
Class C: Office buildings in this category are located in districts with relatively fewer amenities and convenience. Such properties are usually in need of renovation and improvements because of the old infrastructure.
Retail Properties
Retail properties are often used by companies such as a bank, shopping mall, stores, restaurants. Such properties are generally multi-tenanted by a number of entities. Retail properties could be huge in size, such as shopping malls.
Retail spaces also include regional malls, community centres. These spaces could be differentiated in terms of tenant capacity, size, concept, trade area. Fast-food chains like McDonald's, Starbucks often prefer single tenanted buildings.
Industrial Properties
Industrial real estate properties include tenants like manufacturing operations, warehouses, distribution centres. These properties are generally located in subsidised industrial zones, outside urban areas, near to transportation routes.
Industrial real estate properties also include flex properties, which is a mix of office and industrial space. Research and development facilities also fall under industrial spaces. Some other types of industrial spaces include light assembly, truck terminal, data centre, showrooms.
Multifamily Properties
Multifamily properties include residential properties, excluding single-family apartments and estates. An apartment building with multiple units falls under multifamily spaces. Since these are residential, the leases are short-term compared to other commercial real estate properties.
Advantages of commercial real estate properties
Commercial real estate properties have income earning potential, and this income factor makes it attractive for many investors. These properties are usually managed by professional organisations and operate the property as a business.
The business and customer type of dealing between the landlord and tenant keep the relationship professional. Unlike bonds and equity, commercial real estate is a kind of fixed asset with value deriving from the infrastructure, land, and location.
Since commercial real estate properties are large and include several tenants, the risk of default of rent is diversified. These properties also have value appreciation potential driven by improvements, enhancement of local infrastructure, and urbanisation.
Retail properties with tenants like brand stores, restaurants are inclined to invest and maintain properties since they want to attract customers. As a result, the interest of landlords and tenants is aligned.
Disadvantages of commercial real estate properties
Although investing in commercial real estate appears attractive, direct investing in such properties is not everyone's cup of tea. Investors in the commercial real estate sector are usually institutional investors with deep pockets, but REITs have provided accessibility to small investors.
Financing for commercial real estate does not come cheap. Loans designated for commercial property generally carry higher interest rates and have extensive terms and conditions attached with the financing.
Commercial real estate is required to be managed by a professional organisation, which has some experience in the industry. When tenants move, it becomes difficult for landlords to find new tenants because leases are long term and commercial tenants don't move frequently.
Maintenance of properties is also a large expense incurred by property owners. When landlords are going for renovation and improvements, the costs are usually large and borne by the property owners. Since commercial properties have more visitors, the requirement of maintenance is generally higher than residential real estate.