Definition
Related Definitions
Assistive Technology
What is assistive technology?
Assistive technology is an umbrella term that includes systems and services linked to the distribution of assistive services and products. The technology helps individuals with a disability to live a healthy, independent, and productive lives.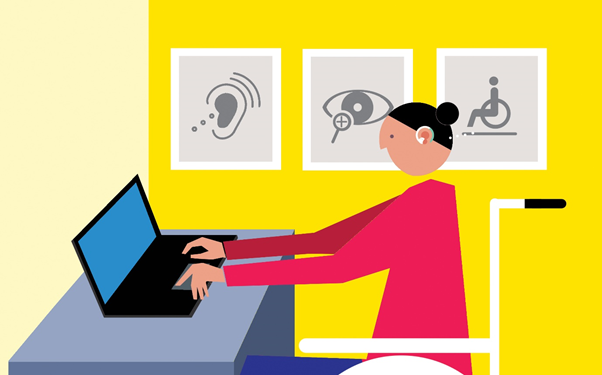 Assistive technology helping individuals with physical/mental disabilities (Copyright © 2021 Kalkine Media Pty Ltd.)
Assistive technology can be helpful for:
People with physical disabilities.
Old age people.
Individuals who are suffering from diseases such as diabetes and stroke.
Individuals with dementia or other mental health conditions.
People with ongoing functional decline.

Examples of assistive technology
Assistive technology benefits individuals that have some form of physical or mental disability. A few examples of assistive technologies are highlighted below:
Electronic Worksheet: Electronic worksheet is used by students who have dyslexia or other learning disabilities. Such sheets have options like text-to-speech that helps students complete their assignments.
Talking Calculator: Dyscalculia students can use this device, making it easier to check assignments, read numbers, and do calculations.
Mobility aids like wheelchair, walker, and prosthetics.
Hearing aids for individuals that have a hearing problem.
Computer software and hardware like voice recognition program, screen reader, and screen enlargement application that support people with mobility and sensory impairment.
Tools such as automatic page-turners, book holders, and adapted pencil grips help disable students contribute to educational activities.
How does one choose the correct assistive technology?
Most people choose an assistive technology based on a set of people's guidance and recommendation, including a team of professionals, family doctor, special education teachers, occupational therapy, rehabilitation engineer, and speech-language pathologists.
Why do we need assistive technology?
With time, we have seen the cases of disability going up. People have access to these assistive technologies in many places. However, there still are several places where people in need do not have access to these devices.
There is a dramatic increase in disability amongst people because of the demographic trends and increases in chronic health conditions. A report published by WHO states that almost every human being, at some point in time, experiences some form of disability. This increases the need for assistive technology.
What are the Pros and Cons of assistive technology?
Pros:
Assistive technology is beneficial for monitoring the safety of a vulnerable person on their own. Thus, providing them and their family with peace of mind.
With the advancements in technology, people now have options to purchase as guided by the counsellor.
Devices like personal alarm and telecare help the dear ones to respond faster in case of an emergency. For example, in a medical emergency like a heart stroke, a faster response can help reduce the incident's long-term negative impact.
There are a few assistive technologies that can be included in daily needs to support independent living.
Assistive technology like telecare technology help to study user behaviour via the data collected through the device.
Cons:
For some people, this technology might be a little complex. Thus, they might get discouraged from making the best use of the device.
Most of the assistive technology devices are expensive. Hence, there is a possibility many institutions or person cannot afford them.
There are possibilities that the user of the assistive technology may get uncomfortable getting constantly monitored by a person, an attendant, or any medical practitioners.
There are also concerns related to the privacy of the user.
In case of higher dependency on this technology, the user might feel isolated if the device is used as an alternative for personal visits.
Who pays for assistive technology?
The answer to the above question depends on three things - the technology, the user, and the application of the technology. There are various assistive technologies that might not cost you anything. Still, there are tools that are pretty expensive. Some of the payers include:
Schools
Schools make payment for those devices that are used in special education learning material as well as technology mentioned in the Individualized Education Program (IEP).
Government
Government programs that comprise Social Security, veteran's benefits, or state Medicaid agencies pay for assistive technology when prescribed by the doctor, as necessary.
Insurance Companies
There are cases where a private insurance company pays for some assistive technology when the doctor prescribes the device as a necessary or rehabilitative device.
Rehabilitation and job training programs
Rehabilitation and job training programs that the government or any private agency could finance may pay for the technology and prepare people to get employed.
List of a few Assistive Technology devices
Assistive technology devices help ease the burden for caregivers looking after patients with physical or mental disabilities, especially seniors. Some of the widely used devices include:
Video surveillance camera
Automated pill dispenser
Wearable GPS tracking device
Sensor mat with alarm
Medical alert device
Digital calendar day clock
Hydration reminder
Wireless earbuds for watching TV
Universal Big Button TV Remote
Lifesaving Smart Cane