Definition
Agritech
What is Agritech?
Agricultural technology, commonly called 'Agritech', refers to technology applications that increase agri production with fewer inputs. Any technology that makes a farming process efficient itself is called Agritech. Innovations in this field have addressed issues right from field monitoring to farm produce distribution. Most innovations are referred to as aim to increase yield, efficiency, and profits. Commonly visible examples of Agritech are faster planting machines, crop modifications for environmental adjustment, drone monitoring and web-based supply chain tracking. Recent developments in 'Agritech' include big data, AI, robots, etc., aiming to make the agricultural industry more efficient.
Summary

Agritech is the name given to technology applications used to increase agri production with lesser inputs.
Technology and analysis of key production-related metrics are helping new-age agricultural entrepreneurs introduce and use better processes, yields and solutions..
Agritech has shifted the common person's perception of agriculture.
Agritech has the potential to revolutionise agriculture in an eco-friendly way.
Frequently Asked Questions (FAQ)-
Why is Agritech important?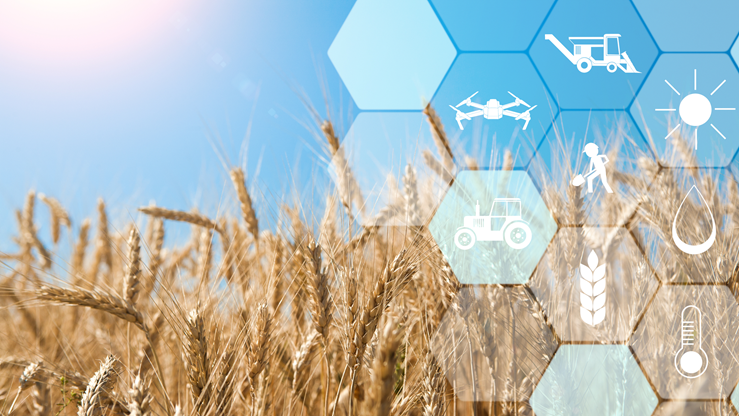 Source: © Milkos | Megapixl.com
Agriculture is an industry on which the world relies. The produce of this industry often comes under the essentials category. Even during the pandemic, demand for agricultural commodities did not dip as much as few other commodities. Moreover, many of the agricultural outputs are used as raw materials by manufacturing companies. It is thus essential that the agricultural sector is made more efficient.
'Agritech' helps in the translation of technological innovations into agricultural success. Innovations like better seed varieties, big data-based crop studies and the internet of things (IoT) can address the numerous unaddressed issues of the agricultural sector.
With 'Agritech', the commercial viability of agricultural produce is increased. Expert solutions help remove challenges faced by farmers at reduced costs. It makes the entire agriculture activity a more efficient and effective one.
Renewable and energy-efficient innovations are also helping reduce the negative impacts of agriculture on the environment, like soil quality degradation. 'agritech' has the potential to revolutionise agriculture in an eco-friendly way.
The technologies introduced under 'agritech' help churn out higher quality products that too at lower costs. Even the agricultural supply chain is at present under constant renovation with the use of AI and Big Data. Analysis of key production-related metrics is helping new-age agricultural entrepreneurs introduce and use better processes, yields and solutions.
The use of underground sensors or in the air drones are helping Agri goods producers in detecting and collecting geographical, environmental and climate data for better crop yield.
Other technologies are being exploited to help producers make informed and timely strategic choices to gain cropping and profit advantage.
The uses of technology are not just limited to agriculture or horticulture but extend to forestry, aquaculture, and viticulture.
What is the visible usage of agritech?
Technological innovations under agritech help improve the efficiency and profitability of agriculture. For example, the technologies help in the analysis of climate, soil, and temperature.
Presently, agritech includes the following technologies in use-
Source: Copyright © 2021 Kalkine Media
Drones & satellite trackers are used for field surveillance and environmental scanning. These help measure, monitor and creating terrain maps. In addition, these are a lot easier and quicker to use. IoT-based sensors are another agritech innovation using IoT based software to track and provide accurate weather, soil quality and environmental conditions. It even enables the optimisation of farming resources and time with instant statistics on crops and fields.
Automated irrigation techniques also come under agritech. The adaptive irrigation solution helps improve water availability for better yields and energy cost-saving.
Big data is another technology used by the agricultural industry for decision making. Big data helps strategise and manage produce not just at local but also at national and international levels. Metrics developed on weather conditions, soil structure, and crop efficiency, amongst others, can be used to optimise future decisions and achieve accuracy in them.
Blockchain in agricultural logistics is also being explored to avoid the problems caused by perishability issues with agricultural produce. Blockchain is also helping farmers connect directly with end consumers with the rise of 'farm fresh' foods. Blockchain also has certain marketing benefits.
Smart farming methods are also part of agritech, based on scientific research and help achieve farm produce efficiency and build a smart farm ecosystem. One example of a smart farming technique is precision farming using sensors, drones, and data.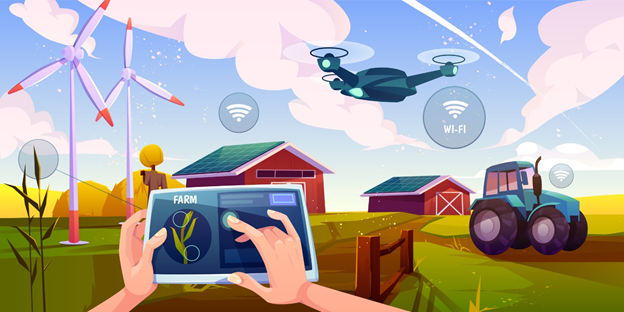 Source: © Vectorpouch | Megapixl.com
What are the benefits of Agritech?
Following are the recognisable benefits of Agritech-
Agritech has shifted the common man's perception of agriculture. Technology is continuously affecting how farming productivity and improving the efficiency of production.
Agritech has helped in the evolution of many energy-saving technologies, the most relevant one being solar panels on which the world wants to rely now.
It has also allowed a reduction in food miles or bridging the distance between producer and end-user. Technologies are now allowing individuals to grow their food on the terrace and in various climates.
Healthier food trends and the rise of nutrition awareness is also a result of agritech. Technologies have helped reduce the dependency on fertilisers, improve soil profile, and even manage water well. Technological innovations have also resulted in improving the efficiency of the agriculture industry.
Agritech has made value traceability possible for agricultural produce.
Due to Agritech, customers are more aware and reassured about the quality of produce from the agriculture sector.
Digital information has helped connect producers and industrial raw material users over data available on agricultural goods.
Energy efficiency in the agricultural sector is another benefit of agritech.
Agritech is also helping promote environmental sustainability.
Agritech innovations also help preserve biodiversity.
Software companies and technology companies are now looking towards an agriculture 4.0 possibility.
New opportunities are being explored for the use of digital technology to enable efficient agriculture.