Source: Joyseulay, Shutterstock
Stocks of WISeKey International Holding Ltd (US:WKEY or NASDAQ: WKEY), an Artificial Intelligence-backed internet of things (IoT) firm, soared over 64.36 per cent on Thursday, after it announced that it is set to launch its Non-Fungible Tokens (NFT) application.
This app has been created on 'WISeAuthentic Platform', a blockchain-powered infrastructure, and backed by patented Digital Identification technology that authenticates, secures, and confirms ownership of non-tangible and tangible assets.
The NFT market has been evolving as NFT trading rises in all sectors, driven by the requirement to curb fraud in digital artwork and acceptance by businesses. Industries can benefit from NFT by acquiring a non-replicated digital certificate of ownership.
On March 16, the company also signed a Memorandum of Understanding (MoU) with the Government of Seychelles, for a pilot project on digital identity platforms, including eTourism and eHealth.
Let us delve into the digital asset stock's performance:
WISeKey International Holding Ltd (US:WKEY or NASDAQ: WKEY)
The Swiss company is offering cybersecurity products and providing authentic digital identity for digital assets as well as real objects using AI, Blockchain, and IoT.
The stock is on a bull-run for the past one week and gained 91.52 per cent. Its one-year growth is up 118.33 per cent. It has an average trading volume of 5.34 million shares for the past 10 days.
The AI stock is trading at US$ 13.10 per share, 29.15 per cent down compare with its 52-week high of US$ 18.49 per piece (hit on July 15, 2020). However, it has improved by almost 236 per cent against its 52-week low of US$ 3.90.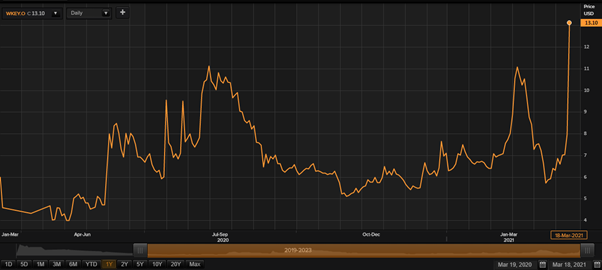 WISeKey International Holding's 12 Month Stock Performance/ (Source: Refinitiv)
On the first day of this week, WISeKey unveiled a digital vaccination certificates' website, VaccineTrusts.com. This platform will provide proof certificates to those who have been vaccinated against coronavirus.
On February 1, the company also acquired 51 per cent share capital of Arago, a German technology firm. The company also agreed to purchase the remaining minority stake of 49 per cent. The joint entity will become one of the leading players across the AI-powered automation market space.