Highlights

Meme stocks are recognised for being highly volatile and speculative.
Some analysts believe that BlackBerry might become a cybersecurity industry leader.
BlackBerry was selected to power an intelligent cockpit for Renault's EV.
Canada has plenty of technology stocks to offer. Still, BlackBerry Limited (TSX:BB) remains unique as it is not the same as it used to be a decade ago but continues to attract stock market enthusiasts.
Also Read: 3 TSX tech stocks to buy on the dip as sector slips 35% YTD
After the smartphone business failed, BlackBerry stock fell from grace as investors dumped the company's common shares. However, the technology company soon shifted its focus to cybersecurity and software-driven cars.
Due to a shift in business operations, some analysts believe that BlackBerry has the potential to become a cybersecurity industry leader. This is probably because the BB stock never faded away from the memory of retail investors.
Last year, when a group on social media platform Reddit started boosting the prices of common shares of companies with poor fundamentals, even BlackBerry's name surfaced on the list.
The stocks that recorded a price gain due to Reddit users were dubbed meme stocks, gaining popularity worldwide. Stocks of companies like GameStop and AMC had recorded a massive rally due to this trend, and companies with poor fundamentals kept getting added to the list of meme stocks.
Often investors question if BlackBerry is a better investment than other meme stocks, and in this article, we will find out if the BB stock is worth your time and money.
What are meme stocks?
A meme stock is one that has gained a lot of traction among retail investors due to social media. Meme stocks are popular because they are based on internet memes discussed among traders on platforms like Reddit's r/wallstreetbets. Investors in these stocks are frequently young and inexperienced.
Meme stocks are recognised for being highly volatile and speculative as a result of their popularity. Based on the basic analysis, they frequently trade at prices that are above their projected worth.
Meme stocks caught attention after the rise in the price of GameStop stock led to a short squeeze in early 2021. Stocks like Bed, Bath & Beyond, National Beverage, BlackBerry and Koss are some examples of meme stocks.
Is BlackBerry a better meme stock for investment?
Although there is no guarantee in a stock market, BlackBerry appears to be a better meme stock as its business operations are important and futuristic. Also, the company has several years of experience in staying in the market and has faced various downturns.
On June 12, BlackBerry announced that its advanced digital LCD cluster using the QNX® Neutrino® Realtime Operating System (RTOS) had been deployed in Changan Automobile's high-end coupe, UNI-V. Notably, the LCD cluster was built under a joint initiative with BiTECH Automotive.
Meanwhile, BlackBerry was also selected to power an intelligent cockpit for Renault's upcoming electric vehicle (EV). In the next few years, EVs are expected to become mainstream vehicles as climate change is a serious issue, and most countries are committed to reducing greenhouse gas emissions.
If EVs become popular and mainstream, companies like BlackBerry would most likely benefit from the trend.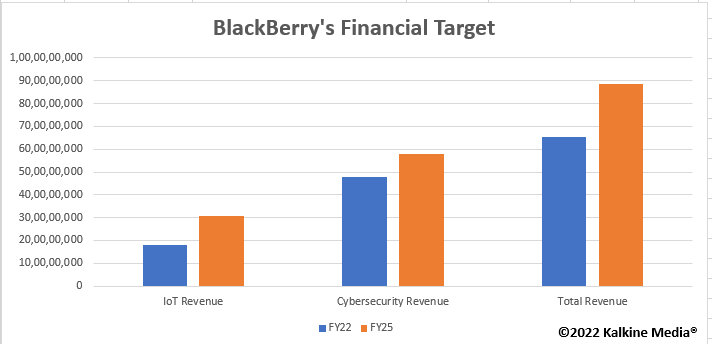 Bottom line
The technology company hopes to achieve solid financials in the next few years. As per the guidance, BlackBerry expects its cybersecurity revenue to grow from US$ 477 million in the fiscal year 2022 to US$ 579 million in the fiscal year 2025.
In Q4 2022, BlackBerry's total revenue was US$ 185 million, and the total net cash position was US$ 405 million. Meanwhile, the cash generated from operating activities was US$ 10 million.
Please note, the above content constitutes a very preliminary observation or view based on digital trends and is of limited scope without any in-depth fundamental valuation or technical analysis. Any interest in stocks or sectors should be thoroughly evaluated taking into consideration the associated risks.