Highlights

Facebook's entry can raise people's interest in the digital world, which could attract more users and lead to the development of multiple metaverse.
The stock price of an AI-based company mentioned here shot up by roughly 398 per cent in a year.
A tech firm posted a return on equity (ROE) of 54.65 per cent (as of Wednesday, November 3).
Metaverse, which mainly utilizes virtual and augmented reality, has emerged as a buzzing concept this year.
In broad terms, it is a concept of a shared virtual space where people can interact multidimensionally through internet.
As Facebook Inc has rebranded itself as 'Meta' and detailed a plan on building "its own immersive digital world," many early adopters of digital realism reportedly criticized Facebook for trying to capitalize on the metaverse concept.
Meanwhile, some analysts and investors believe that metaverse could be the next big thing on the internet, especially as Facebook's entry could raise people's interest in the digital worlds and, in turn, lead to the development of multiple metaverse spaces.
Also read: 4 best Canadian metaverse stocks to add to your portfolio
On that note, let us explore two young Canadian metaverse companies that saw over 200 per cent surge in their stock prices in a year.
Canadian data intelligence company FOBI AI Inc provides real-time data analytics for customer activation and engagement. Amid the global chip shortage, the company was able to secure critical inventory and launched new software and hardware applications, said an announcement on October 19.
Canadian metaverse stocks that rose over 200% in a year
The Vancouver-based tech player, which leverages artificial intelligence (AI), saw its stock close at C$ 1.99 apiece, up by 8.152 per cent, on Tuesday, November 2. During this session, it hit a day high of C$ 2.
FOBI stock fetched a one-year return of roughly 398 per cent and that of more than 64 per cent in the previous six months.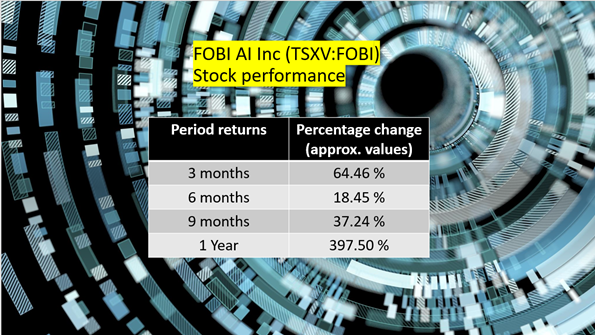 Image source: © 2021 Kalkine Media Inc 
2. GoldSpot Discoveries Corp (TSXV: SPOT)
GoldSpot Discoveries Corp is a Canadian technology firm that utilizes its machine learning capabilities to minimize capital risk. It improves the efficiencies and winning rates in the field of mineral resource expansion and investment.
On November 2, GoldSpot saw its stock close at C$ 1.11 apiece, noting a return of nearly 283 per cent for the past year.
SPOT stock had climbed by roughly 178 per cent year-to-date (YTD) and surged by more than 208 per cent in the past nine months.
It held a return on equity (ROE) of 54.65 per cent and a return on assets (ROA) of 47.14 per cent (as of Wednesday, November 3).
Also read: Acorns to go public via an IPO or a merger with SPAC?
Bottom line
In the e-gaming world, people often refer to metaverse as the plane where players with a character interact and walk around. However, many are exploring this concept in blockchain technology where virtual assets, like real estate properties, could be bought through digital currencies like crypto.
Before betting on any metaverse stocks, however, investors should consider the fact that metaverse is still new a new concept. Hence, any investment-related moves should be taken carefully.