Source: muratart, Shutterstock
Air Canada (TSX: AC) and Transat A.T. Inc. (TSX: TRZ) mutually terminated their agreement on Friday, April 2. Air Canada was supposed to acquire the leisure and travel company in a C$ 190-million deal. The national airline pulled back from the deal and paid Transat a termination cost of C$ 12.5 million.
Transat stock tumbled by 22.6 per cent intraday and ended its trading session at a 14.57 per cent low on April 5. Its current price is C$ 4.69 per piece. The company is seeking new financing worth C$ 500 million to keep itself afloat in 2021.
Air Canada racked up a debt of almost C$ 5 billion by the end of 2020. Compensating the marginal termination fee to Transat is not very hefty amount for the national carrier that has been losing more than C$ 10 million per day.
Air Canada's share price jumped almost 2.50 per cent on Monday, April 5.
Now that the Air Canada-Air Transat deal is off, how are the stocks placed? Is it a good time to invest in either and what's next for investors? Let's find out:
The carrier has been pursuing a bailout package from the federal government, and both parties are in talks. With the mounting debt, Air Canada was forced to give up the Air Transat takeover.
This development has thrust forward the grim situation of the aviation sector.
Investors have shown some faith in the giant aircraft stock amid the reopening of businesses. The stock has returned over 86 per cent in one year. However, it has increased slightly by 0.74 per cent in the past one month, led by poor financial results and grounded operations. Its revenue fell almost 73 per cent year-over-year in 2020.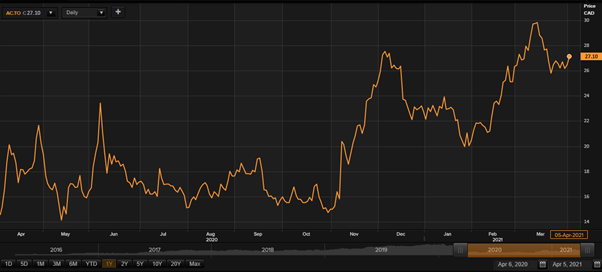 Air Canada's One-Year Stock Performance Chart. (Source: Refinitiv)
The stock has rebounded as much as 111.72 per cent from its 52-week low of C$ 12.80 per common share (registered on May 14, 2020). It has risen more than 19 per cent year-to-date (YTD), outperforming the S&P TSX Airlines (Sub industry) Index that has gained 9 per cent relatively.
The aviation sector is awaiting the relief package announcement from the liberal government, and this stimulus would be the principal catalyst for airline stocks.
Transat A.T. Inc. (TSX: TRZ)
The travel firm stock has plunged over 32 per cent in one year, and the recent slump has taken its share price to 15.64 per cent down month-to-date (MTD).
The stock has decreased by 14.57 YTD per cent and trailing against its peers. It has plummeted nearly 57 per cent against its 52-week high of C$ 10.89 per piece (Recorded on April 29, 2020).
Transat's One-Year Stock Performance Chart. (Source: Refinitiv)
In the first quarter of 2021, the company posted an operating loss of C$ 98.0 million compared with its total revenues of C$41.9 million.
The stocks of the tour operator were already crumbling. Termination of the above deal will lead to a freefall of the stock, unless it gets another buyer.
The above constitutes a preliminary view and any interest in stocks should be evaluated further from an investment point of view.