Summary

Investors are lapping up gold stocks amid continued uncertainty around coronavirus and slow propelled economic bounce back
Gold bullion run likely to continue as yellow metal price inches towards its all-time high of $1,981/ounce
The TSX gold index has advanced by 50 percent since the beginning of the year
With no immediate end in sight for the COVID-19 pandemic, stock market investors have found solace in gold and shares of companies that mine the yellow metal. The key Canadian index posted its best second quarter since 2009, thanks to the country's most valuable mined mineral and increased dividends from gold stocks.
Gold is a key contributor to Canada's economy, its influence going beyond mining, mineral extraction, and processing. The metal directly and indirectly supports various other sectors such as transport, environmental management, construction, geological services, equipment manufacturing, research, and so on.
The gold industry is also a key metric in Canada's financial sector, with the Toronto Stock Exchange (TSX) and the Toronto Stock Exchange Venture (TSXV) home to 47 percent of the world's public mining companies – that is more mining firms than any other exchange in the world. The mining firms on the two bourses raised C$ 44 billion through over 6,500 transactions in the past five years. In 2019 alone, nearly 41 billion mining company shares were traded on TSX and TSXV.
A Golden State
Canada is the world's fifth largest gold producer, with production value exceeding C$ 9.6 billion in 2018, according to data from Natural Resources Canada. The country has the highest number of active mining companies and allocated second-highest exploration budget in 2019 after Australia, according to a S&P Market Intelligence 2020 report.
Out of a total metal and mineral exploration budget of US$ 1.31 billion, gold exploration accounted for US$ 733.2 million in Canada. Fifteen percent of global exploration spending in Canada between 2010 and 2019 is dedicated to advance the gold sector, says the report.
In December 2019, Canada produced 180,000 kg of gold. Production reached an all-time high of 183,000 kg in 2018 and a low of 94,909 kg in 2008.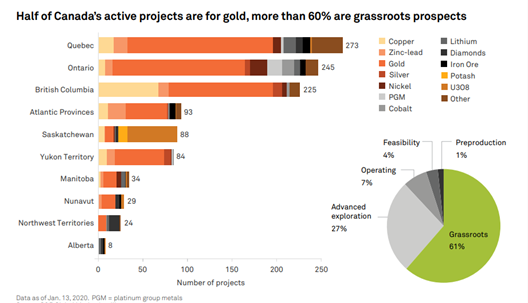 Source: S&P Global Market Intelligence
The country's gold mine production is expected to grow at a CAGR (compound annual growth rate) of 2.7 percent from 2019 to 2023 and reach 7.6 million ounces (Moz), according to data and analytics firm GlobalData. The prediction was arrived after taking into account the expected production in six mines – three new projects of Meliadine in Nunavat, Eagle Gold in Yukon, and Lamaque Gold in Quebec, and beginning of production in another three mines of Kerr-Sulphurets-Mitchell (in 2020), Blackwater Gold (in 2021), and New Prosperity (in 2022). Together, these six mines have a gold production capacity of over 2.2 Moz annually.
Canada is globally recognized for its mining and exploration support. Vancouver is reportedly home to world's largest cluster of exploration companies while Toronto is the financing and legal services hub for mining and mineral exploration firms.
Most exploration activities in Canada is carried out by senior and junior mining companies. Many of these junior firms focus on early-stage, high-risk exploration activities and rely on equity financing. Biggers firm, on the other hand, mostly bring mines into production. A minute portion is carried out by state-controlled or foreign-based entities.
Canada's global trading partners in the minerals and metals sector include the United States, the European Union, India, China, Hong Kong, Japan, South Korea and other nations.
Despite the pandemic scenarios, significant focus continues to remain on gold, which is anchored by federal and provincial governments initiatives and gold index gains in the financial markets.
Gold's Bullion Run
Canadian gold stocks have made a remarkable comeback in 2020. The TSX gold index has capped its best second quarter since 2009, and the metal prices currently are hovering around its all-time high of about $1,981 an ounce.
The yellow metal has been able to maintain its value through the ages, thanks to its symbol of wealth and tangible asset that can be passed on to next generations. It is often sought as an investment for producing jewelry and industrial manufacturing. Central banks worldwide store gold as a reserve asset for emergencies.
As the economy reels under an unprecedented pandemic situation, investors resorted to panic-buy gold causing the S&P/TSX Composite Index to recede by 17.7 percent in March 2020, a 21-year low.
Though a good portfolio diversifier, gold has a low/negative correlation to other assets. During the recent stock market crash, investors reduced their stock holdings and switched to hard assets like gold. A similar market pattern was observed during the 2008-2009 financial crisis, when gold prices jumped by 14.7 percent and stock prices dived by 16.9 percent in October 2008, according to Stats Canada.
Price of gold surged over US$ 1,950 an ounce in the week ending July 31, posting gains for the fifth consecutive week. The S&P/TSX Global Gold Index has advanced by 50 percent since the beginning of the year and rose by 13.7 percent in a one-month period. Of the 40 constituent firms on the index, at least are 30 gold mining organizations. The index has a current adjusted market capitalization of about US $ 400 billion.
Presenting some gold mining stocks that have done well over this year:
Newmont Corporation (TSX: NGT)
Newmont (NGT) claims to be the largest gold producer of the world. It has a current market capitalisation of C$ 70 billion and posted nearly 50 percent increase in stocks Year-to-Date (YTD). The share prices touched a 52-week-high of C$ 96.45 on May 15 and a 52-week-low of C$ 44 on March 16. It has announced a quarterly dividend of $ 0.25 per share of common stock.
In 2019, NGT was named as top gold miner by the Dow Jones Sustainability World Index. It also completed its merger with Goldcorp Inc. and formed a joint venture with Barrick Gold Corp. Last year, NGT produced 6.3 million ounces of gold and 624 million gold equivalent ounces from by-product sale.
B2Gold Corp (TSX: BTO)
B2Gold Corp shares have increased by over 76 percent since January this year. The company posted a record gold production of 490,206 ounces for the first half of 2020, five percent above budget and 20 percent up than the first half of 2019. It announced a cash dividend of US$ 0.02 per share for the second quarter of 2020.
Vancouver-based B2Gold is a low-cost international senior gold producer with gold mines in Mali, Namibia and the Philippines. It will release its second quarter and first half 2020 financial results on August 5, 2020. Its current market capitalisation is C$ 8 billion and posted a 52-week high and low of C$ 9.14 on July 28 and C$ 3.12 on March 16, respectively.
Barrick Gold Corporation (TSX: ABX)
With a current market cap of C$ 68 billion, Barrick Gold Corporation (ABX) stock prices are up by more than 60 percent since January this year. The scrip prices touched a 52-week-high of C$ 40.14 on April 23 and 52-week-low of C$ 17.53 on March 16. The company announced US $0.07 per share dividend for the first quarter. It will announce its second fiscal quarter results on August 10.
ABX is among the biggest mining companies in the world, with operations across 15 countries. It reported gold production of 5.5 million ounces in 2019.
Conclusion
Market value of several precious metals' miners have more than doubled since mid-March, following the pandemic-induced lockdown and economic recession. Amid the continued uncertainty around coronavirus and a slow propelled economic bounce back, gold may continue its bull run in the second half of the year.