Highlights

Dividend stocks will likely endure the consequences of persistently high inflation.
Rising inflation and interest rates have left the investors confused.
The stock market has remained volatile since the start of 2022.
The present market turbulence suggests that the days of gaining quick money by investing in stocks with rapid growth may be long gone. Markets are now gradually reverting to the basics of investment and rewarding businesses that provide consistent dividend payments as dependable returns.
Dividend stocks will likely endure the consequences of persistently high inflation and rising interest rates. These two dangerous factors bring the economy to the brink of a protracted recession.
In light of the macroeconomic environment, it could be worth considering including some high dividend yield stocks in your portfolio, especially the ones with a reputed history of paying a dividend. Let's look at the following stocks:
Labrador Iron Ore Royalty Corporation (TSX:LIF)
The C$ 1.8 billion royalty corporation holds the highest dividend yield in Canada and is known for its history of paying regular dividends. As of July 11, the dividend yield of Labrador Iron was 12.94 per cent, and its stock price was C$ 27.81 per share.
In June, the corporation announced a quarterly dividend of C$ 0.9 per share, which would be payable on July 26 to shareholders on record as of June 30, 2022.
Labrador's revenue is generated from the Iron Ore Company of Canada; its total iron ore sales was 3.6 million tonnes in Q1 2022. A 2022 report by Research and Markets claimed that the global iron market is expected to grow by 445.76 million MT between 2022 to 2026 at a compound annual growth rate of 3.6 per cent.
IGM Financial Inc. (TSX:IGM)
The financial services company focuses on assets management and reported record earnings in the first quarter of 2022. The record earnings amounted to C$ 219.3 million, representing an increase of 8.5 per cent year-over-year (YoY).
In Q1 2022, the company had record assets under management worth C$ 268.3 billion, up by eight per cent from the previous year's first quarter.
IGM Financial announced a quarterly dividend of C$ 0.563 per unit; its dividend yield is 6.4 per cent.
Enbridge Inc. (TSX:ENB)
In Canada, only the energy sector performed well in 2022 amid market volatility. The energy index returned around 33 per cent year-to-date (YTD).
Enbridge is one of the top oil and gas companies, and its dividend yield is 6.3 per cent. Meanwhile, backed by its strong financials, the company is known to pay regular dividends to its shareholders.
On Friday, the ENB stock had closed 0.3 per cent higher at C$ 54.67 per share. The company has expansion plans, and it announced in May that it is looking to advance the construction of a natural gas pipeline.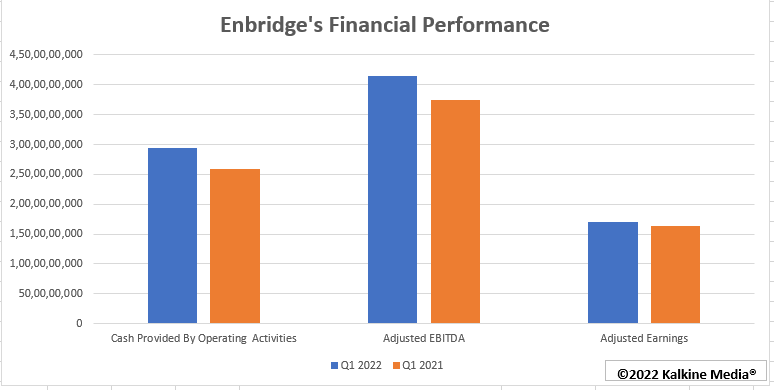 Russel Metals Inc. (TSX:RUS)
Located in Canada, Russell Metals Inc. is a distributor of metals. The stock is significantly down from its previous highs but is among the frequent dividend distributors list.
On May 3, Russel Metals announced its 81st consecutive quarterly dividend and said it would pay a dividend of C$ 0.38 per common share. Meanwhile, the current dividend yield of the company is 5.96 per cent.
In Q1 2022, the metals distributor achieved record revenues of C$ 1,339 million, and the net earnings stood at C$ 99 million.
One of Canada's largest telecommunications services providers, BCE could be worth exploring as it holds a dividend yield of 5.8 per cent and pays frequent dividends.
The C$ 57.9 billion company recently introduced 5G+ as it aims to become a faster network. BCE introduced an internet service with a speed of 3-gigabit in Quebec City.
BCE's net earnings jumped 36% YoY to C$ 934 million in Q1 2022 and had C$ 2.8 billion of available liquidity at the end of the first quarter.
Please note, the above content constitutes a very preliminary observation or view based on digital trends and is of limited scope without any in-depth fundamental valuation or technical analysis. Any interest in stocks or sectors should be thoroughly evaluated taking into consideration the associated risks.