Highlights

The Air Transat stock (Transat A.T.) caught the attention of retail investors in Canada and jumped at market open.
The Air Transat stock could be gaining momentum because it is resuming flight operations to Manchester, UK, sooner than expected.
The travel and tourism industry is expected to recover from the pandemic losses and the Air Transat stock could perform well in the future.
Stocks of Transat A.T. Inc. (TSX: TRZ), often referred to as the Air Transat stock gained the attention of Canadian investors before the market opened on Thursday, September 16, and it seems people are taking interest in the stock for holding it for a long period.
There was no significant news from the company and the stock jumped 1.4 per cent at market open and was trading at C$ 4.25 per share, at the time of writing.
Despite the surge, the stock is still undervalued as the travel and transport industry was one of the worst affected sectors due to the COVID-19 pandemic. Compared to the 52-week high of C$ 7.9, the shares were trading about 86 per cent lower.
On that note, let's take a closer look at the stock to find out what's next for the investors:
Should you hold Transat A.T. Inc. (TSX: TRZ) for the long term?

The economy is expected to recover from the pandemic losses and businesses are already restoring normalcy amid increased COVID-19 vaccinations.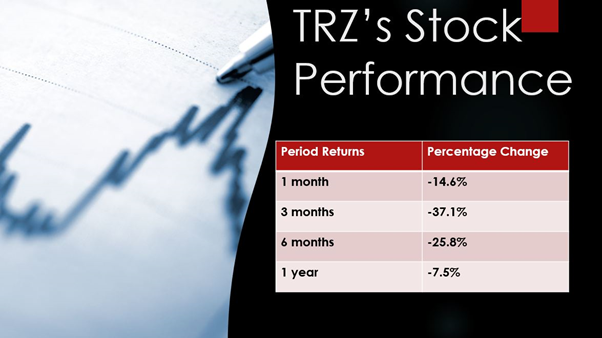 © 2021 Kalkine Media Inc.

The travel and tourism industry is also expected to perform well for the remainder of this year and early 2022 as almost everybody has delayed their vacations for two years as people were skeptical about traveling during the pandemic.
Now, with increased vaccinations, travel sentiments could rise among people, and this may prove beneficial for Transat A.T. as it specializes in organizing vacation packages and offers air travel services through Air Transat and Transat brands.
Also Read: Top 8 TSX stocks that grew more than 300% in 3 years
If you look at its stock's history, it has shown bouts of growth and seems to be a stock to hold for the long term. Air Transat is picking up pace after countries have started to ease public health restrictions and it had partially resumed airline operations since July 30.
On September 14, the company announced that Air Transat is resuming flight operations to Manchester sooner than expected as the United Kingdom has eased travel restrictions. The airline will start operating direct flights from Toronto on October 19.
Also Read: Air Transat is rising: Time to buy TRZ stock buy?
Bottom line

The lockdown restrictions imposed during the pandemic have given birth to a phenomenon called revenge travel. Under the phenomenon, people have an urge to go on a vacation due to an extended period of lockdown.
As restrictions are being lifted across the world, people could go on a vacation spree and that could mean increased revenues for companies like Transat A.T.