After two consecutive sessions of decline, the main Canadian index improved again on Tuesday, July 20, although it remained under the 20,000-mark.
The TSX technology index gained 2.18%, with BlackBerry and Shopify stocks increasing by 6.58% and 3.19%, respectively. The energy sector rose 1.42%, while the real estate sector climbed 1.64%. The financial sector also healed by 0.81% amid positive second quarter earnings reports.
As upbeat second quarter results and broader economy revival indications triggered optimism among investors, the S&P/TSX composite index rose 216.26 points, or 1.10%, to settle at 19,942.71 on Tuesday.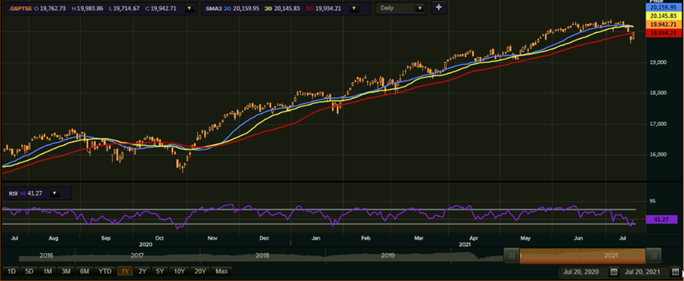 1-Year Price Chart. Analysis by Kalkine Group
Gainers and Losers
Actively Traded Stocks
The most actively traded stocks on the TSX on Tuesday were Bombardier Inc, with a trading volume of 7.99 million, followed by Royal Bank of Canada, with that of 6.85 million, and Suncor Energy Inc, with that of 6.54 million.
Wall Street Update
US stocks rose strongly on Tuesday, recovering ground after the previous session's sell-off. All major averages made big upward movements, although they remained far from their all-time highs.
The Dow Jones increased 549.95 points to 34,511.99, the S&P 500 gained 64.57 points to 4,323.06, and the Nasdaq gained 223.89 points to 14,498.88.
Commodity Update
After trading in the negative zone for two straight days, gold gained some strength on Tuesday, rising 0.12% to US$ 1,811.40.
Crude also witnessed a rebound in its prices as Brent Oil gained 1.06% to US$ 69.35/bbl and WTI Crude Oil traded 1.51% up at US$ 67.42/bbl.
Currency News
The Canadian Dollar ended its three-day losing streak against the US Dollar, while USD/CAD closed at 1.2677, down 0.56%.
The US Dollar index rose against the basket of major currencies to close at 92.96, up 0.08%.
Money Market
The US 10-year bond yield recovered from its six-day correction and gained 1.93% to 1.222 on Tuesday.
The Canada 10-year bond yield also surged on Tuesday, up 2.79% to 1.179.