Canada's main stock index declined by 0.46 per cent to 19,578.3 at market close on Tuesday, August 9, primarily dragged down by healthcare and technology stocks.

The healthcare sector dropped by 7.91 per cent, with Cronos Group (TSX: CRON) leading the losses. Nuvei (TSX: NVEI) and Shopify (TSX: SHOP) recorded significant losses as the IT sector slipped by 4.08 per cent. The financial, industrials and base metals sectors were also in the red. Meanwhile, the energy, telecommunication and utility sectors were in the green territory.



One-year price chart of TSX Composite Index along with SMA 20-day, SMA 30-day, SMA-50-day (August 9). Analysis by © 2022 Kalkine Media®).

Volume Active
Barrick Gold (TSX: ABX) was the most actively traded stock on August 9, with a trading volume of 15.26 million. Enbridge (TSX: ENB) and Suncor (TSX: SU) were the second and third active stocks with a volume of 13.84 million and 12.48 million, respectively.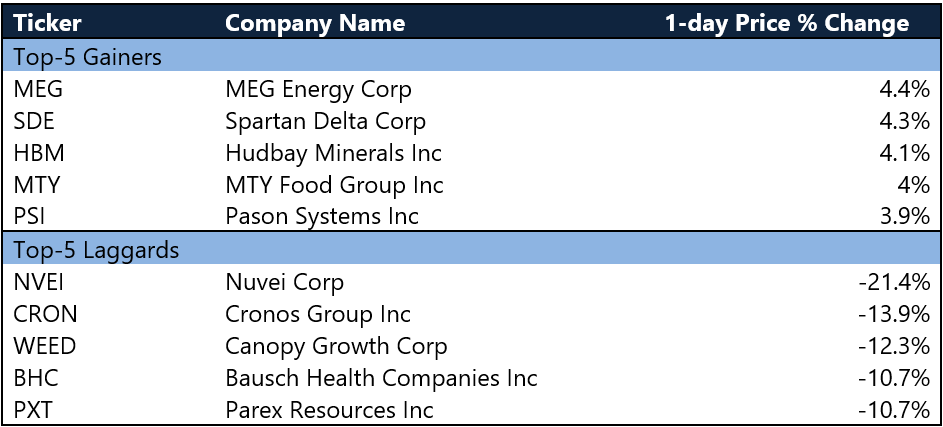 Wall Street update
The NASDAQ Composite Index edged lower by 1.19 per cent to close at 12,493.93 on Tuesday, August 9, while the NYSE Composite Index also decreased by 0.26 per cent to end the session at 15,264.79 ahead of US inflation data (expected to be released on Wednesday). Meanwhile, the Dow Industrials index plummeted by 0.18 per cent, and the S&P 500 also declined by 0.42 per cent.
Commodities
Gold prices continued to rise to US$ 1812.3 per troy ounce, up by 0.39 per cent. Meanwhile, Crude WTI Futures for September 2022 plunged by 0.32 per cent to US$ 90.47 a barrel, while Brent Oil Futures for October 2022 was also down by 0.08 per cent to US$ 96.57 per barrel.
Currency news
CAD/USD fell by 0.23 per cent to US$ 0.77 while CAD/EUR was at 0.76, down by 0.33 per cent. The US Dollar Index Futures for September 2022 also decreased by 0.14 per cent.