Summary

Halo is equipped with secured data transmission, next-generation bonding technology enabling real-time connectivity while on-the-move, or while fixed in place.
Ultralight, high adaptability, and ability to integrate seamlessly with any platform or device make Halo ideal for advanced OEMs, drones, autonomous vehicles or any other application, platform or device that requires lightweight, high-bandwidth, low latency, highly secured and an always-on connectivity solution.
Following the successful completion of rigorous tests and trials and obtaining full FCC certification, Halo is well-positioned to penetrate the US and other markets with larger commercial-scale projects across numerous industry verticals.
Owing to challenges caused by pandemic, ELS plans to focus on the American drone, telemedicine markets and remote learning capability during the second half of 2020, explicitly in remote and rural areas of the US having limited access to healthcare and school learning services.
In current times, the world is accelerating towards the digital trail as advanced communications technologies are swiftly unfolding into commercial products such as Drones, Telehealth, Public Security and Military, Banks, Fleet Management requiring critical, reliable and secured real-time connectivity.
Moreover, the colossal need for more data, audio and video has amplified the technology revolution, driving the market of adaptive broadband services and applications further .
Elsight Limited (ASX: ELS) addresses the augmented data connectivity need by equipping its cutting-edge, unique bonding technology through its breakthrough Connectivity Platform- Halo.
Say Hello to 'HALO'
Halo was officially launched in February 2019 at the MWC19 Barcelona, one of the most significant mobile and technology exhibitions in Europe.
The Halo connectivity platform is furnished with the world's leading, compact, next-generation bonding technology authorising real-time connectivity anytime and anywhere. Notably, the Halo platform is offered either as a-
Standalone external device; or
Lightweight internal board.
Halo features the utmost advanced bonding in a compact, ultralight multi-SIM form that can fit into any product without any complexity. It demonstrates impressive best benefit-cost ratio (BCR), minimal power consumption, plug and play integration and the lowest heat index.
Notably, this flagship platform would change the way we communicate as Halo can seamlessly integrate into any device or platform stationary or mobile, and entail critical communications such as Drones, fleet, Robots, Health care & EMS devices, e-learning, handheld devices, Tactical communication units and the list is long.

Kalkine Image (Data Source: Elsight)
Multi-faceted features of Halo
ELS's flagship connectivity platform features numerous cellular modules, hybrid radio frequency features, built-in Wi-Fi and more. It's extremely lightweight form factor maximises reach with optional data transmission capabilities, while providing highest availability for any user's transmission needs, fastest real-time data transmission, and high-level security.
Interestingly, Halo can be connected to any computer, IP camera, docking station or USB device.
Kalkine Image (Data Source: Elsight)
Key benefits associated with the Halo platform
Let us quickly gaze through numerous benefits that are offered by the Halo platform, making it an ideal fit for several industrial verticals.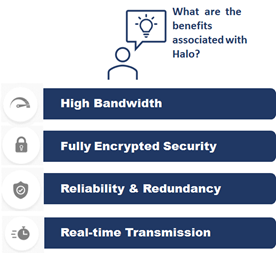 Kalkine Image (Data Source: Elsight)
High Bandwidth - The Halo series expands the available bandwidth via multiplexing of multiple communication links, consequently uplifting the total bandwidth available for the transmission of large data, audio and video seamlessly with ultra-low latency.
High-Level Security - Halo enables safe and encrypted transmission by generating a secured network tunnel by splitting, encrypting, and sending video, audio, and data through multiple cellular links simultaneously.
High Reliability & Redundancy - Halo detects failed communication channels and immediately transmits the data over an alternate available cellular or other IP pathway, in real-time.
Real-time transmission- Halo reduces the latency to a minimum utilising available cellular network infrastructure, enabling data transmission on-the-move, or while fixed in place.
It is often said that good things come in small packages and this compact, yet the extremely powerful and robust platform is perfectly illustrating the statement.
Did you read; Scan through Elsight's Remarkable June Quarter Performance
A sneak-peek at some exciting milestones hit by Halo in 2020
Kinetx Prime driving the growth and mass distribution of Halo in the B2C sector in America.
On 30 July 2020, Elsight announced a strategic partnership with an initial Halo order amounting US$1.6 million from Kinetx Prime, LLC with planned material repeat orders of similar and larger size over the next 36 months.
This deal has shaped a remarkable opportunity to deliver direct-to-consumer telehealth services and remote learning capability for rural communities in the US.
Must Read; Elsight Reaches Major Milestone with significant Halo order received from Kinetx Prime, Stock Rallies Above 63%
Halo completes further FCC Certification and moves from trial phase to commercialisation
On 23 July 2020, with a focus on penetrating the US and other markets after extensive lab results, ELS has secured full FCC certification (Grant of Equipment Authorization, Part 15, Class B Digital Device) further to the FCC Supplier's Declaration of Conformity announced on 13 July 2020.
Following the certifications and a number of successful on-site trials, ELS is shifting its focus on larger commercial-scale projects by concluding a modest US$124,000 order from PT. Adhimatratama and Height Technologies of the Netherlands.
In addition, ELS is in the process of receiving additional certifications such as certification by a number of US operators, CE Mark for the European market, and numerous privacy certifications including CCPA, HIPPA, and GDPR which are required by medical customers.
HALO – A finalist for AUVSI XCELLENCE Awards
On 1 June 2020, The Association for Unmanned Vehicle Systems International (AUVSI) named Halo platform as a finalist in the Hardware – Platform category for the third annual AUVSI XCELLENCE Awards. The winner shall be announced at XPONENTIAL 2020 on 6 October 2020 in Dallas, Texas.
Reseller Agreement inked with a US-based Agile Defense to expedite American sales
On 3 April 2020, ELS inked a reseller agreement with a leading US-based IT services company, Agile Defense Inc, to utilise Agile Defense's expansive and deep network in expediting the commercialisation of Halo and drive ELS's remote connectivity solutions to the American market. The initial agreement term is one year and would be automatically renewed for another year.
Secured commercial orders for Halo from multiple initial partners
On 16 March 2020, Elsight broadened partnership with CopterPIX PRO after the Company purchased an additional 6 Halo units' for integrating with its drone platforms.
On 13 January 2020, ELS unveiled the receiving of a material purchase order for 50 Halo units from Israel Aerospace Industries (IAI) for their robotics and unmanned vehicles, following the conclusion of a large-scale Proof-of-Concept (POC) field trial with IAI.
Kalkine Image (Data Source: ELS's ASX announcements)
Outlook for 2020
In light of the special challenges of COVID-19, ELS is aiming the American drone, remote learning, and telemedicine markets during the second half of 2020, specifically in rural and underserved community areas across the US wherein accessibility to medical and hospital services, and school learning are often less.
Furthermore, ELS is progressing with or has restarted multiple POC trials in numerous industry verticals with prospective technology company partners powering new deals with material revenues in 2020 and beyond.
On 12 August 2020, ELS is trading at A$0.600 at 11:38 AM AEST. The company has given a return of 45.78% and 101.67% to its investors in three months and one month respectively.