Summary

Elsight attained a significant milestone after receiving largest initial order worth US$1.6 million from Kinetx Prime, LLC for its flagship connectivity platform Halo, with planned repeat orders of similar and larger size order expected over the next three years.
ELS's strategic partnership with Kinetx Prime would enable ELS to capitalise on the burgeoning need of telehealth services and remote learning in rural America during the COVID-19 pandemic. This is a new and significant market driven by the twin issues of the surge in the pandemic and very limited access to schools remote learning and healthcare services in underserved communities across the nation.
Kinetx Prime is believed to drive the growth of the Halo platform into the US markets via its mass distribution to the business-to-consumers (B2C) market in North America.
Furthermore, after an extensive regimen of trials and certification processes, the Company is proceeding with or has recommenced several proof-of-concept (POC) trials across several industry verticals, driving new deals with material revenues in 2020 and beyond.
Adding another notch to its belt, an Australian listed advanced connectivity technologies provider, Elsight Limited (ASX: ELS) has received the largest Halo order worth US$1.6 million from Kinetx Prime, LLC.
Upon the announcement, the stock soared higher above by 63.33% and closed the day's trade at A$0.490, on 30 July 2020.
Elsight notified that obtaining US FCC certification on 23 July 2020 has enabled the Company to enter into a strategic partnership with the US-based Kinetx Prime to facilitate first mass distribution of its flagship connectivity platform, Halo, in the business-to-consumers (B2C) market across North America.
Receipt of Kinetx Prime's order - A Major Breakthrough
ELS announced that strategic partnership with an initial purchase order of US$1.6 million (A$2.3 million) prior to service launch, has created significant opportunity to deliver direct-to-consumer telehealth services and remote learning capability for small rural communities in the US, where about 60 million Americans are living. This is a new business opportunity with the prospect of material repeat orders of similar size over the next 36 months.
This deal is deemed to be the first material deal resulting in considerable revenues from the substantial efforts of adaptation and development of issues learned during POCs and entering into the mandatory certification process for the US market wireless communications applications.
Partnership addressing challenges in "rural health clinics"
The COVID-19 crisis in the US has migrated from large northern cities such as New York to rural and remote communities, particularly in the southern parts of the nation.
Furthermore, with the support of massive federal grants available, the White House and Congress have acknowledged that millions of Americans have no access to hospitals in their vicinity, and the only hope for requisite care is to have access to telehealth systems using advanced connectivity.
Elsight has inked a partnership with Kinetx Prime primarily to acknowledge these challenges in "rural health clinics" and improve remote healthcare.
Kalkine Image (Data Source: ELS ASX announcement)
Elsight's Halo platform and Kinetx Prime to deliver telehealth services to remote US communities
Elsight and Kinetx Prime would work seamlessly and deliver direct-to-consumer telehealth solutions using advanced wireless communication capabilities to connect patients, physicians, ambulances and hospitals in rural and underserved America, suffering from inadequate cellular coverage.
The Halo platform, when combined with Kinetx Prime's appropriate antennas and ancillary equipment, will create an efficient interactive video-based telehealth solution that would enable cellular services in these regions.
Background of the flagship connectivity platform of ELS – Halo.
The Halo platform utilises a compact, next-generation bonding technology empowering real-time connectivity across time and place.
Halo is an ideal fit for OEMs (Original Equipment Manufacturers) as it features the most advanced bonding in a small, ultralight multi-SIM form that can be integrated into any product with ease.
Furthermore, this product is believed to change the way people communicate as Halo can seamlessly fit into any platform or device, stationary or mobile, and requires critical communications such as Drones, Robots, Handheld devices, fleet, Health care & EMS devices, Schoolwide remote learning, Tactical communication units and many more.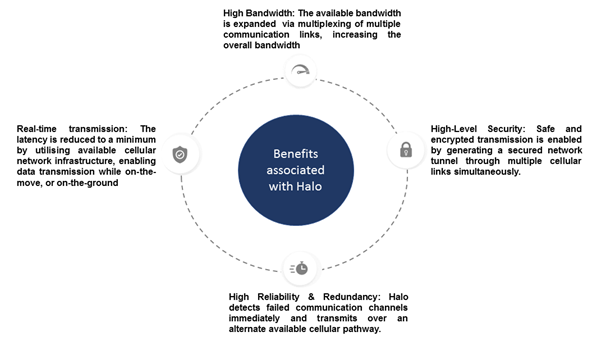 Kalkine Image (Data Source: ELS website)
Management Commentary
Road Ahead
Apart from working on this and other telehealth initiatives, ELS is advancing with or has restarted numerous proof-of-concept (POC) trials in several industry verticals with prospective technology company partners driving new deals with material revenues in 2020 and beyond.
Stock performance
On 3 August 2020, ELS closed the day's trade at A$0.540, an increase of 14.894% from previous close. Market capitalisation of ELS was noted at A$50.3 million, with ~107.02 million shares outstanding.